Outils en Ligne
Il existe de nombreux sites spécialisés qui offrent des photos libres de droits. La liste ci-dessous n'est pas exhaustive mais en rassemble une bonne partie. Ceux que je vous présente aujourd'hui mettent à disposition des photos sous diverses licences et droits d'auteurs mais la plupart vous permettent de les utiliser a but privé, professionnel ou commercial.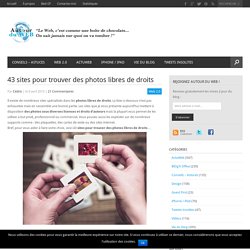 Avec la facilité que nous avons aujourd'hui à prendre des photos, il est très simple de prendre une photo par jour et de la partager sur internet. Il existe à ce titre des sites internet qui nous invitent justement à envoyer une photo par jour. Au même titre, qu'un journal intime, le but cette fois est de prendre une photo tous les jours. Pourquoi ne pas se prendre en photo tous les jours et se voir vieillir! Pourquoi ne pas photographier ce qu'on voit depuis sa fenêtre et encore pourquoi ne pas envoyer la meilleure photo prise dans la journée.
Envoyer une photo par jour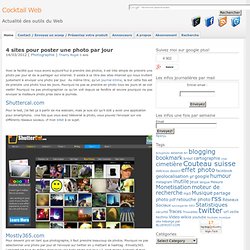 Sciweavers is an academic network that aggregates links to research paper preprints then categorizes them into proceedings. The preprint links of a given proceedings are sorted using different mechanisms derived from our traffic to help researchers quickly discover top ranked papers. Also, Sciweavers offers several free online tools to improve your productivity. ✎ Let's Promote Brilliant Ideas... Proceedings and Preprint Tools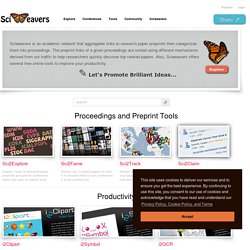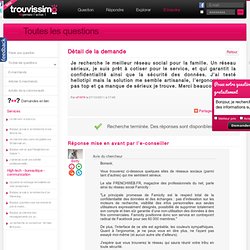 © 2011, Tous droits réservés - Trouvissimo - www.trouvissimo.com Qu'est-ce que c'est ? Le bookmarklet permet de toujours avoir Trouvissimo à portée de clic ! Lorsque vous surfez sur internet et que vous avez besoin d'un renseignement sur un produit ou un service, vous pouvez désormais poser vos questions directement depuis le bookmarklet ! Pour que vos questions soient les plus précises possibles, elles sont mises automatiquement en lien avec le site internet sur lequel vous vous trouvez.
Je recherche le meilleur réseau social pour la famille. Un réseau sérieux, je suis prêt à cotiser pour le service, et qui garantit la confidentialité ainsi que la sécurité des données. J'ai testé hellotipi mais la solution me semble artisanale, l'ergonomi
Words... zu-...starting with ZU. -ee...ending with -EE. ......with three letters.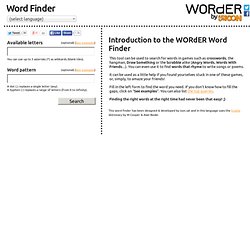 WORdER | Recherche de mots | Scrabble - Words with Friends - Angry words - Mots croisés