Tattoos
Unusual And Creative Tattoo Ideas. Few days back we posted Tattoo Ideas for Science Lovers which was much liked by our readers.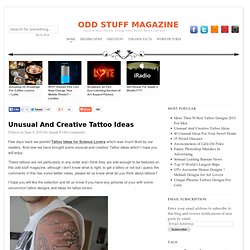 And now we have brought some unusual and creative Tattoo Ideas which I hope you will enjoy. These tattoos are not particularly in any order and i think they are odd enough to be featured on this odd stuff magazine, although i don't know what is right, to get a tattoo or not but i guess the comments in this has some better views, please let us know what do you think about tattoos? An Amazing Tattoo Artist - Peter Aursich. Peter Aurisch, a tattoo artist based out of Berlin, Germany, creates amazing one of a kind works of art that are unlike anything you've ever seen before.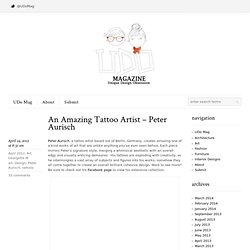 Each piece mirrors Peter's signature style, merging a whimsical aesthetic with an overall edgy and visually enticing demeanor. His tattoos are exploding with creativity, as he intermingles a vast array of subjects and figures into his works, somehow they all come together to create an overall brilliant cohesive design. - StumbleUpon. Tatuajes y chavalas, combinación ganadora. Inked Girls and Their Body Art Gallery 33 | Sad Man's Tongue Rockabilly Bar & Bistro - Prague.
This web site may contain copyrighted material who's use has not been specifically authorized by the copyright owner.
These pages are operated under the assumption that this not-for-profit use on the web constitutes a 'fair use' of the copyrighted material as provided for in Section 107 of the US Copyright Law.If you wish to use the copyrighted material for purposes of your own that go beyond 'fair use,' you must obtain permission from the copyright owner. Please contact us at sad_mans_tongue.com if you would like something removed.
Japan aogashima volcano photo. Random photo Submit your photo Stumble Thru.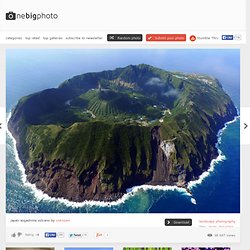 Chavalas tatuadas. Xoïl Tattoos. The Prettiest Little Monster - Tattoos I Love. Go to mobile version LiveJournal You are viewing 's journal The Prettiest Little Monster.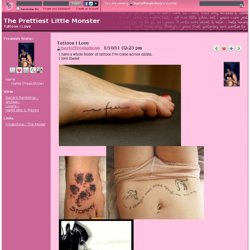 - StumbleUpon. In (Alphonse Mucha tattoo…gorgeous!) Beautiful Black tattoos | Fonda LaShay. Tattoos. Everlasting Tattoo - San Francisco, CA. Tattoos: Archive.
---