Art pieces
Do You Want To Dream Different? Posted by Radhika on September 11th, 2009 This mind teasing structure that you are viewing in pictures below was designed and developed by organic architect Javier Senosiain.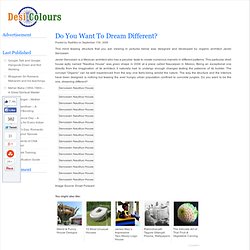 Javier Senosiain is a Mexican architect who has a peculiar taste to create numerous marvels in different patterns. Pat Perry. Seo Young Deoks Incredible Chain Sculptures. Photo © Seo Young Deok The human body and its formation lie at the core of the Korean artist Seo Young Deok's work who is preoccupied with the stories told through the human figure.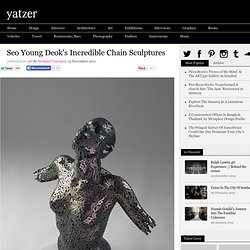 His solo exhibition 'Dystopia' took place at the INSA/Arko Art Centre in Seoul from 26 October 2011 until 31 October 2011 and showed his nude sculptures made meticulously in welded metal chain links piece by piece. Cut Paper Illustrations by Bovey Lee. - StumbleUpon. We get a lot of emails asking how to use brushes correctly so I hope this helps you out a little!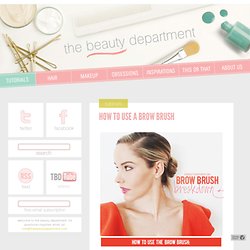 A brow brush is designed to be stiff and angled for a reason. And we use the slanted edge to shade and the tip of the edge to outline. Put those components together and a brow brush is quite frankly a thing of perfection! An Amazing Collapsible Lamp. You remember Hoberman spheres, right?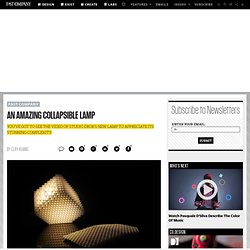 Those collapsing, 3-D gizmos? Pish posh--they've got nothing on this new lamp by Studio Dror, being unveiled this week at Art Basel. Environmental art, design, and products - Illusion - The Most Amazing Creations in Art, Photography, Design, Technology and Video. Fingerings. A seasoned artist: Japanese sculptor creates artworks entirely out of salt - Mirror Online - StumbleUpon. Motoi Yamamoto creates stunning sculptures and intricate mazes by filling a plastic bottle and meticulously pouring it on to the floor You may have to pinch yourself when you realise that this seasoned artist's creations are made entirely out of salt.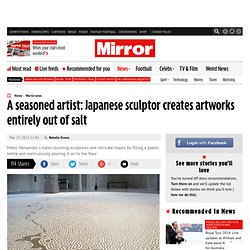 Motoi Yamamoto creates stunning sculptures and intricate mazes by filling a plastic bottle and meticulously pouring it on to the floor. The Japanese artist became fascinated with salt as a third year student at the Kanazawa College of Art in 1996, after his younger sister died of brain cancer aged 24. In Japanese culture, in times of mourning, salt is used to purify the body from death after a funeral, and to ward away evil spirits hiding in the dark corners of homes.
Recycling Clothing Art | Fubiz™ - StumbleUpon. - StumbleUpon. Naked artist pops her (toffee) cherry. There was only one thing on artist Audrey Baldwin's mind after her Dunedin Fringe Festival performance "Canker" last night.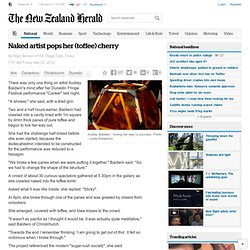 "A shower," she said, with a tired grin. Two and a half hours earlier, Baldwin had crawled into a cavity lined with 1m square by 4mm thick panes of pure toffee and begun to lick her way out. She had the challenge half-licked before she even started, because the dodecahedron intended to be constructed for the performance was reduced to a hexagon. "We broke a few panes when we were putting it together," Baldwin said. "So, we had to change the shape of the structure. " Evelyne Politanoff: Graceful, Ephemeral and Opulent: The Art of Susie MacMurray. A first encounter with the work of artist Susie MacMurray inevitably places the viewer right at the centre of the key issue in her work -- the tension between extremes of sensual and aesthetic response: Ying/yang; anima/animus; soft/hard; a dress/not a dress; love/death; freedom/constraint; power/submission. --- Excerpt from the accompanying catalogue of the exhibit "The Eyes of the Skin" at Agnew's Gallery.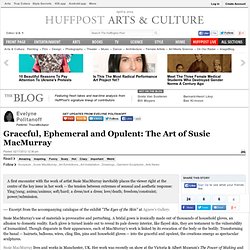 Susie MacMurray's use of materials is provocative and perturbing.
---