SEO
32 Website Optimization Terms Every Marketer Should Know [Glossary] Staying on top of new website design and optimization trends may feel intimidating.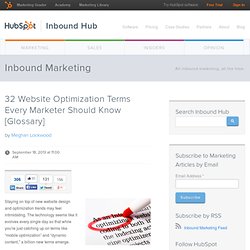 The technology seems like it evolves every single day so that while you're just catching up on terms like "mobile optimization" and "dynamic content," a billion new terms emerge. To help you conquer the fast-paced world of website optimization, we compiled the essential terms you'll need to know as a marketer. Whether experimentation and optimization is your day job or you just are interested in how smart inbound marketers convert leads, check out the following glossary. And, if you have any terms to add, feel free to leave us a comment with the word and its definition.
Who Are You Writing For? SEO Copywriting vs. Social Media Writing. We often think of SEO copywriting and social media writing as two separate ways of creating online content, each requiring a different skill set.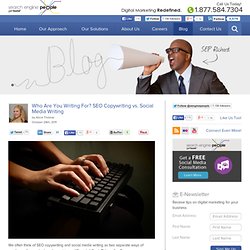 But are they? Social media and SEO are becoming more closely related, so your writing techniques should reflect this shift towards a hybrid "social-SEO" writing strategy. SEO Copywriting Keyword-based copywriting for search engines requires you to constantly consider how your content is being "read" by Google and other search engines. How Much Does SEO Cost? | SEO Pricing (Problems) Explained! "Why can't you just give me a straight answer?"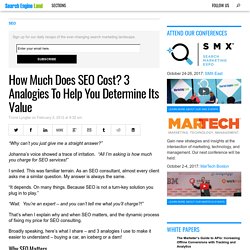 Johanna's voice showed a trace of irritation. "All I'm asking is how much you charge for SEO services!" I smiled. This was familiar terrain. Sitemap Effect on SEO. SEO Copywriting Tips for Improved Link Building. Compare the two posts below, both written by the exact same SEO expert and each containing around the same number of words.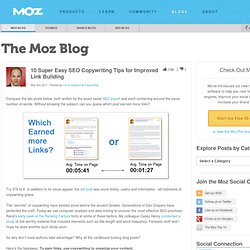 Without knowing the subject, can you guess which post earned more links? Try 378 to 6. The Marketer's Guide to Search Engine Optimizing Non-Written Content. We've all heard about how inbound marketers need to get more creative with their content format by incorporating visuals, audio, and images.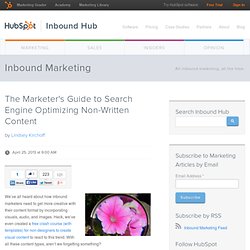 Heck, we've even created a free crash course (with templates) for non-designers to create visual content to react to this trend. With all these content types, aren't we forgetting something? Oh right. SEO. Demystifying SEO.
---