New Facebook Timeline_ 1March
3 Facebook Timeline Marketing Tips for Success. Are you wondering how to best use the Facebook Timeline features ?
The right steps can capture the attention of your fans and potential customers. What I am referring to is pinning, highlighting and milestones—three Timeline features that can dramatically . Think of these features as digital megaphones, broadcasting your content just a little louder to . To supercharge your content on Facebook , . 20+ Overlooked Facebook Timeline Tips You Must Know! For those of you who know me, I'm all about 'details' when it comes to step by step how-to's.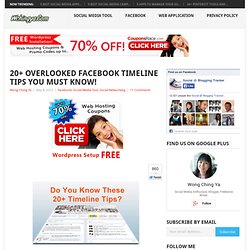 This week, I'm going to chill a bit as I'm taking a few days off to spend some quality time with my little girl – she's 6 months old now and learning how to crawl! So if you could bear with this new mom, I promise more quality content is on the way. Be sure to stay subscribed so you won't miss it! Is the New Facebook Timeline a Failure in Design? Generally people don't like change!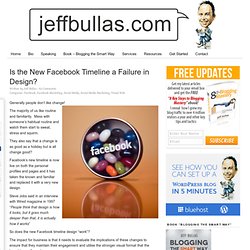 The majority of us like routine and familiarity. Mess with someone's habitual routine and watch them start to sweat, stress and squirm. They also say that a change is as good as a holiday but is all change good? Facebook Pages. Pages_Product_Guide_022712. 10 Things You Need to Know About Revamped Facebook Pages Infographic. Facebook Timeline For Fan Pages: 21 Key Points For Marketers. If you have not yet converted your Facebook fan page over to the new Timeline design, your page will automatically convert on March 30th, 2012 which is coming up fast.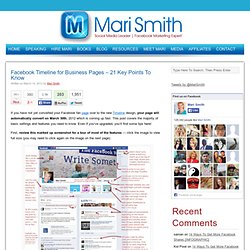 This post covers the majority of basic settings and features you need to know. Even if you've upgraded, you'll find some tips here! First, review this marked up screenshot for a tour of most of the features — click the image to view full size (you may need to click again on the image on the next page): Facebook Timeline for Pages - Guide (click to see full size) Facebook Cheat Sheet: Sizes and Dimensions. Updated: September 28, 2012 What is the size of the profile picture in Facebook?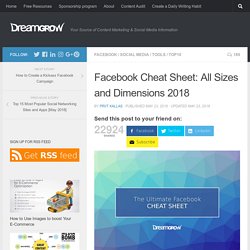 How wide is page of your brand? Here are all the numbers you need and you can even download a handy PDF Facebook cheat sheet. Due to the recent release of Facebook timeline for brand pages, some new sizes have been added and old ones modified. We've added them here. Facebook Timeline Now Available to Everyone. On Facebook?
Like the Mashable Facebook page and check out our favorite articles covering social media, tech news, and digital culture! After months of slow, gradual rollout, Facebook Timeline is now available to all users. The Timeline is a radical redesign of Facebook's user profile pages, introduced at Facebook's F8 conference in September. Instead of merely listing your interests and personal info, the Timeline shows a detailed overview of your life on Facebook, with the ability to check out what you've been out to at a particular point in time. Facebook Timeline and What Marketers Need to Know. Are you wondering how Facebook's Timeline will impact your business and marketing?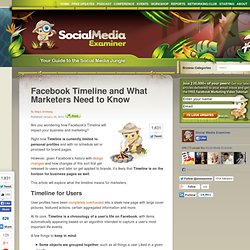 Right now Timeline is currently limited to personal profiles and with no schedule set or promised for brand pages. However, given Facebook's history with design changes and how changes of this sort first get released to users and later on get applied to brands, it's likely that Timeline is on the horizon for business pages as well. This article will explore what the timeline means for marketers. Timeline for Users User profiles have been completely overhauled into a sleek new page with large cover pictures, featured actions, certain aggregated information and more.
28 Essential Facebook Timeline Resources. Facebook announced on its blog Tuesday that all users will have Timeline within the next few weeks, bringing a close to the gradual rollout process that began September 2011.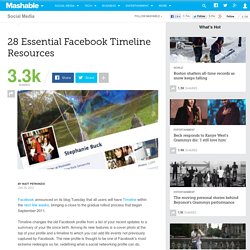 Timeline changes the old Facebook profile from a list of your recent updates to a summary of your life since birth. Among its new features is a cover photo at the top of your profile and a timeline to which you can add life events not previously captured by Facebook. The new profile is thought to be one of Facebook's most extreme redesigns so far, redefining what a social networking profile can do. Whether you've already switched to the new feature or you're baffled by the new look, read on for Mashable's roundup of Timeline resources to help you with the transition. Turn Your Facebook Timeline Into a Movie. A browser tool launched Monday transforms content from your Facebook Timeline into a fast-paced movie.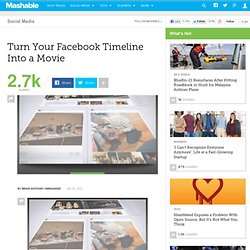 In what will surely incite a roller coaster of flashbacks, Timeline Movie Maker from marketing agency Definition 6 lets you become a filmmaker with the click of a button. Definition 6 collaborated with Facebook. After Movie Maker "parses nostalgia," "captures your good side," and "finds I-Remember-Whens" on your Timeline, the tool allows you to change the movie's music and replace any image, video or check-in.
Facebook Timeline for brands due end of February: here's how to prepare. [Update 1st March] Facebook rolled out Timeline for brands on a preview basis on 29th February, with a mandatory switchover from Pages to Timeline on 30th March.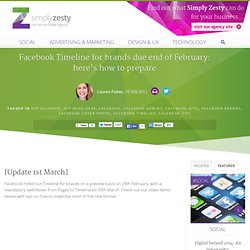 Check out our video demo below with tips on how to make the most of the new format : 4 Steps To Launching The #Facebook #Timeline For Your Brand, You have 8 Days To Get It Together. I am a huge advocate of Timeline so I am excited to see what will be done with Timeline for Brands. I created a post about things you should do before you go to Timeline for your personal page so I thought I would do the same for Timeline for your Brand. Get Your Timeline Photo Ready: This is one of the most exciting things about Facebook Timeline. New Facebook Brand Pages Guide: Everything You Need to Know. Facebook users with brand pages may have noticed an announcement at the top of their pages this morning, alerting them that New Facebook Pages are coming soon. You can preview your page and try out the new features now ahead of the full switchover, which is scheduled for March 30.
The main benefits, according to the Introducing New Facebook Pages resource, are the ability to brand pages with a unique cover photo, pinned posts at the top of the page to highlight quality content, and private messaging between pages and fans. The larger cover photo and pinned posts are features similar to Twitter's enhanced brand pages. The Complete Guide to Setting Up the New Facebook Page Design. Our social media team had a nice little surprise upon logging into Facebook this morning. We hinted at it last month, but it looks like the day has already come. The new Facebook business page design, which is virtually the same as Timeline, is now available for all businesses to implement on Facebook pages!
Facebook is giving page administrators the chance to preview, tweak, and publish their new design immediately, but the new design won't be forced on you until March 30, 2012. In other words, you have until March 30 to play around with the new design without publishing before it must go live. Here's what you need to know to make the most out of the new design and all the features it has to offer. Timeline for Facebook pages: a complete overview of new features. Facebook today unveils Timeline for pages — a combination of design elements and moderation features that give organizations the controls they need to maintain an effective presence on the social network. The redesign, the largest for pages since February 2011, creates a more unified look and feel for the site after profiles and groups were updated earlier this year. Page owners will have a 30-day window in which to redesign their pages and publish when they are ready.
On March 30, all pages will automatically switch to the new format. Facebook Timeline for Pages - what you need to know about the change | WendyMoore.net. Hi, Wendy here! If you are new here, you might want to subscribe to the RSS feed for updates on our Savvy List Building Articles. Already using Facebook? Facebook Timeline for Fan Pages – Frequently Asked Questions. Facebook Cheat Sheet: Sizes and Dimensions. Facebook adds new public data to page Timelines, lets businesses assess competitors.
Facebook Launch New Offers Product for Businesses.
---