Internet Marketing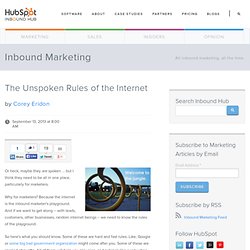 Or heck, maybe they are spoken ... but I think they need to be all in one place, particularly for marketers. Why for marketers? Because the internet is the inbound marketer's playground. And if we want to get along -- with leads, customers, other businesses, random internet beings -- we need to know the rules of the playground. So here's what you should know. Some of these are hard and fast rules.
The Unspoken Rules of the Internet
Social Media ROI Backwards (for B2B)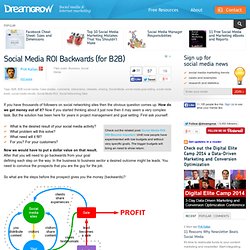 If you have thousands of followers on social networking sites then the obvious question comes up. How do we get money out of it? Now if you started thinking about it just now then it may seem a very complex task.
Out with the Old (Marketing) And In With the New
The four social media characters
Social media is here, embedded and in daily use for many of us. The death of Steve Jobs last month broke all tweeting records as mourners and those wanting to pay tribute tweeted over 10,000 tweets per second in the hours following the news announcement. The use of social media has grown beyond the domain of the young, and positive business case studies are evolving about profits made from social media campaigns.