HOW TOs - Pinterest
How to Keep Your Pinterest Boards Fresh, Fun and Relevant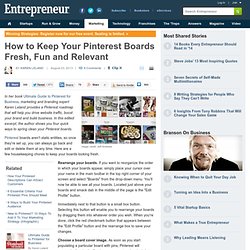 Image credit: Jeff Andrews In her book Ultimate Guide to Pinterest for Business, marketing and branding expert Karen Leland provides a Pinterest roadmap that will help you drive website traffic, boost your brand and build business. In this edited excerpt, the author shows you four quick ways to spring clean your Pinterest boards. Pinterest boards aren't static entities, so once they're set up, you can always go back and edit or delete them at any time. Here are a few housekeeping chores to keep your boards looking fresh. Rearrange your boards.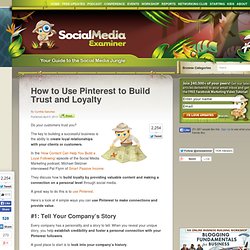 Do your customers trust you?
Pinterest is another one of those social networks that some marketers have figured out how to infiltrate to reap business benefits -- even without the existence of dedicated brand pages on Pinterest (much like Google+ when it first launched).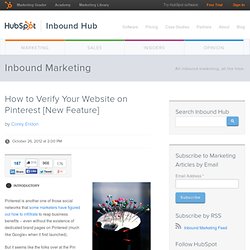 How to Verify Your Website on Pinterest [New Feature]
How to Use Pinterest to Promote Your Products
Is your business on Pinterest?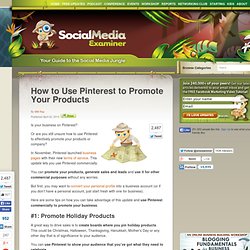 Do you use Pinterest for business?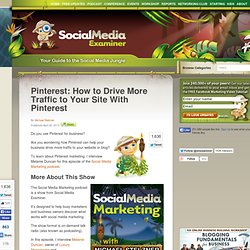 Pinterest, How to Use Pinterest to Drive More Traffic
Would you like to get free exposure across thousands of people's Pinterest pages?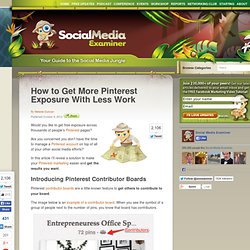 How to Get More Pinterest Exposure With Less Work
How to Get More Pinterest Exposure With Less Work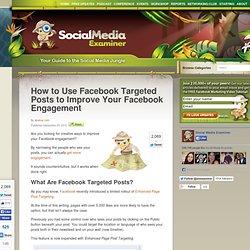 Are you looking for creative ways to improve your Facebook engagement?
How to Use Facebook Targeted Posts to Improve Your Facebook Engagement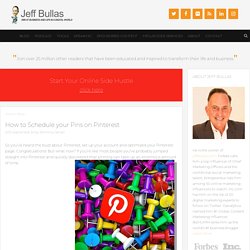 How to Schedule your Pins on Pinterest
So you've heard the buzz about Pinterest, set up your account and optimized your Pinterest page.
Ways to get more from Pinterest | Pin Marketing
Hi. I'm Jen, and I'm addicted to Pinterest. If you've also pinned the Kool-Aid, then you know Pinterest is a fun and easy way to visually catalog the things you love online.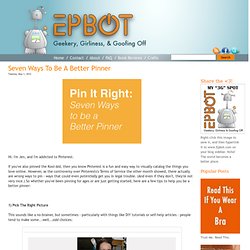 Seven Ways To Be A Better Pinner
How To Pin A Quote To Pinterest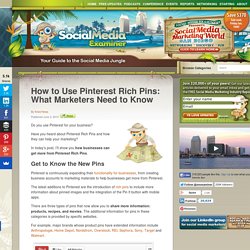 How to Use Pinterest Rich Pins: What Marketers Need to Know
Do you use Pinterest for your business? Have you heard about Pinterest Rich Pins and how they can help your marketing? In today's post, I'll show you how businesses can get more from Pinterest Rich Pins.
Last week, I ran into a problem. I was putting together a blog post about the best non-marketing Pinterest boards to follow ... but I couldn't actually get the Pinterest boards to embed in a post after I followed Pinterest's instructions. That was annoying, especially since I had completely written the text part of the post and all I needed was the embedded boards to finish it up. In my frustration, I began to hack away with my very limited HTML knowledge to hope to find a solution that would work ... and somehow, it did! I was pumped.
How to Embed a Pinterest Board on Your Website [Quick Tip]