HOW TOs - Pinterest
How to Keep Your Pinterest Boards Fresh, Fun and Relevant. Image credit: Jeff Andrews In her book Ultimate Guide to Pinterest for Business, marketing and branding expert Karen Leland provides a Pinterest roadmap that will help you drive website traffic, boost your brand and build business.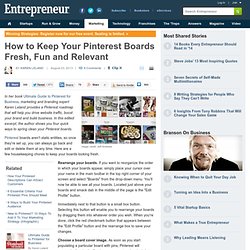 In this edited excerpt, the author shows you four quick ways to spring clean your Pinterest boards. Pinterest boards aren't static entities, so once they're set up, you can always go back and edit or delete them at any time. Here are a few housekeeping chores to keep your boards looking fresh. Rearrange your boards. How to Use Pinterest to Build Trust and Loyalty. Do your customers trust you?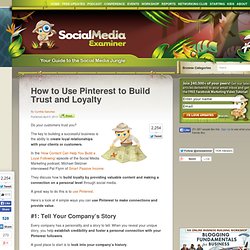 The key to building a successful business is the ability to create loyal relationships with your clients or customers. In the 'How Content Can Help You Build a Loyal Following' episode of the Social Media Marketing podcast, Michael Stelzner interviewed Pat Flynn of Smart Passive Income. They discuss how to build loyalty by providing valuable content and making a connection on a personal level through social media.
How to Verify Your Website on Pinterest [New Feature] Pinterest is another one of those social networks that some marketers have figured out how to infiltrate to reap business benefits -- even without the existence of dedicated brand pages on Pinterest (much like Google+ when it first launched).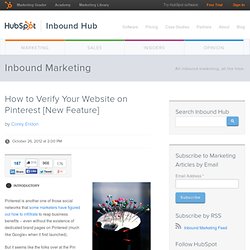 But it seems like the folks over at the Pin headquarters -- even if they've done so unintentionally -- are giving those businesses a little nudge with their latest feature rollout. Pinterest has started to roll out website verification for profile pages. This feature is intended to let other pinners learn more about the people they're following on Pinterest. In a nutshell, the feature will let you highlight your full website URL on your Pinterest profile going forward. How to Use Pinterest to Promote Your Products. Is your business on Pinterest?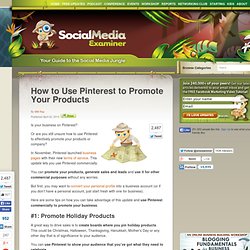 Or are you still unsure how to use Pinterest to effectively promote your products or company? In November, Pinterest launched business pages with their new terms of service. This update lets you use Pinterest commercially. Pinterest, How to Use Pinterest to Drive More Traffic. Do you use Pinterest for business?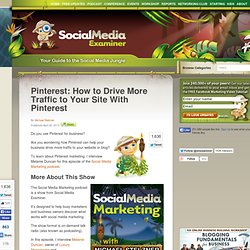 Are you wondering how Pinterest can help your business drive more traffic to your website or blog? To learn about Pinterest marketing, I interview Melanie Duncan for this episode of the Social Media Marketing podcast. More About This Show The Social Media Marketing podcast is a show from Social Media Examiner. How to Get More Pinterest Exposure With Less Work. Would you like to get free exposure across thousands of people's Pinterest pages?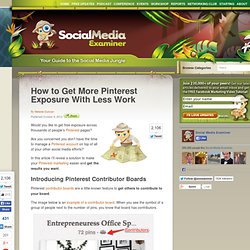 Are you concerned you don't have the time to manage a Pinterest account on top of all of your other social media efforts? In this article I'll reveal a solution to make your Pinterest marketing easier and get the results you want. Introducing Pinterest Contributor Boards Pinterest contributor boards are a little-known feature to get others to contribute to your board. How to Get More Pinterest Exposure With Less Work. How to Use Facebook Targeted Posts to Improve Your Facebook Engagement. Are you looking for creative ways to improve your Facebook engagement?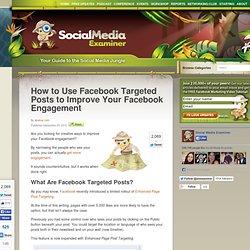 By narrowing the people who see your posts, you can actually get more engagement. It sounds counterintuitive, but it works when done right. What Are Facebook Targeted Posts? How to Schedule your Pins on Pinterest. So you've heard the buzz about Pinterest, set up your account and optimized your Pinterest page.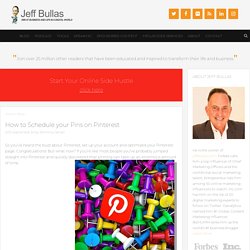 Congratulations! But what now? If you're like most people you've probably jumped straight into Pinterest and quickly discovered that pinning can take up an enormous amount of time. Ways to get more from Pinterest | Pin Marketing. 27.4K Flares Twitter 615 Facebook 85 Google+ 56 StumbleUpon 26.3K Pin It Share 114 114 LinkedIn 137 inShare137 Email -- Email to a friend Buffer 24 27.4K Flares × If you are not over on Pinterest now, you need to get there.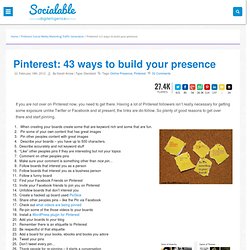 Having a lot of Pinterest followers isn't really necessary for getting some exposure unlike Twitter or Facebook and at present, the links are do-follow. So plenty of good reasons to get over there and start pinning. Seven Ways To Be A Better Pinner. Hi.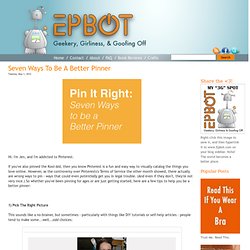 I'm Jen, and I'm addicted to Pinterest. If you've also pinned the Kool-Aid, then you know Pinterest is a fun and easy way to visually catalog the things you love online. How To Pin A Quote To Pinterest. How to Use Pinterest Rich Pins: What Marketers Need to Know. Do you use Pinterest for your business? Have you heard about Pinterest Rich Pins and how they can help your marketing? In today's post, I'll show you how businesses can get more from Pinterest Rich Pins.
How to Embed a Pinterest Board on Your Website [Quick Tip] Last week, I ran into a problem. I was putting together a blog post about the best non-marketing Pinterest boards to follow ... but I couldn't actually get the Pinterest boards to embed in a post after I followed Pinterest's instructions. That was annoying, especially since I had completely written the text part of the post and all I needed was the embedded boards to finish it up. In my frustration, I began to hack away with my very limited HTML knowledge to hope to find a solution that would work ... and somehow, it did! I was pumped.
---