GOOGLE+
8 Ways to Drive Traffic to Your Site With Google+ Would you like to drive more traffic to your website?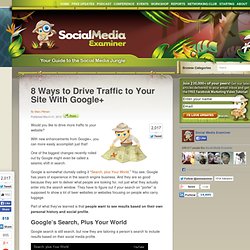 With new enhancements from Google+, you can more easily accomplish just that! One of the biggest changes recently rolled out by Google might even be called a seismic shift in search. Google is somewhat clumsily calling it "Search, plus Your World." 8 New Google+ Changes and How They Impact Your Business. Have you heard about all of the recent changes on Google+?
Google+ is always evolving and recently made some big changes to help create a simpler, more beautiful Google+ . And these changes can have an impact on how you use Google+ for business . So here's everything you need to know . #1: Header Image and Profile Photo Changes Google+ changed the page layouts to allow more space for your photo strip. 6 Google+ Tips for Businesses. Has your business set up a Google+ page?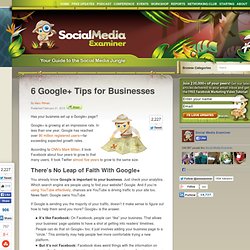 Google+ is growing at an impressive rate. In less than one year, Google has reached over 90 million registered users—far exceeding expected growth rates. According to CNN's Mark Millan, it took Facebook about four years to grow to that many users. It took Twitter almost five years to grow to the same size. 5 Top Google+ Tools and Apps for Marketing Pros.
Are you looking for Google+ apps and resources to enhance your marketing?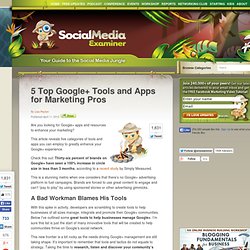 This article reveals five categories of tools and apps you can employ to greatly enhance your Google+ experience. Check this out: Thirty-six percent of brands on Google+ have seen a 100% increase in circle size in less than 3 months, according to a recent study by Simply Measured. This is a stunning metric when one considers that there's no Google+ advertising platform to fuel campaigns. Brands are forced to use great content to engage and can't "pay to play" by using sponsored stories or other advertising gimmicks. 4 Ways to Improve Your Google+ Engagement. Are you looking for better engagement on Google+ ?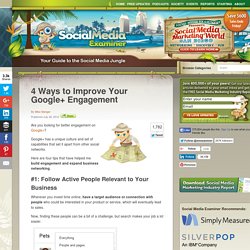 Google+ has a unique culture and set of capabilities that set it apart from other social networks. Here are four tips that have helped me . How To Connect Google+ To Twitter Using Hootsuite. How To Connect Google+ To Twitter Using Hootsuite. Google Fires Back at Twitter: You Took Yourself Out of Search. Will Google+ Replace Facebook As The King Of Social Media? [Infographic] Nothing is forever and the rise of Google plus begs the question "When will Facebook be dethroned?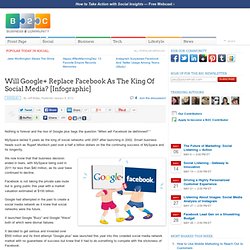 " MySpace lasted 5 years as the king of social networks until 2007 after launching in 2002. Smart business heads such as Rupert Murdoch paid over a half a billion dollars on the the continuing success of MySpace and its longevity. We now know that that business decision ended in tears, with MySpace being sold in 2011 for less than $40 million, as its user base continued to decline.
---