General
26 Tips to Enhance Your Social Media Profiles. When did you last revisit your social profile on Twitter or Facebook?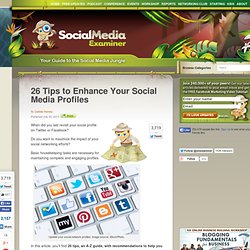 Do you want to maximize the impact of your social networking efforts? Basic housekeeping tasks are necessary for maintaining complete and engaging profiles. Update your social network profiles. Can't Buy Me Love: the social engagement protocol. How to Improve Your Social Media Calls to Action. Is your audience responding to your social activities?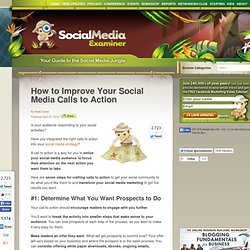 Have you integrated the right calls to action into your social media strategy? A call to action is a way for you to entice your social media audience to focus their attention on the next action you want them to take. Here are seven steps for crafting calls to action to get your social community to do what you'd like them to and transform your social media marketing to get the results you want. The Marketer's Guide to Proper Social Media Etiquette. As a savvy inbound marketer, you're already sold on the value of using social media.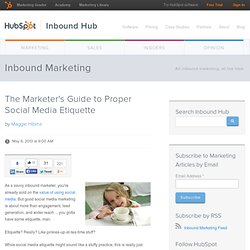 But good social media marketing is about more than engagement, lead generation, and wider reach ... you gotta have some etiquette, man. Etiquette? Really? Like pinkies-up-at-tea-time stuff?
WAYs TO Social Media. 72 Fascinating Social Media Marketing Facts and Statistics for 2012. Social media and inbound marketing techniques have been a boon for marketers.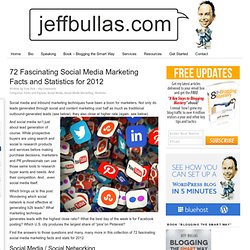 Not only do leads generated through social and content marketing cost half as much as traditional outbound-generated leads (see below), they also close at higher rate (again, see below). And social media isn't just about lead generation of course. Evolve or Dissolve ~ Social Networking Strategies THAT WORK! Social Media Slideshare Presentations. 5 Social Media Management Tools You Should Consider. Have your social media activities spiraled out of control?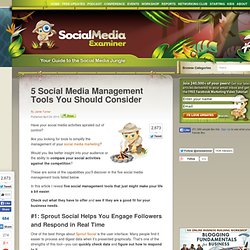 Are you looking for tools to simplify the management of your social media marketing? Would you like better insight into your audience or the ability to compare your social activities against the competition? These are some of the capabilities you'll discover in the five social media management tools listed below.
2012.
---