Freeware
Traffic Light | Cloud | flOw | Active Quiz flOw Play flOw online | Download flOw offline version (PC & Mac, 9.6Mb)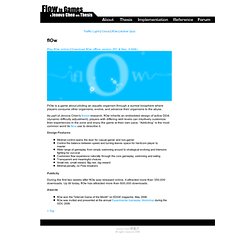 Welcome to Flow in Games
Little Wheel - Free Online Games at FastGames.com
Player446 wrote in chat Player768 wrote in chat awesomeness commented the game Dig To China awesomeness commented the game Tinysasters 2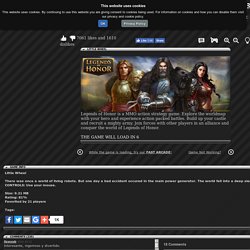 Awakener | AGS Archives | Free Games
PS VitaThe PS Vita (PlayStation Vita) is out next Saturday on the 17th December and Sony have been ramping up ... Ultimate Otaku RoomThe ultimate otaku room? Dakimakura, wall scrolls, retro gaming machines, custom figures, eroge, doujin... Anime Project 13What happens when an American record producer (specifically one who produces records for the likes of E... Kipi PhotosI've always loved Kipi's cosplay work. Have been wanting to meet her ever since she cosplayed as our ma...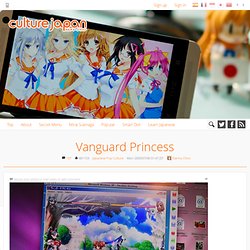 Vanguard Princess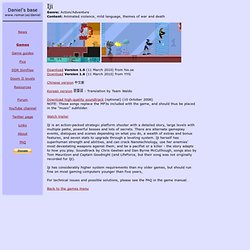 Genre: Action/AdventureContent: Animated violence, mild language, themes of war and death Download Version 1.6 (11 March 2010) from his.seDownload Version 1.6 (11 March 2010) from YYG Chinese version 中文版 Korean version 한국어 - Translation by Team Waldo Download high-quality soundtrack (optional) (10 October 2008) NOTE: These songs replace the MP3s included with the game, and should thus be placed in the "music" subfolder.
Daniel's base
After playing Cave Story it was clear to me how much I appreciated this game and I wanted to give something back to Pixel and other Doukutsu Monogatari fans and I decided to make a tribute site for the game. This site is dedicated to Pixel and anything and everything Cave Story and Doukutsu Monogatari related. I hope you will enjoy the content you find here and I hope that this site will get more and more new fans interested in this game. - SkyeWelse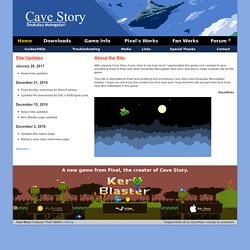 Saira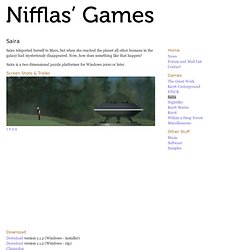 Saira teleported herself to Mars, but when she reached the planet all other humans in the galaxy had mysteriously disappeared. Now, how does something like that happen? Saira is a two dimensional puzzle platformer for Windows 2000 or later.
Maneuver a sphere through 10 worlds filled with unique challenges and new surprises. NightSky is a two dimensional physics platform game for Windows produced by Nicalis. Screen Shots & Trailer Demo Download version 1.0.0 demo (installer) Purchase
Nightsky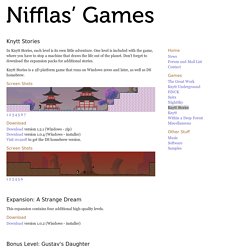 In Knytt Stories, each level is its own little adventure. One level is included with the game, where you have to stop a machine that draws the life out of the planet. Don't forget to download the expansion packs for additional stories. Knytt Stories is a 2D platform game that runs on Windows 2000 and later, as well as DS homebrew. Screen Shots
"Sex, Lies, and Video Games", feature-length profile in The Atlantic Monthly, November 2006 "Redefining the Power of the Gamer", The New York Times Arts Section, June 7, 2005 "A Female Sensibility", Newsweek, October 17, 2005, and October 3, 2005 international edition "When looks are no longer enough", The Economist, June 2006 Review blurb in Wired Magazine, November 2006 "Sometimes There Is a Free Lunch", Wired.com News, January 2006 "Coming Soon: Online Sex Games", Wired.com News, October 2005 TV interview on CBS 5 TV, San Francisco, November 2006 "Want drama? Enter virtual soap opera", AP story from June 2007 Featured online at USA Today, Business Week, MSNBC, International Business Times, International Herald Tribune, Forbes, Washington Post, Fox News Internet Game of the Month, Edge Magazine (UK), October 2005 "Type What You Feel", Games for Windows, May 2007 "Behind the Mask", GamesTM, August 2007 "You Must Play Façade, Now!"