Guitar Technique Chord & Tab Reference
Guitar Noise (lessons) Richard Lloyd: Index. Chordie! Daily Guitar Lessons. 1.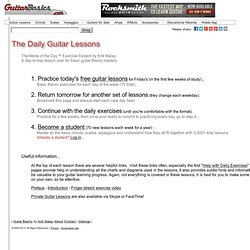 Practice today's free guitar lessons for Friday's (in the first few weeks of study)... Basic theory exercises for each day of the week (70 total). 2. Return tomorrow for another set of lessons (they change each weekday).
---