Grammar
57 have-es igenév (Perfect Infinitive)
A magyar igenevekről ld 72 ; az angol igeneveket általában, valamint az igenév ing es ("folyamatos") alakját (= be taking) ld 146 , 185 (1) Meghatározása, fajtái A have -es igenév nem más, mint a have + az ige 3. alakja.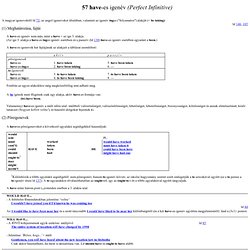 A szenvedő szerkezet 0. Bevezető - Nomen est omen: a szenvedő szerkezet bizony gyakran okoz jelentős szenvedést az őt használni kívánók számára . Magyarban általában le vannak beszélve a diákok arról , hogy általuk ez a szerkezet használva legyen , mivel stilisztikailag nem igazán szép . Angolban sokkal többször , bátrabban alkalmazhatjuk a szenvedőt , mégpedig akkor , ha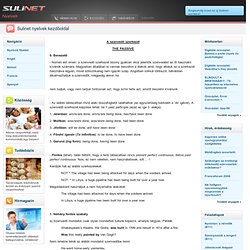 Sulinet
Online Angol Tanszék -
Szenvedő szerkezet (Passive voice) Képzése: be ige ragozott alakja (a megfelelő igeidőben) + a főige 3. alakja He is invited to the party.
Angol nyelvtan
Future Perfect
Split Infinitives : Grammar Girl
Episode 236: August 20, 2010 | | by Mignon Fogarty You may have heard there's a rule that you shouldn't split infinitives, but I'm here to tell you it's not a real rule , and the idea itself is based on a shaky foundation. What are Infinitives? To understand split infinitives, we first have to clearly define the word "infinitive." Wikipedia defines "infinitive" as the unmarked form of a verb (1), but you really need examples to understand what that means.
Oxford University Press | Letölthető anyagok
going to-future Summary Use Signal words Form of affirmative, negative sentences and questions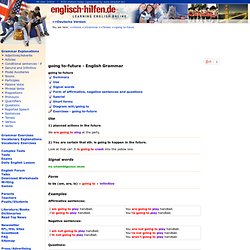 going to-future - English Grammar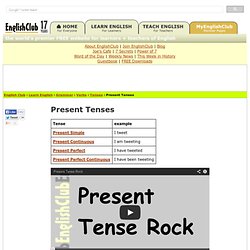 How do we make the Present Simple Tense? There are three important exceptions : For positive sentences, we do not normally use the auxiliary . For the 3rd person singular (he, she, it), we add s to the main verb or es to the auxiliary. For the verb to be , we do not use an auxiliary, even for questions and negatives. Look at these examples with the main verb like :
Going to
Prepositions and Phrasal Verbs
Online English Course - Unit 61 - Get / Be used to
Grammar Unit 61 - Get / Be used to Be used to Be used to is used to show previous experience and familiarity with a certain situation. For example: - I am used to living abroad. - I have previous experience living abroad, so it's not difficult for me. - Jane isn't used to living abroad. - She doesn't have much experience living abroad, or if she does it is still difficult for her. - Paul is used to learning languages. - Paul has learnt languages before, so he's good at it. - Carol has never studied a foreign language, so she 's not used to it. - Carol doesn't have previous experience learning a foreign language. Get used to Get used to is used for the process of acquiring experience and ability.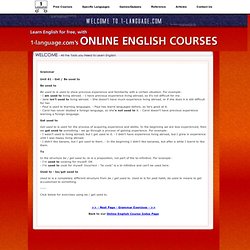 Mondatbeli szerepük: a már említett főnevet, melléknevet, számnevet helyettesítik Személyes névmás Az 'It' egyéb használata
Angol nyelvtan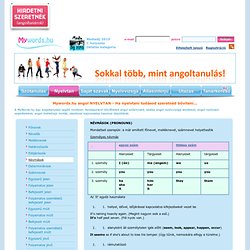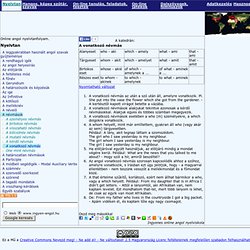 Ingyen Angol : Nyelvtan / A névmások / A vonatkozó névmás
Drága Kormoskám, akivel egy csapat vagyunk, elveszett Bp. III. ker. Csillaghegy Szekerce u. 14-ből 2013 február 19-e délutánján. Karcsú, zöld szemű, egyszínű fekete, kb. másfél éves kandúr házimacska. Kérem, aki tud róla bármit, esetleg befogadta, hívjon: 06 20 9 618 324 Nagyon aggódom Kormiért!
Online Angol Tanszék - | Be going to |
Megtanulunk egy nagyon gyakran használt szerkezetet, a be going to -t. 1. a going to jelentése A be going to szerkezettel azt fejezzük ki, hogy a dolgok jelen pillanatban úgy állnak, hogy abból valami kiolvasható a jövőre nézve . Sokan ezt jövő időről való megnyilatkozásnak nevezik, ám logikusabb lenne, ha azt mondanánk: a jelenről, a jelenbeli állásokról, tervekről, helyzetekről szól a megnyilatkozás - amik persze minden esetben valami későbbi, következésképpen jövőbeli eseményre utalnak.