English learning
Angol szótárazás. Cultural institues. Mburright. Videos. Method. Grammar. Audio only. Games. - Idézetek. Love isn't about hugs, kisses and "i love you"s or " i miss you"s!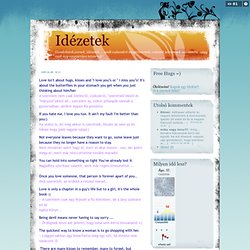 It's about the butterflies in your stomach you get when you just thinking about him/her A szerelem nem csak ölelésről, csókokról, "szeretlek"ekből és "hiányzol"okból áll.. szerelem az, mikor pillangók vannak a gyomrodban, amikor éppen Rá gondolsz If you hate me, I love you too. Encyclopedia - Britannica Online Encyclopedia.
English learning blogs
Audio + text. Learning communities. My stuffes for learning.
---