Internet Security
The Cocoon Blog Net Neutrality: Don't Break the Net. Net neutrality prevents corporate ISP providers from telling you what types of content you are authorized to view online and provides a level playing field for everyone.
There are no Internet fast lanes or slow lanes (unless you are on dial-up). The entire purpose of net neutrality is that cable and phone companies should treat all websites on the Internet equally. For example, Comcast would probably like to promote NBC's content over ABC's to its Internet subscribers. That's because Comcast and NBC are affiliated. The Cocoon Blog Internet Security – Knowledge Is Power. Internet security is a hot topic these days.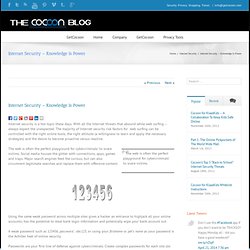 With all the Internet threats that abound while web surfing – always expect the unexpected. The majority of Internet security risk factors for web surfing can be controlled with the right online tools, the right attitude (a willingness to learn and apply the necessary strategies) and the desire to become proactive versus reactive. The web is often the perfect playground for cybercriminals' to snare victims. Safer Internet Day 2012: Actions for Grandparents. Online Privacy & Security Software | Cocoon. Mobile. Gizmodo. Down For Everyone Or Just Me -> Check if your website is down or up?
Solutions > Overview.
Tips. Cyberstalking/Cyberbullying. Botnets.
---