Google Nexus
How to decide: should you buy the Nexus 7 or the Kindle Fire? All projects: DIY-IT Project GuideThis project: How to decide: tech buying guides for DIYers and small business Back when I wrote for CNN, I was taught we had eight seconds to get the main point across.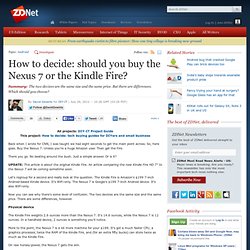 So, here goes. Nexus 10. Nexus Q, Nexus 7: Google Puts Personal Cloud In 'Play' | Cloudline. Are Nexus 7 and Nexus Q bound to sweep the personal cloud prime time?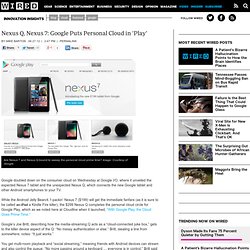 Image: Courtesy of Google Google doubled down on the consumer cloud on Wednesday at Google I/O, where it unveiled the expected Nexus 7 tablet and the unexpected Nexus Q, which connects the new Google tablet and other Android smartphones to your TV. Features - Nexus 7. Nexus 7 sees "incredible demand", sells out at major retailers. Introduced 3 weeks ago at Google I/O 2012, the Nexus 7 with Android JellyBean has proven to be a runaway hit.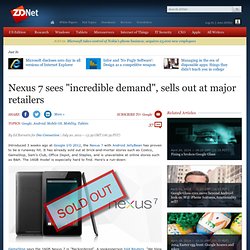 It has already sold out at brick-and-mortar stores such as Costco, GameStop, Sam's Club, Office Depot, and Staples, and is unavailable at online stores such as B&H. The 16GB model is especially hard to find. Here's a run-down: GameStop says the 16GB Nexus 7 is "Backordered". Nexus 7 sells out across the USA. It's an amazing feat to behold when a company makes a device so popular that it sells out in one store, much less the entirety of the USA - but that's what Google is doing with the Nexus 7.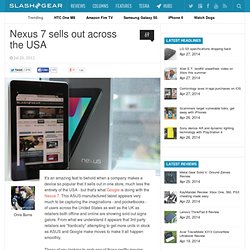 This ASUS-manufactured tablet appears very much to be capturing the imaginations - and pocketbooks - of users across the United States as well as the UK as retailers both offline and online are showing sold out signs galore. From what we understand it appears that 3rd party retailers are "frantically" attempting to get more units in stock as ASUS and Google make moves to make it all happen smoothly. Must-have apps for the Nexus 7. Camping? You Better Bring Your Nexus 7. Google's Nexus 7 Android tablet is selling really well, and the company decided now would be a good time to release the first video ad for the device.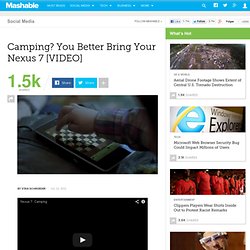 The ad, titled "Camping," shows the myriad of ways in which you can use your Nexus 7 while camping — watch a movie, use it as a flashlight, play a game of chess or read a book. We see one problem with this scenario, however — the Nexus 7 is a Wi-Fi-only tablet, and some of the activities shown in the video require an internet connection. Nexus 7: Push comes to shove, I prefer my iPad. My ZDNet colleague, James Kendrick absolutely loves his new Nexus 7.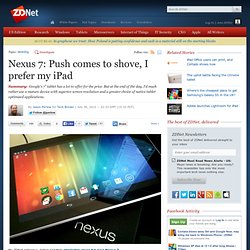 This is to be expected as James is our Mobile News columnist and is a self-professed mobile technology junkie. James and I both talk about the industry a lot together, and while we agree on many things, we have very different ways of looking at mobile tech. I tend to look at things from a very 10,000-foot, more enterprise oriented and vertical market level and James looks at things from a consumerist, in the trenches level. James gets to look at every single gadget in the industry because manufacturers rely on him for in-depth product feedback, whereas I am extremely selective about my technology because more often than not, I have to pay for it myself if I want to evaluate it. Google Nexus 7 review | Tablets Reviews | TechRadar. The original Nexus 7 enchanted and enthralled - and did so despite some slight compromises.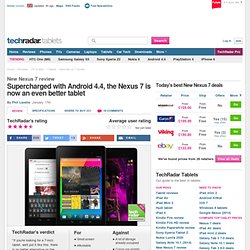 The fact that it was so cheap (£159 for a 16GB version) meant it remained outstanding value for a long time. Problem is, a year is a long time in the tablet world, and competition is fierce, so the new Nexus 7 is just what the doctor ordered.
---