Top 10 Pay-Boosting Certifications in Tech
Top 10 Pay-Boosting Certs. Dice Learning Unveils Top 10 Pay-Boosting Certifications in Tech Des Moines , Iowa , March 10, 2010 - Technical certifications in fields such as project management and security boost salaries, according to a recent survey of technology professionals by Dice Learning, a service that allows technology professionals to easily obtain technical training and certifications.
Gathering the responses of nearly 17,000 technology professionals, Dice Learning determined the top 10 certifications that helped technology professionals command higher salaries at all experience levels. "Not all certifications are created equal in terms of paycheck impact.
MCSE Certification. A+ CCNA. MCP. Like Apple, Cisco, Oracle, Red Hat, and Ubuntu programs, the certifications mainly focus on their product, as opposed to employment aptitude tests designed for programmer trainee jobs.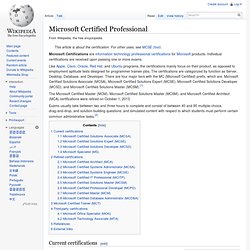 The certifications are categorized by function as Server, Desktop, Database, and Developer. There are four major tiers with the MC (Microsoft Certified) prefix, which are: Microsoft Certified Solutions Associate (MCSA), Microsoft Certified Solutions Expert (MCSE), Microsoft Certified Solutions Developer (MCSD), and Microsoft Certified Solutions Master (MCSM).[1] The Microsoft Certified Master (MCM), Microsoft Certified Solutions Master (MCSM), and Microsoft Certified Architect (MCA) certifications were retired on October 1, 2013. Exams usually take between two and three hours to complete and consist of between 40 and 90 multiple-choice, drag-and-drop, and solution-building questions; and simulated content with respect to which students must perform certain common administrative tasks.[2]
Certification Courses | Certification Training | Microsoft Certification. Network+ CISSP. MCSA.
Security+
---