Top 10 Pay-Boosting Certifications in Tech
Dice Learning Unveils Top 10 Pay-Boosting Certifications in Tech Des Moines , Iowa , March 10, 2010 - Technical certifications in fields such as project management and security boost salaries, according to a recent survey of technology professionals by Dice Learning, a service that allows technology professionals to easily obtain technical training and certifications. Gathering the responses of nearly 17,000 technology professionals, Dice Learning determined the top 10 certifications that helped technology professionals command higher salaries at all experience levels. "Not all certifications are created equal in terms of paycheck impact.
Top 10 Pay-Boosting Certs
MCSE Certification
The Microsoft Certified Solution Expert (MCSE) certification focuses on the ability to design and build technology solutions, which may include integrating multiple technology products and span multiple versions of a single technology, whether on-premises or in the cloud. The previous Microsoft Certified System Engineer certifications focused on a specific job role. To find out more about the policies regarding expired exams and inactive certifications, see the list of retired certifications .
A+
To earn this Cisco certification, you must pass the following exam(s): Option 1: CCNA Composite 640-802 CCNA Last day to test: September 30, 2013 The 640-802 Cisco Certified Network Associate (CCNA) is the composite exam associated with the CCNA Routing and Switching certification. Candidates can prepare for this exam by taking the Interconnecting Cisco Networking Devices: Accelerated (CCNAX) v1.1 course.
Microsoft Certifications are information technology professional certifications for Microsoft products. Individual certifications are received upon passing one or more exams. Like Apple , Cisco , Oracle , Red Hat and Ubuntu programs, the certifications mainly focus on their respective product, as opposed to employment aptitude tests designed for programmer trainee jobs. The certifications are categorized by function as Server, Desktop, Database, and Developer. There are four major tiers with the MC (Microsoft Certified) prefix, which are: Microsoft Certified Solutions Associate (MCSA), Microsoft Certified Solutions Expert (MCSE), Microsoft Certified Solutions Developer (MCSD), and Microsoft Certified Solutions Master (MCSM). [ 1 ]
MCP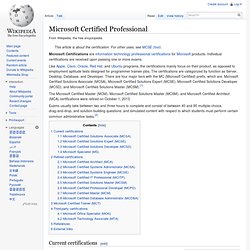 Q. What is the recertification requirement? In order to ensure that our certifications are meaningful and valuable indicators of candidates' skills, Microsoft has implemented a recertification requirement for the MCSE, MCSD, and MCSM certifications.
Certification Courses | Certification Training | Microsoft Certification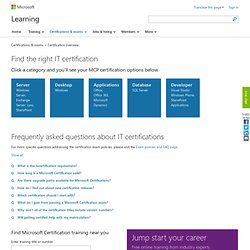 Network+
CISSP
MCSA
Security+