2File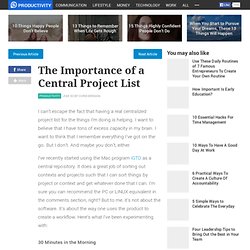 The Importance of a Central Project List - Stepcase Lifehack
I can't escape the fact that having a real centralized project list for the things I'm doing is helping. I want to believe that I have tons of excess capacity in my brain. I want to think that I remember everything I've got on the go.
Action Method Online :: Methodology
This is interesting and, to me, seems valid. Unfortunately, I'm not sure if I can apply this change to myself, although it would be interesting to try. This is because I actually have a learning disability related to memory that affects both informational storage and informational retrieval.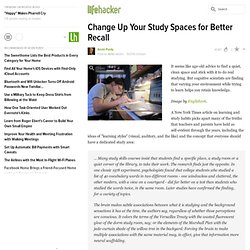 Change Up Your Study Spaces for Better Recall
Pros and Cons to Help You Choose a Desk Layout | Apartment Therapy Unplggd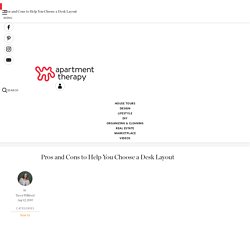 Yes, I work (mostly) from my sofa. And after struggling to keep work organized in the living room, I'm ready to buy a big girl desk and set up the home office of my dreams. But with an entire spare bedroom to work with, I've got the entire world of desk shape options in front of me. So which one to choose? Here's a helpful guide to the Pros & Cons of each.
DIY Record Dividers - a set on Flickr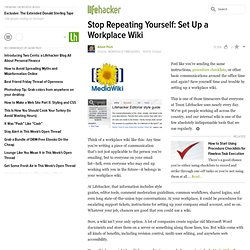 I'm glad its working for you guys, but by definition everyone who works at Gawker knows and respects technology. This is far from true at most businesses. I've seen two Wiki deployments happen in companies recently and they both were giant mistakes.
Stop Repeating Yourself: Set Up a Workplace Wiki
fbCal.com - Facebook Calendar Generator
Calendar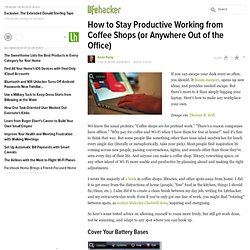 How to Stay Productive Working from Coffee Shops (or Anywhere Out of the Office)
@MaxellDVD1: Well, it's not really that entertaining. I administer my company's web and e-mail servers as well as the web app dev junk. I was in Boston for Red Hat Summit and went to a Starbucks downtown. I got a call about problems with our corporate site so I plucked my trusty laptop from my bag and, after a brief interlude getting connected to the wifi, got into my server. I found that someone had gotten in and completely screwed the httpd.conf up. I restored from a backup and started digging through the auth logs to see who it was.
Our Favorite Office Objects: The Letter Tray as Laptop Stand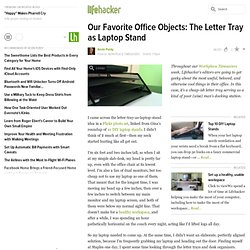 SExpand Throughout our Workplace Timesavers week, Lifehacker's editors are going to get geeky about the most useful, beloved, and otherwise cool things in their office. In this case, it's a cheap-ish letter tray serving as a kind of poor (wise) man's docking station. I came across the letter-tray-as-laptop-stand idea in a Flickr photo set, linked from Gina's roundup of 10 DIY laptop stands.
SExpandClutter can really influence the way you work. If you're too disorganized, everything competes for your attention and makes it hard to work, not to mention influence perceptions of your professionalism. Here are 10 tips for decluttering your workspace and getting organized. Note: This is an update to an old top 10 favorite. We've got some new tricks and some updates to old ones, so that's why it looks a bit different than it used to (and why there are still some old comments that reference the old article).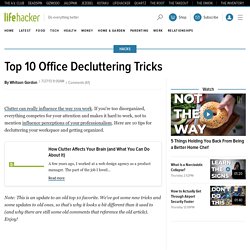 Uggg, my desk looks similar to the article's photo. It's a matter of prioritizing the workspace. As you mention here: [lifehacker.com] Clutter can be distracting. My problem is currently my desk is a 5' banquet table, so there's no built in storage.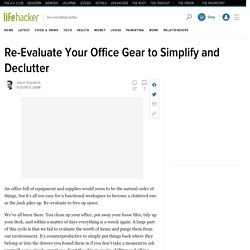 Re-Evaluate Your Office Gear to Simplify and Declutter
Beat Your Filing Cabinet into Shape with a Filing System Workflow
I know this is a while ago but you might get it... Use the same simple system for paper and paperless with only three folders. Computer: eDocs, leave as whatever format you like. Everything else and stuff you think you might need ten years later - PDF. You need three folders. 1) Years, 2) Keep and 3) the built in recycle bin. Make up year folders under "years" i.e. 2010 for this year.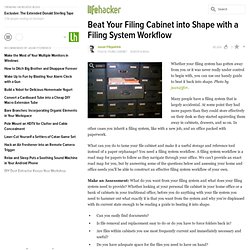 12 Desk Organization Tips
"Save it from obsolescence and digitize your life." One of the most ridiculous statements I've had the pleasure of reading in a long time. Thank you for the belly laugh!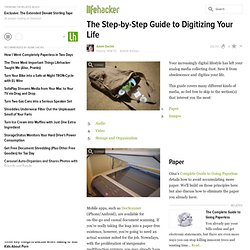 Are there any programs out there that allow a person to create a series of steps to accomplish a task type thing? Example: 8 steps to bake cookies. Mix dry ingredients, melt butter in bowl, add dry ingredients, mix at low speed, poor into pan, bake at 325 for 30 minutes, cut brownies, eat and enjoy. But let's say at the 2nd step, to melt the butter, you had to use an acetylene torch (it's really tough butter). Operating a torch isn't something most people have experience with so there are more detailed instructions below, for those who need them. I tried FreeMind and XMind and while you could sorta force it to do something like that, it would be better if it was a series of collapsible steps, rather than a mind map where everything had to hover around the middle.
In my ongoing search for the ultimate software system for use with the Getting Things Done methodology, I've recently come across a real winner. Tracks is a web application that was built from the ground up for the purposes of implementing a GTD system. Written in Ruby on Rails, Tracks offers the familiar Projects and Contexts organization system made popular by David Allen's Getting Things Done system, coupled with the sparse graphical design and easy functionality made popular by well-known Ruby on Rails applications like Backpack, Basecamp and Ta-Da List. Now I should mention that Tracks is not affiliated in any way with 37 Signals (the maker of the other three web applications I mentioned), but it's clear that the Tracks developers are inspired by what 37 Signals have done.
Tracks - GTD application on Rails - Download Squad
Productive Talk: 43 Folders Meets David Allen on Odeo
In an interview with Michael McLaughlin published in The New Writer's Handbook (2007), Eric Abrahamson, co-author of A Perfect Mess: The Hidden Benefits of Disorder, says Your mess is perfect when it reaches the point at which, if you spent any more or any less time organizing, you would become inefficient. When we see a perfectly clean, organized office, with it's sleek glass-topped desk and a white MacBook centered perfectly atop the desk's vast emptiness, we might find it cold, sterile, oppressive even. It's not a coincidence that the Death Star's halls are clean, white — and cold!
The Perfect Mess
Thunderbird gets GTD'd... « searching4arcadia
A few things came together for me this past weekend, and I thought I'd share a bit. First, was MerlinMann's discussion of the usefulness (or lack thereof) of e-mail folders. I agree completely with Merlin on this one- and I feel a hint of a running thread here- focus on The Work and not on Organization. After all it is "Getting Things Done" not "Organizing Things Nicely".
Notes from Getting Things Done (GTD) by David Allen (GTD® and Getting Things Done® are registered trademarks of the David Allen Company. Please visit www.davidco.com to learn more.) capture all the things that need to get done into a logical and trusted system outside of your head and off your mind disciplining yourself to make decisions about all the inputs you let into your life, so that you will always have a plan for next actions that you can implement or renegotiate at any moment
31 Resources on The best GTD resources - Listible!
ATPM 13.02 - Next Actions: A Survey of the GTD App Landscape
25 Firefox Extensions to Make You More Productive
GOE: Getting Organized Experiment Programs 2007
Archive » Tough questions for your things
The Perfect Mess
Productive Talk: 43 Folders Meets David Allen on Odeo