Architects / Visualizers
Jim Leggitt (Water Color Effects) I wrote a blog post on December 9, 2013 detailing the step-by-step process I used for visualizing a repurposed space within a historic feed and grain building in Colorado.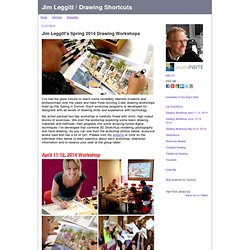 This followup article is about the importance of creating a "series" of sketches for a single project to best communicate design ideas. This visualization project involved a proposal to renovate the ground floor of the brick agricultural building into artist studios, multi-use events spaces, art galleries and commercial space. Nilo Aleo - Home. John Walsom - Architectural Perspectives and Illustrations. Toh Shimazaki Architecture - Home. Spine3D - Architectural Animation & Illustration Studio. Nicolas Richelet - Portfolio - Infographiste - Architecture, Animation et Illustrations - Hayes Davidson.
Ronen Bekerman's 3d Architectural Visualization Blog - The source for sharing & learning about all aspects of 3d architectural visualization.
---