Architects / Visualizers
Jim Leggitt (Water Color Effects)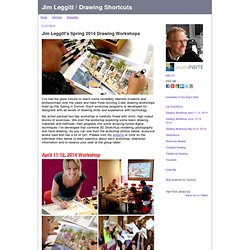 I wrote a blog post on December 9, 2013 detailing the step-by-step process I used for visualizing a repurposed space within a historic feed and grain building in Colorado. This followup article is about the importance of creating a "series" of sketches for a single project to best communicate design ideas. This visualization project involved a proposal to renovate the ground floor of the brick agricultural building into artist studios, multi-use events spaces, art galleries and commercial space.
Nilo Aleo - Home
John Walsom - Architectural Perspectives and Illustrations
Toh Shimazaki Architecture - Home
Spine3D - Architectural Animation & Illustration Studio
Nicolas Richelet - Portfolio - Infographiste - Architecture, Animation et Illustrations -
Hayes Davidson
Following up on the 52 Weekly Best Visualizations posted two days ago, I'm proud to present now the selected 12 BEST of MONTH visualizations of 2013! It was far from easy to make this selection of the 12… but for each month – There can be only one! Each will get a 100 Euro Voucher, to spend on great looking 3D furniture models by Designconnected. the BEST OF YEAR is coming next!