Food
5-minute chocolate cake in a mug recipe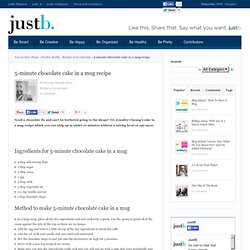 Need a chocolate fix and can't be bothered going to the shops? Try Jennifer Cheung's cake in a mug recipe which you can whip up in under 10 minutes without a mixing bowl or any mess. Ingredients for 5-minute chocolate cake in a mug
This morning I read this article in the Huffington Post. I really encourage you to do the same. I often find treasure in the Huff. It is a good place to go to when the bad news gets a bit too much to bear.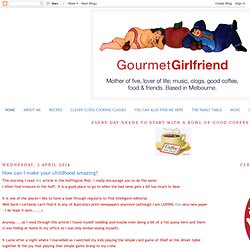 GourmetGirlfriend
Dinner Tonight: Quick Bread Recipes - Martha Stewart
christmas / 10 Christmas Gifts in a Jar!
I have to tell you guys, I had a lot of fun with this recipe! I had a blast making these with my niece and turning this idea into dinner the other day. Who doesn't love a pasta cup filled with delicious sauce and ooey gooey cheese? I think I could say that EVERYONE falls under this category.
Lasagna Cups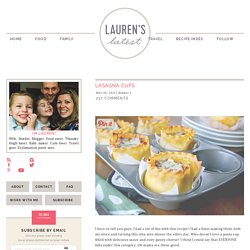 Hey Guys! So…it's still really hot out…wtf! I'm totally ready for fall…forget this, "I just don't want summer to end" BS…I'm OVER IT! Okay, I apologize for being aggressive right there, but man does this weather make me grumpy. There are a few things that get my mood up during weather like this: 1) My Dog (always) 2) Frequent Fro-Yo and Hawaiian Ice trips with the boyfriend 3) This Roasted Onion Dip. Remember when you were a kid and sleepovers were still the best thing ever?
Crispy Potato Roast Recipe
Garlic-Marinated Chicken Cutlets with Grilled Potatoes
Food
Recipes, recipes and recipes - Taste
I am really excited to announce that I am teaming up again with my dear friend John Ondo, Chef at Lana restaurant in Charleston, South Carolina for a 4 day workshop in Myrtle Beach, South Carolina, May 13th-17th 2014, combining cooking classes and photo/styling....! We were able to open registration to one more student thanks to the property we chose which is always good since our workshop always sell fast and with a wait list. Hopefully you will be lucky number 13! Yes, it's a good number (my birthday is May13th...)
Tartelette
Amy Atlas Events
At Amy Atlas Events, we believe that your party should be an expression of you. That's why we take the time to get to know you and come up with a theme that reflects your personality. We'll make what inspires you the essence of your party. If you haven't decided on a theme yet, we can come up with some ideas together to create a visually stunning event using tailored color schemes and designs. Whether you're planning your company's annual event or a bar or bat mitzvah for your child, our unique dessert tables will bring a sweet touch to your special event. We believe that desserts and entertaining go hand-in-hand.