Cool Crafts
Wednesday - Blog - DIY Fabric&Flower. DIY: Colored Pencil Jewelry. Oh, hello friend: you are loved.: guest blogger - Sasha from The Guilded Bee: Simply Vintagegirl Blog & Blog Archive & Tutorial: How to Make Lovely Fabric Flowers - StumbleUpon. 29 May 2010 These elegant fabric flowers are very simple to make . . . and only take a few basic supplies.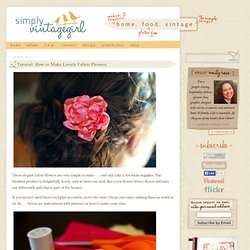 The finished product is delightfully lovely, and at times can look like a real flower! Wedding Ideas: DIY Stationery and Cards! | Wedloft by WeddingWindow.com. If you have a small budget for your wedding, one major way to cut expenses is to DIY!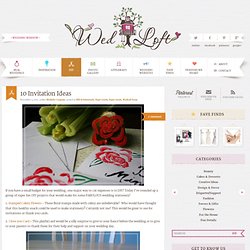 Today I've rounded up a group of super fun DIY projects that would make for some FABULOUS wedding stationery! 1. Stamped Celery Flowers – These floral stamps made with celery are unbelievable! Stencil with freezer paper (harry potter tee)... - StumbleUpon. Yes, I am a nerd.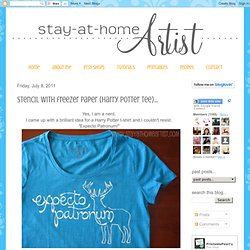 I came up with a brilliant idea for a Harry Potter t-shirt and I couldn't resist. "Expecto Patronum! " However, you can make whatever kind of design you want with a freezer paper stencil. It doesn't have to be Harry Potter related. (Although it would be awesome if it was.) This to That (Glue Advice) - StumbleUpon. Wednes-diy | Free People Clothing Boutique Blog - StumbleUpon. UPDATE: This post originally ran on March 23 2011, but with summer winding down we wanted to bring it back up for some late summer inspiration!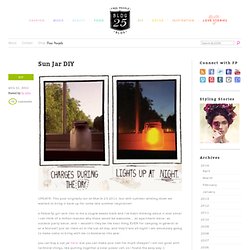 A fellow fp girl sent this to me a couple weeks back and i've been thinking about it ever since! I can think of a million reasons why these would be awesome… as apartment décor, as outdoor party décor, and – wouldn't they be the best thing EVER for camping in general or at a festival? Just let them sit in the sun all day, and they'll last all night! I am absolutely going to make some to bring with me to bonnaroo this year. you can buy a sun jar here, but you can make your own for much cheaper! How to Make Leaf Skeletons - The Idea Room - StumbleUpon. I wanted to share with you a project from one of my readers who shares with us how to make leaf skeletons.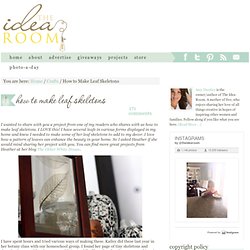 I LOVE this! I have several leafs in various forms displayed in my home and knew I needed to make some of her leaf skeletons to add to my decor. I love how a pattern of leaves can enhance the beauty in your home. How to make roses from maple leaves | haha.nu - the lifestyle blogzine - StumbleUpon. How to Make Cinnamon Applesauce Ornaments: Homemade Ornament Recipe | mevsthehouse.com. Add the scent of cinnamon to your holiday with homemade cinnamon Christmas ornaments.
These ornaments can be hung from the Christmas tree, used to decorate packages, strung together to make a beautifully scented garland, or as great holiday gifts. Since the recipe is simple these are a great Christmas craft project to do with kids! This recipe makes 12 – 14 medium sized Cinnamon Applesauce Ornaments. Natural Pine Wreath « berkshiregirl. This simple Pine Wreath is made from 4 pine boughs, a metal ring, florist's wire, pine cones, and assorted other trimmings.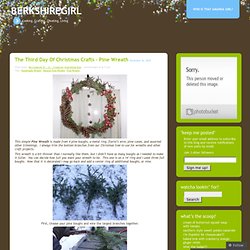 I always trim the bottom branches from our Christmas tree to use for wreaths and other craft projects. This wreath is a bit thinner than I normally like them, but I didn't have as many boughs as I needed to make it fuller. Stained-Glass Ornaments Recipe at Epicurious. 1.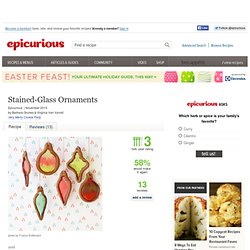 In a large bowl, whisk together the flour, baking soda, salt, cinnamon, ginger, and nutmeg. Set aside. DIY Watercolours + Organic Finger Paint. Make your own watercolours, for a fun holiday activity, great for wet indoor days.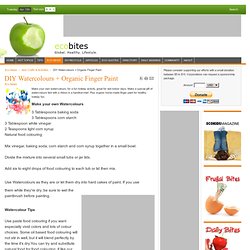 Make a special gift of watercolours tied with a ribbon in a handkerchief. Plus organic home-made finger paint for healthy holiday fun. Make your own Watercolours 3 Tablespoons baking soda 3 Tablespoons corn starch 3 Tablespoon white vinegar 2 Teaspoons light corn syrup Natural food colouring Mix vinegar, baking soda, corn starch and corn syrup together in a small bowl. Wishing well. Make: Dried Orange Slice Ornaments | cookquiltmakeandbake.
---