Tegwin
Tegwin Zeth Deacon
Canon Xa10 Price - Your Ultimate Web Resource
Gadget Arena - Smartphones
ChattanoogaUnixGnuAndroidLinuxUsersGroup Hot Topics: Sponsoring: Deep Freeze Alt? March-31, 2014 by: David White From: David White ------------------------------------------------------ One idea: Setup a Linux host with a Windows VM that just boots to the original snapshot every time.
Microsoft
Canon XA10/XA20 Professional Camcorder Users Forum - Index
iOS Image Source Code Examples - page 10 - iOS App Development Libraries, Controls and Examples - Open Source iPhone/iPad Apps - Code4App.net
[TOOL][WINDOWS] ANDROID MULTITOOL v3.4 Hello, I´m glad to present my Android Multitool wich makes it easier to decompile/recompile applications + jar framework files. You can also sign your apk by easily clicking a button. Requirements: Winows OS XP / 7 / 8 / 8.1Installed Java on WindowsInstalled Microsoft PowerpacksInstalled .NET framework - Easy handling: Select your apk and push the "decompile" button!
View Single Post - [TOOL][WINDOWS] ANDROID MULTITOOL v2.1 | update | more user-friendly now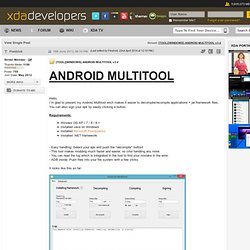 DIY-Dating