Photoshop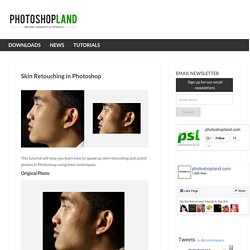 This tutorial will help you learn how to speed up skin retouching and polish photos in Photoshop using basic techniques. Original Photo Step 1 Duplicate the background image and rename it to Layer 1 . Step 2 Go to Filter > Other > High Pass and set the Radius to around 4.5 pixels .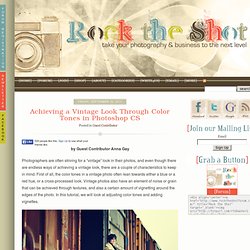 by Guest Contributor Anna Gay Photographers are often striving for a "vintage" look in their photos, and even though there are endless ways of achieving a vintage look, there are a couple of characteristics to keep in mind. First of all, the color tones in a vintage photo often lean towards either a blue or a red hue, or a cross-processed look. Vintage photos also have an element of noise or grain that can be achieved through textures, and also a certain amount of vignetting around the edges of the photo. In this tutorial, we will look at adjusting color tones and adding vignettes. This photo is the result of adjusting the color curves, adding two vignettes, and a color fill, which we will walk through step-by-step.
30.Create A-Smoke Photo Effect 31.Smoke Effect 32.Creating a Touching Story Scene in Photoshop 33.How to Put Smokin' Bullet Holes and a Wanted Sign into a Piece of Wood 34.A Slick Supernatural Text Effect 35.Create a Spectacular Flaming Meteor Effect on Text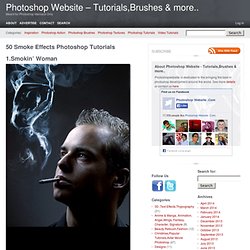 50 Smoke Effects Photoshop Tutorials
108 Best Photoshop Web Designs Layout Tutorials
Want to learn how everything works in Photoshop? We'll help you make your photos better, draw vector graphics, and design a web site. Learn the Basics of Photoshop in Under 25 Minutes - To get started with Photoshop, you need to know what everything does. Here's a look at practically every tool in Photoshop in less than 25 minutes. Basics of Photoshop: Color Correction, Touch Ups, and Enhancements - Now that you know the tools Photoshop has to offer, we can take a look at using them to correct and alter color, retouch blemishes and other unwanted parts of your photos, and enhance portraits to make the subject look especially good. Basics of Photoshop: Basic Drawing with the Pen Tool - Photoshop isn't just for photos.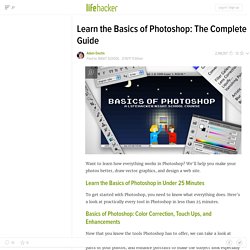 Feb 07 2011 Advertisement Brushes for Adobe Photoshop are known to be one of the most used add-ons since they don't just enhance your designs, but also help give your works a new, fresh and stunning look.