M
Oer/images/band3_oer.pdf.
Surveys
Online survey software. Free web survey tool. eSurveysPro.com. Www.abed.org.br/arquivos/Fredric_Litto_A_Nova_Ecologia_do_Conhecimento.pdf. Direção. O Diretor é o órgão de administração e gestão do Agrupamento de Escolas nas áreas pedagógica, cultural, administrativa, financeira e patrimonial.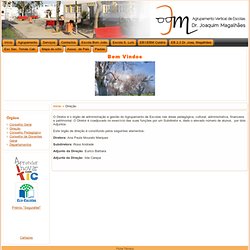 O Diretor é coadjuvado no exercício das suas funções por um Subdiretor e, dado o elevado número de alunos, por dois Adjuntos. Este órgão de direção é constituído pelos seguintes elementos: Diretora: Ana Paula Mourato Marques Subdiretora: Rosa Andrade Adjunto da Direção: Eurico Bárbara. Open Educational Resources workshop on reuse. Recursos Educacionais Abertos. O desenvolvimento de práticas educativas suportadas por Recursos Ed... Integração de recursos educativos abertos num modelo pedagógico de ensino-aprendizagem. Escola Secundária de Silves - Início. Bem vindo a profteresa. net - Ensino de Língua Portuguesa e Tecnologias Educativas ::::  Teresa Pombo, 2010. Archives. Open educational resources: staff attitudes and awareness | Rolfe. Vivien Rolfe* Faculty of Health and Life Sciences, De Montfort University, Leicester, UK (Received 25 October 2010; final version received 27 April 2011; Published: 3 February 2012) Abstract Attitudes are changing in education globally to promote the open sharing of educational courses and resources.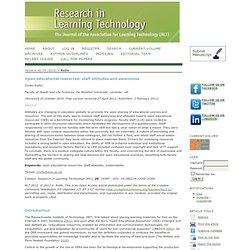 The aim of this study was to explore staff awareness and attitudes toward 'open educational resources' (OER) as a benchmark for monitoring future progress.
---