TravelingGeeks
Paris Diary: The International Geek Brotherhood… | Traveling Gee. Traveling Geeks 09 Paris: Microblog via Twitter. My platform of choice during the Traveling Geeks 09 trip to Paris was first Twitter to microblog, then loading the microblog items to a blog post (my blogging platform is Typepad).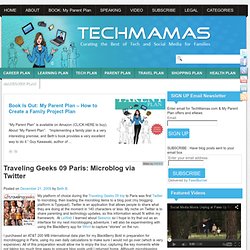 Twitter is an application that allows people to share what they are doing at the moment in 140 characters or less. My niche on Twitter is to share parenting and technology updates, so this information would fit within my framework. At LeWeb I learned about Seesmic so I hope to try that out as an interface for my next microblogging adventure. Mike Arrington Interviews Google's Marissa Mayer #tg09 #leweb |  Traveling Geeks get Mashed with MashCast | MashCast. Traveling Geeks meet French Incubators at Paris Development Agen. Orange Highlights at LeWeb  Niklas Zennström at LeWeb  Loic LeMeur Interviews YouTube's Chad Hurley #leweb #tg09 | Trav. Day one @ LeWeb Paris09  LeWeb Speaker Dinner Kicks 6th LeWeb into Motion #leweb | Travel. Answers.com Announces Availability in French, Italian, German an. Twitter: Firehose for All and "Chirp" Official Developer Confere.
Finding Tweets that Matter to You: My6sense Launches New iPhone. Scobleizer: First #tg09 startup is Cedexis CEO is @juliencoulon. Touchable movable video  How Dell handles customer service and sales through social media. Traveling Geeks At La Cantine with Cap Digital  The Green Watch: Crowdsourcing Air Quality Measurements | Travel. Pearltrees: A Unique Way to Discover & Organize on the Web | Tra. TechMama is Traveling – With None Other Then The "Traveling Geek. Traveling Geeks Paris 09. Traveling Geeks On the Paris Metro (200 Meeting a Day? Okay, Not. MySpace Suite of API's Leveraging Real-time Updates | Traveling. Microsoft Traveling Geeks Geek Pad  LeWeb: Chad Hurley, CEO of YouTube 
The Real-Time Web – Indeed!  TechZulu heads to Paris with the Traveling Geeks! | Traveling Ge.