Mombloggersclub
Writer's Guidelines - Mom Blog Magazine
Mom Blog Magazine: Must-Reads for Savvy New Media Moms
Blogs - Mom Bloggers Club: Connect With Over 10,000 Mom Bloggers
Latest Activity in Groups - Mom Bloggers Club: Connect With Over 10,000 Mom Bloggers
Discussion Forum - Mom Bloggers Club: Connect With Over 10,000 Mom Bloggers
Featured Member Photos - Mom Bloggers Club: Connect With Over 10,000 Mom Bloggers
Our newest members. Join us! - Mom Bloggers Club: Connect With Over 10,000 Mom Bloggers
From Blog to Business
Mom Bloggers Club Best Blogs
Pregnant Bloggers Club
Gamer Moms Club: Gaming Moms Unite!
Mom Vloggers Club - Watch Out! We're Moms With Camcorders.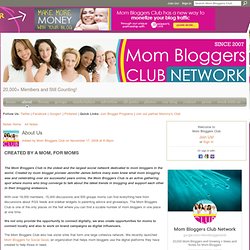 About Us - Mom Bloggers Club: Connect With Over 10,000 Mom Bloggers
We are making some updates to the site. We'll be back soon, thanks for your patience. Estamos haciendo algunos cambios a la página. Estaremos de vuelta pronto, gracias por su paciencia.
Mom Bloggers Club: Connect With Over 10,000 Mom Bloggers