Techmama
Beth Blecherman
Founder TechMamas.com, Co-Founder SVmomsGroup.com, Mom Tech Blogger
techmama : Hope your Valentine's Day was
Wearable Technology And Fashion: Can They Merge?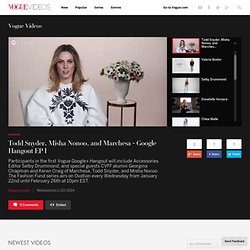 Fashion Learn How to Do Lena Dunham's "The Cover Girl" Dance You've seen International Editor at Large Hamish Bowles teaching Lena Dunham how to do "the cover girl." In this Vogue Original Short, Celia Rowlson-Hall, the choreographer behind the video, walks us through the model-inspired dance. Now, show us how you "Shalom it out," work it like "Edie," or do the "manic Linda" by posting your own video on YouTube, Instagram, or Twitter using #voguecoverdance.
Watch Todd Snyder, Misha Nonoo, and Marchesa - Google Hangout EP 1
techmama : Chameleon Cocktail Dress with
techmama : Chameleon Cocktail Dress with
Making a Marant Statement | Fashion. Style. Beauty. | Life is short. Live well.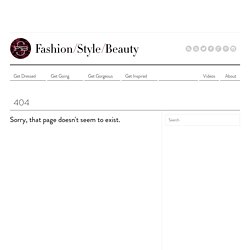 Photo: giafrese Since I'm traveling today, I wanted to show you almost the exact outfit in which I'm making my journey home. I'm currently sitting in the Charlotte Douglas International Airport in Isabel Marant pour H&M jeans, a black beaded vintage top, and a rather over-the-top black jacket like this one (which was borrowed from the photographer for this shoot.) The shiny TOMS just add a touch of spice to the look, don't you think? You might say to yourself, isn't this a little much for airport travel, especially heading home for the holidays. My answer is no.
Biscotti & Bracelets
Design Your Own Clothes | Unique Gifts for Girls | Dress-Up Games | FPgirl by FashionPlaytes
Black Friday Handbag Deals #FashionFriday
Sign Up for Daily Email Updates --> Click HereClose Open Filed Under: Fashion Friday, Shopping & Deals 9 Comments Comments Trackbacks So Thankful | Red Tag Chic Los Angeles says: November 29, 2013 at 9:12 am […] Musings of a Housewife: Fashion Friday […] Reply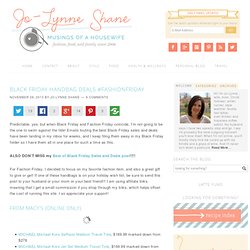 What Katie's Wearing Today – Katie Couric
Instagram
Instagram
tjmaxx : Do you embrace mixed media
techmama : I love geeky #tech at #2013CES,
techmama : I love geeky #tech at #2013CES,
LuxMobile Group - Fashion Accessories for Your Mobile Lifestyle
The 64th Emmy Awards Red Carpet Fashion Recap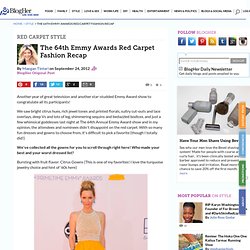 Another year of great television and another star-studded Emmy Award show to congratulate all its participants! We saw bright citrus hues, rich jewel tones and printed florals, sultry cut-outs and lace overlays, deep Vs and lots of leg, shimmering sequins and bedazzled bodices, and just a few whimsical goddesses last night at The 64th Annual Emmy Award show and in my opinion, the attendees and nominees didn't disappoint on the red carpet.
I cannot tell you how many times I've lost charge on my iPhone when I've needed it most and didn't have my Mophie charger on hand, or access to an outlet. The first soccer game photos, the beautiful sunset in Mexico…sadly the list goes on. So when I saw these gorgeous bags that actually power your devices while you wear them, I thought this might just be exactly what I need. And it doesn't hurt that they're stylish too. You'll also find a bunch of pockets plus storage for the bag's own charging cord, and an outlet adapter as well. And I love that the bag has an eco-friendly design, with the cool fabric made entirely of reclaimed plastic bottles.
3 Stylish bags that power your gadgets at Cool Mom Tech
Fashion Forward Conference |
What Not To Wear To Work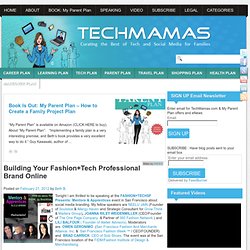 Tonight I am thrilled to be speaking at the FASHION+TECHSF Presents: Mentors & Apprentices event in San Francisco about social media branding.
Building Your Fashion+Tech Personal Brand Online
Sarah Jessica Parker
Invalid quantity. Please enter a quantity of 1 or more. The quantity you chose exceeds the quantity available. Please enter your name. Please enter an email address. Please enter a valid email address.
FASHION+TECHSF Presents:... - Eventbrite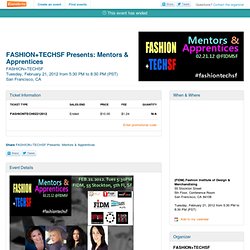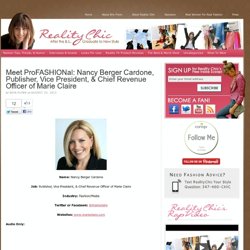 Meet ProFASHIONal: Nancy Berger Cardone, Publisher, Vice President, & Chief Revenue Officer of Marie Claire
Name: Nancy Berger Cardone
Beth Blecherman Tech: Fun2see @graceduffy & Nata
Beth Blecherman Tech: g8 to see @abcandrea at #f
Beth Blecherman Tech: Congrats2 @robinr , Julie
Living In Digital Times Fashionware Show
These sweet digital 007 accessories let you carry a router around on your wrist. (Credit: Brookstone) Let's face it.
Cufflinks with Wi-Fi hot spot turn you into a digital 007 | Crave - CNET
With the oh so fashionable @techmama at the #fashionwareshow on Twitpic
Narrators of modelsRin greenroom getting ready4 #Fashionwares
Welcome | RachelZoe.com
holiday2010_consumertech_news
Harmony® 650 Remote
Tech Conferences 2009/2010