Techcrunch getting sold
Guardian Tech
Have an account? Sign in New to Twitter? Join Today » Forgot password?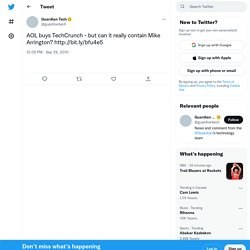 Deal live on stage
I'm very pleased to announce that we have acquired TechCrunch. Details are in the press release below, and I'm sure founder Michael Arrington will have a few words to say as well. This is a great complement to our continued investment in world class content.
Tim Armstrong: We Got TechCrunch!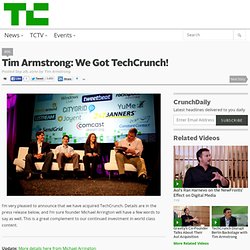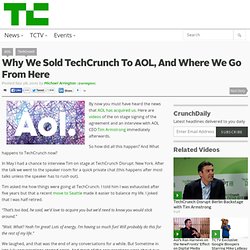 By now you must have heard the news that AOL has acquired us. Here are videos of the on stage signing of the agreement and an interview with AOL CEO Tim Armstrong immediately afterwards. So how did all this happen?
Why We Sold TechCrunch To AOL, And Where We Go From Here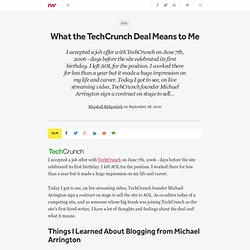 What the TechCrunch Deal Means to Me
I accepted a job offer with TechCrunch on June 7th, 2006 - days before the site celebrated its first birthday. I left AOL for the position. I worked there for less than a year but it made a huge impression on my life and career. Today I got to see, on live streaming video, TechCrunch founder Michael Arrington sign a contract on stage to sell the site to AOL.
The Way I Work: Michael Arrington of TechCrunch
AOL Insider Says TechCrunch Price Only $25 Million – CNBC Says $40 Million
Update: Sources tell CNBC that AOL paid $40 million. We're guessing the $25 million figure is cash and the rest is an earnout. Earlier: AOL has told insiders that the company is only paying $25 million for TechCrunch, a second-hand source tells us. Another source close to AOL thinks the price is "on the lower side vs. what some have said," which would be consistent with $25 million.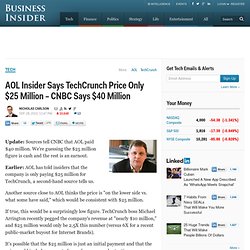 AOL to Acquire TechCrunch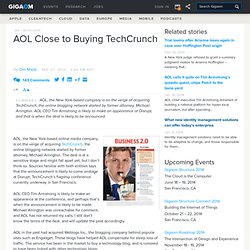 Breaking: AOL Close to Buying TechCrunch: Tech News «
AOL, the New York-based online media company, is on the verge of acquiring TechCrunch, the online blogging network started by former attorney, Michael Arrington. The deal is at a sensitive stage and might fall apart yet, but I don't think so. Sources familiar with both entities says that the announcement is likely to come onstage at Disrupt, TechCrunch's flagship conference currently underway in San Francisco. AOL CEO Tim Armstrong is likely to make an appearance at the conference, and perhaps that's when the announcement is likely to be made. Michael Arrington was unreachable for comment, and AOL has not returned my calls.
The news/rumor that Techcrunch is up for sale quickly made the rounds at the Techcrunch Disrupt conference this afternoon. GigaOm started it with a post that a sale to AOL is close at hand. I've been burned by these kinds of rumors before, I remember when it was rumored that AOL was buying Mashable, but those discussions never led anywhere. This time, however, I was back stage at the Disrupt conference when the news started making the rounds. I quickly asked staff members about the rumor.
Techcrunch Disrupted by AOL: The end of an era in tech blogging?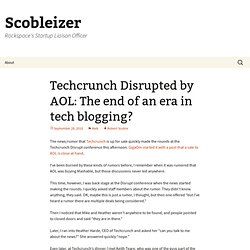 AOL Is Close To Buying TechCrunch
AOL is close to buying TechCrunch, Om Malik of GigaOm reports. The deal could still fall apart, but Malik seems certain that it will close. He says it will be announced on stage at TechCrunch's big conference, Disrupt. AOL CEO Tim Armstrong is to appear at Disrupt with Arrington. Armstrong wants to turn AOL into the greatest online media property in the world.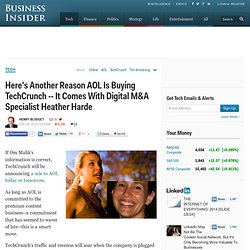 Here's Another Reason AOL Is Buying TechCrunch -- It Comes With Digital M&A Specialist Heather Harde
If Om Malik's information is correct, TechCrunch will be announcing a sale to AOL today or tomorrow. As long as AOL is committed to the premium content business--a commitment that has seemed to waver of late--this is a smart move. TechCrunch's traffic and revenue will soar when the company is plugged into AOL's salesforce and distribution system, so whatever AOL pays as a multiple of TechCrunch's current revenues will be chicken-feed relative to the revenue the integrated site will ultimately generate.
AOL Tried To Buy TechCrunch Twice Before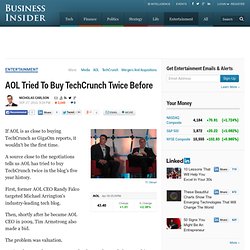 If AOL is as close to buying TechCrunch as GigaOm reports, it wouldn't be the first time. A source close to the negotiations tells us AOL has tried to buy TechCrunch twice in the blog's five year history. First, former AOL CEO Randy Falco targeted Michael Arrington's industry-leading tech blog. Then, shortly after he became AOL CEO in 2009, Tim Armstrong also made a bid.
Michael Arrington accepts a Seattle T-shirt at the TechFlash Town Hall Summit at Seattle University. Stephen Brashear photo John Cook Michael Arrington is having a hard time adjusting to his new hometown. The TechCrunch publisher -- who moved to the Seattle area last month -- made his first official appearance in the Seattle tech community Tuesday night at the TechFlash Town Hall Summit.
First rumor