Judges
Gina Bianchini. Chi-Hua Chien. Chi-Hua Chien joined Kleiner Perkins Caufield & Byers in 2007.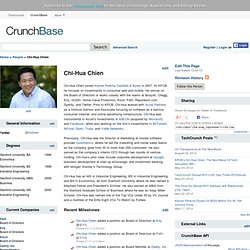 At KPCB he focuses on investments in consumer web and mobile. He serves on the Board of Directors or works closely with the teams at Booyah, Chegg, Erly, GOGII, Home Value Protection, Klout, Path, Reputation.com, Spotify, and Twitter. Prior to KPCB, Chi-Hua worked with Accel Partners as a Venture Advisor and Associate focusing on software as a service, consumer Internet, and online advertising infrastructure. Chi-Hua was instrumental in Accel's investments in AdECN (acquired by Microsoft) and Facebook, while also working on the firm's investments in BitTorrent, fbFund, Glam, Trulia, and YuMe Networks. Previously, Chi-Hua was the Director of Marketing at hosted software provider Coremetrics, where he led the marketing and inside sales teams as the company grew from 20 to more than 200 customers. Jeff Clavier. Jean-Francois "Jeff" Clavier is the Founder and Managing Partner of SoftTech VC, one of the most established seed VC firms in Silicon Valley, having closed 150 investments since 2004.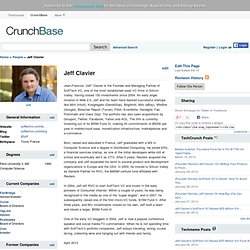 An early angel investor in Web 2.0, Jeff and his team have backed successful startups like Mint (Intuit), Kongregate (GameStop), Brightroll, Milo (eBay), Wildfire (Google), Bleacher Report (Turner), Fitbit, Eventbrite, Sendgrid, Fab, Poshmark and Class Dojo. The portfolio has also seen acquisitions by Groupon, Twitter, Facebook, Yahoo and AOL.
The firm is currently investing out of its $55M Fund III, making 20 commitments of $500K per year in mobile/cloud saas, monetization infrastructure, marketplaces and e-commerce. Born, raised and educated in France, Jeff graduated with a MS in Computer Science and a degree in Distributed Computing. Chamillionaire. Hakeem Seriki (born November 28, 1979),[1] better known by his stage name Chamillionaire, is an American rapper and entrepreneur from Houston, Texas.[2] He is the CEO of Chamillitary Entertainment.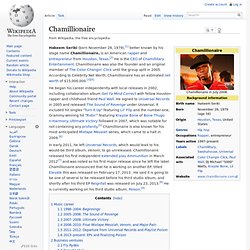 Chamillionaire was also the founder and an original member of The Color Changin' Click until the group split in 2005. According to Celebrity Net Worth, Chamillionaire has an estimated net worth of $15,000,000.[3][4] Don Dodge. Josh Felser. John Ham. Joe Kraus. Jim Lanzone. Jim Lanzone is President of CBS Interactive.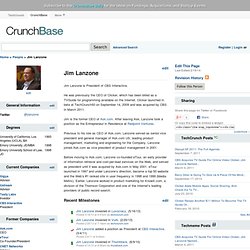 He was previously the CEO of Clicker, which has been billed as a TVGuide for programming available on the Internet. Clicker launched in beta at TechCrunch50 on September 14, 2009 and was acquired by CBS in March 2011. Jim is the former CEO of Ask.com. Loic Le Meur. Ted Maidenberg. Ted Maidenberg is a General Partner at The Social+Capital Partnership (Social Capital) – a venture capital fund based in Palo Alto, CA that incubates and invests in breakthrough companies in healthcare, education, financial services, mobile and enterprise software.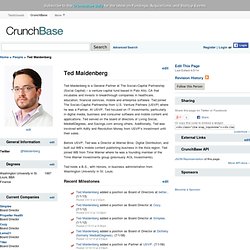 Ted joined The Social+Capital Partnership from U.S. Venture Partners (USVP) where he was a Partner. At USVP, Ted focused on IT investments, particularly in digital media, business and consumer software and mobile content and applications. Ted served on the board of directors of Living Social, Media6Degrees, and Savings.com among others. Sean Parker. Victoria Ransom. Victoria has been an entrepreneur since her early twenties and has developed three successful companies.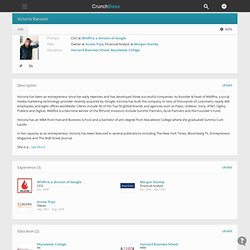 As founder & head of Wildfire, a social media marketing technology provider recently acquired by Google, Victoria has built the company to tens of thousands of customers, nearly 400 employees, and eight offices worldwide. Clients include 30 of the Top 50 global brands and agencies such as Pepsi, Unilever, Sony, AT&T, Ogilvy, Publicis and Digitas. Wildfire is a two-time winner of the fbFund; investors include Summit Partners, Accel Partners and the Founder's Fund. Victoria has an MBA from Harvard Business School and a bachelor of arts degree from Macalester College where she graduated Summa Cum Laude. Chris Sacca. An accomplished venture investor, private equity principal, company advisor, and entrepreneur, Chris manages a portfolio of over fifty consumer web, mobile, and wireless technology start- ups as well as an array of mature enterprises through his holding company, Lowercase Capital.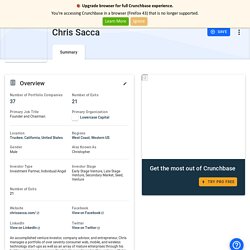 While primarily known for its investments in seed and early stage technology companies, Lowercase has quietly become one of the largest momentum investment funds in the country. Previously, Chris served as Head of Special Initiatives at Google Inc. In that role, among other responsibilities, he founded and headed up the alternative access and wireless divisions. His most visible projects include Google's 700MHz and TV white spaces spectrum initiatives, the company's groundbreaking data center in Oregon and Google's free citywide WiFi network in Mountain View, CA. Julie Schoenfeld. Julie is a veteran entrepreneur with a passion for identifying talent and assembling effective teams.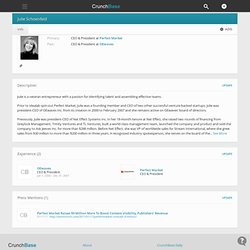 Prior to Idealab spin-out Perfect Market, Julie was a founding member and CEO of two other successful venture-backed startups. Julie was president-CEO of OEwaves Inc. from its creation in 2000 to February 2007 and she remains active on OEwaves' board of directors. Previously, Julie was president-CEO of Net Effect Systems Inc. In her 18-month tenure at Net Effect, she raised two rounds of financing from Greylock Management, Trinity Ventures and TL Ventures, built a world-class management team, launched the company and product and sold the company to Ask Jeeves Inc. for more than $288 million. Robert Scoble. James Slavet. Sukhinder Singh Cassidy. Sukhinder Singh Cassidy is Founder & Chairman of JOYUS.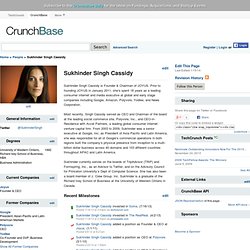 Prior to founding JOYUS in January 2011, she's spent 18 years as a leading consumer internet and media executive at global and early stage companies including Google, Amazon, Polyvore, Yodlee, and News Corporation. Most recently, Singh Cassidy served as CEO and Chairman of the board at the leading social commerce site, Polyvore, Inc., and CEO-in-Residence with Accel Partners, a leading global consumer internet venture capital firm.
From 2003 to 2009, Sukhinder was a senior executive at Google, Inc; as President of Asia Pacific and Latin America, she was responsible for all of Google's commercial operations in both regions built the company's physical presence from inception to a multi-billion dollar business across 40 domains and 103 different countries throughout APAC and Latin America. Todor Tashev. Photo: Eric Millette Todor is partner at Omidyar Network and leads the firm's U.S.
-based efforts in Consumer Internet & Mobile, Education, and Financial Inclusion. Across these initiatives, Todor's investment focus is on consumer Internet and mobile companies. His portfolio includes Common Sense Media, Couchsurfing, Digg, DoSomething.org, Federated Media Publishing, Foursquare, Linden Lab, Meetup, Metaweb (GOOG), OATV, Seesmic, Socialtext (Peoplefluent), and Wikia. Todor brings more than 20 years of experience in technology and venture capital to his role at Omidyar Network.
Matt Thompson. BizSpark Featured Startup App: TradingView BizSpark Online, 4/18/2014 10:00 AM "Today we feature a BizSpark Startup who recently published their Finance App called TradingView. Trading View helps you track accurate information for stocks and other markets with the most advanced charts available and enables you to set up personal... Greg Tseng. Greg Tseng co-founded Tagged in October 2004 and has served as Chief Executive Officer since its inception. He has been a driving force in creating Tagged.com with his partner, co-founder and long-time friend, Johann Schleier-Smith.
Greg holds an A.B. in Chemistry & Physics & Mathematics from Harvard University, where he served as a Director of the Harvard Entrepreneurs Club (HEC) from 1998-2000 and co-authored The Harvard Entrepreneurs Club Guide to Starting Your Own Business (Wiley, 1999). Greg is presently on leave from Stanford University, where he is pursuing the Ph.D. in Physics on a National Defense Science and Engineering Graduate Fellowship. His academic research lies in the field of nanotechnology and he has published his results in top journals such as Science. Elaine Wherry. Lior Zorea.
---