About ToVieFor
ToVieFor Pitch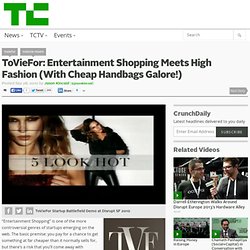 "Entertainment Shopping" is one of the more controversial genres of startups emerging on the web. The basic premise: you pay for a chance to get something at far cheaper than it normally sells for, but there's a risk that you'll come away with nothing.
ToVieFor: Entertainment Shopping Meets High Fashion (With Cheap Handbags Galore!)
ToVieFor
ToVieFor gives the average shopper that isn't looking to spend $1,000 on a new bag a chance to snag top-of-the-line fashion goods for much less than full price with its own spin on fashion fire sales.
ToVieFor pitches top-end fashion by turning sales into games