About Pinger
Pinger presentation. Pinger. Pinger Now Turns Your iPod Touch Into A Free Cell Phone. Earlier this month we took a look at Pinger, the company behind Textfree, a massively popular application for the iPhone and iPod Touch that gives users free, unlimited text messaging.
Since launching in March 2009, users have sent over 4 billion text messages with the app, which has been downloaded 8 million times (these numbers effectively put Pinger in the top ten US carriers, volume-wise). And today at TechCrunch Disrupt, the company is announcing that it's venturing into new territory: voice calls. Textfree will soon include a true SIP-based VOIP client that works over both 3G and Wifi. Pinger Will Soon Allow You to Use Your iPod Touch as a Phone - iSmashPhone iPhone Blog.
Pinger, makers of an App called Textfree, which many will know gives users free texting will soon be giving users the ability to make free calls.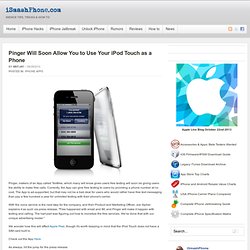 Currently, the App can give free texting to users by providing a phone number at no cost. The App is ad-supported, but that may not be a bad deal for users who would rather have free text messaging than pay a few hundred a year for unlimited texting with their phone's carrier.
---