China
Chinese Citizens Speak Out Against China's Prison Labor System. After a US resident found a note in one of her Halloween decorations claiming to be from a Chinese labor.html">labor.html">labor camp, the US Homeland Security has been investigating labor conditions of Chinese made products.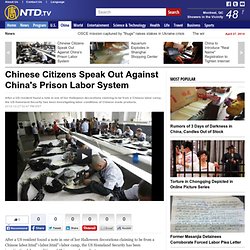 It's also reopened the discussion on China's controversial labor.html">labor.html">labor re-education system. NTD spoke with Gu Chuan, a visiting scholar at Columbia University. He says that China's prisons and labor camps do not rehabilitate people, and the international community should pressure the Chinese regime to reform the systems. Former Masanjia Detainees Corroborate Forced Labor Plea Letter. It's a modern-day version of a message in a bottle.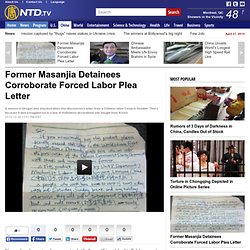 From a Chinese labor.html">labor camp to the home of a US resident. On Sunday, the Oregon-based Oregonian newspaper reported a letter resident Julie Keith discovered inside a box of Halloween decorations. Chinese Lawyer Supports Falun Gong in China | Democracy & Human Rights. By Albert Ding & Gary PanseyEpoch Times Staff Created: December 20, 2012 Last Updated: December 26, 2012 Prominent Chinese lawyer Guo Lianhui in his office.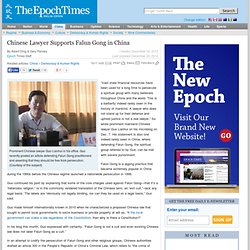 Guo recently posted an article defending Falun Gong practitioners and asserting that they should be free from persecution. (Courtesy of the subject) "Vast state financial resources have been used for a long time to persecute a spiritual group with many believers throughout China and the world. This is a barbarity indeed rarely seen in the history of mankind. Abducted Taiwanese Testifies at U.S. Congress on Persecution of Falun Gong. The U.S.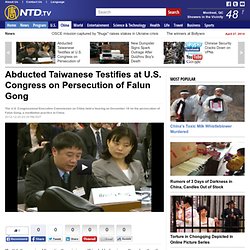 Congressional Executive Commission on China held a hearing on December 18 on the persecution of falun-dafa/" target="_blank">Falun Gong, a meditation practice in China. Present at the hearing was Chung Ting-pang, a Taiwanese citizen illegally arrested and detained by Chinese authorities in June when he visited his family in the mainland.
[U.S. Senator Sherrod Brown]: "Authorities claimed he threatened national security by trying to broadcast Falun Gong materials in China. A Group in Hong Kong Appears as Front for Beijing | Regime. By Li ZhenEpoch Times Staff Created: December 19, 2012 Last Updated: December 22, 2012 Activists wearing green uniforms gathered along the roadside with anti-Falun Gong banners near the site of the Tuidang event; they later yelled and used horns to aggravate the Falun Gong protesters.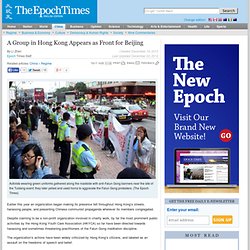 (The Epoch Times) Earlier this year an organization began making its presence felt throughout Hong Kong's streets, harassing people, and presenting Chinese communist propaganda wherever its members congregated. Despite claiming to be a non-profit organization involved in charity work, by far the most prominent public activities by the Hong Kong Youth Care Association (HKYCA) so far have been directed towards harassing and sometimes threatening practitioners of the Falun Gong meditation discipline.
The organization's actions have been widely criticized by Hong Kong's citizens, and labeled as an assault on the freedoms of speech and belief. Watch Out for Dangerous Christmas Toys. The Christmas season is upon us and parents, relatives and friends will be scouring toy stores looking for the perfect children's present.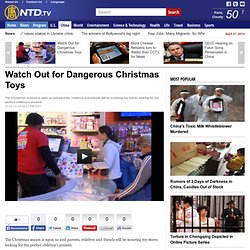 This year the US Consumer Product and Safety Commission stopped two million dangerous children's products.html">products from entering the US. The US recently set higher standards for lead levels and required third party testing on all children's products. Despite the new regulations, the CPSC said it recalled 38 toys.html">toys in 2012. Earlier this year, the Michigan Network for Children's Environmental Health and the Ann Arbor Ecology Center tested 99 pieces of cheap jewelry from 14 different retailers. New Details Come To Light In Henan School Stabbing. As families begin to rebuild their lives after Friday's brutal schoolstabbings in Henan's Guangshan County, new details are coming to light.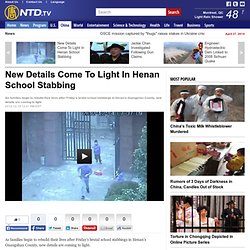 [Wan Quan, Wounded Teacher]: "The culprit was slashing madly and the students were running everywhere protecting their heads. I climbed upstairs to try to fight with him. He slashed me back. " The assailant, Min Yingjun, is in custody and has been charged with jeopardizing publicsecurity, according to state-run CCTV. Jackie Chan Investigated Following Gun Claims. JackieChan continues to make it into the spotlight but not for his movies.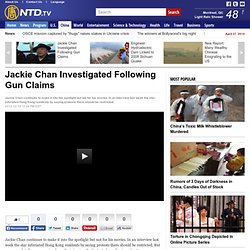 In an interview last week the star infuriated HongKong residents by saying protests there should be restricted. But now new details are emerging from the interview that's started a police investigation. Chan claimed in the past that Triads, a Chinese style mafia, harassed many HongKong actors. Engineer: Hydroelectric Dam Linked to 2008 Sichuan Quake. The 2008earthquake.html">earthquake in Sichuan province claimed at least 80,000 lives.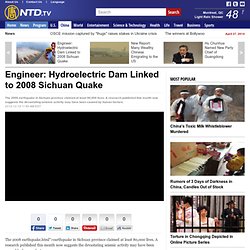 A research published this month now suggests the devastating seismic activity may have been caused by human factors. In this report, Canada-based Probe International says evidence indicate that a hydroelectric dam in the area probably triggered the earthquake.html">earthquake. The report is not the first to link the dam to the tremors. Several dozen have already been published on the subject. China Calls For Better Sino-Japan Relations from Shinzo Abe. On Sunday Japan elected Shinzo Abe (pronounced Ah-Beh) from the Liberal Democratic Party to be its new Prime Minister.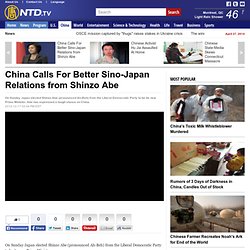 Abe has expressed a tough stance on China. Particularly over the territorial conflict in the East China Sea. Responding to Japan's election results, China's Foreign Ministry Spokeswoman says she hopes Japan's new leaders will work on bilateral relations. Chinese Activist Hu Jia Assaulted At Home. Chinese activist Hu Jia was attacked by plainclothes national security officers from Tongzhou County in Beijing on Friday (December 14). Hu was leaving his home when squadron commander Su Lijun led an attack. Hu was on the phone with a Reuters journalist at the time. [Hu Jia, Chinese Rights Activist]: "They had three people stop me. They pushed me, punched my chest and my shoulders. Wang Lijun Penalized More Than 5,600 Policemen in 3 Years | Regime. By Leo ChenEpoch Times Staff Created: December 17, 2012 Last Updated: December 18, 2012 Wang Lijun, former Chief of Chongqing Public Security Bureau, in March, 2011. (Feng Li/Getty Images) Wang Lijun, who set off a political firestorm in February after attempting to defect to the U.S.
Consulate, caused the demotion of at least 5,600 policemen during the three years he worked as chief of the Public Security Bureau in Chongqing City. At least one official was severely tortured and another was executed under Wang's watch. Chinese State-Media Skews Connecticut Massacre. Many across the world are mourning the massacre of school children in Connecticut, last Friday. But Chinese state-run media took it as an opportunity to fan the flames of nationalism. State-run CCTV provided round the clock in-depth coverage and analysis of the shooting, touting China's zero-tolerance gun laws.
Editor of China's state-run Global Times, Hu Xijin, was also quoted saying, "Isn't this a human rights disaster?" School Violence in China and U.S. Spurs Reflection, Debate. On Friday in Henan Province, a man walked into a primary school and stabbed 22 children. None were killed. The same day, in Newtown, Connecticut, a man armed with at least three semi-automatic weapons shot his way into an elementary school and killed 26 people, including 20 first graders. The two eerily similar acts of violence against children have inspired inevitable comparisons, especially between the gun-loving culture of the U.S. and China, where guns are prohibited for personal use.
Stop Organ Harvesting in China - Petition. Organ Harvesting in China: Supply and Demand. On October 24, 2012, Xinhua reprinted an article from another state media, China Youth Daily, which reported that the Guangzhou Military Command General Hospital has a computerized system that automatically matches and allocates organs to waiting patients. According to the article, "In this nationally connected system, a computer matches organs with patients waiting for a transplant without any human intervention."
The hospital is one of 160 involved in a pilot program for this system. Boxun: A CCP Official's Story about Organ Harvesting in China. The Dark Side of China's State-Run Sports Engine. China's Economy Faces Nine Major Challenges. Canadian MPs Tune in to Upheaval in China | National | Canada. Chinese Leader's Fear Turned Country Inside Out | Thinking About China | Opinion. In China, Removing the Bloody-Hands Faction is Only the Beginning | Thinking About China | Opinion. A NOBEL MAN trailer 1st May. EXCLUSIVE: China's Top Leaders Split Over Handling of Security Czar | Regime. « NTD Le Journal » du 13 avril 2012.
Bo Xilai Removed From Politburo, Party Posts | Regime. China's Bo Xilai Purged From Party Posts. The Revenge of Wen Jiabao - By John Garnaut. The Moral Crisis in China, Part II – Traditional Chinese Culture. New York City | United States. Chongqing Mayor and Spokesperson Give Conflicting Accounts on Wang Lijun Affair | Regime. Bo Xilai and Wang Lijun – Stories You May Not Have Heard. The Xinjiang Procedure. 50 Years After Test 596 - Nuclear Testing in East Turkestan. The silent strength of Lui Xia | euronews, le mag. Where is Gao Zhisheng? | Under the Jacaranda Tree. Rare-visit-to-remote-chinese-region. How Wang Lijun Fled to the US Consulate | Regime. Attempted Defection Reveals Depth of Power Struggle in China | Regime. Getting to Know Xi Jinping, the Chinese Regime's Next Boss | Regime.
China. China. US Government Asked: Release Information About Atrocities in China | National News | United States. 'Red Songs' from China Get Cold Shoulder in Hong Kong | Society. The Insider - By Kerry Brown. 360° - GÉO. Purported open letter from Wang Lijun. Stories from History: Promoting Those Who Speak Frankly for Honest Advice and Less Flattery | Culture. Chinese Year of the Dragon « Teatrekker's Blog. Spring Festival in Kedong, 2012. The Mystery of the Dragon | Beyond Science | Science. Eastern Dragons Manifest as Auspicious Figures | Culture. Tumultuous Year Ahead for Chinese Regime | Regime. What Those Born Under the Dragon Sign Are Like | Culture. Eastern Dragons Differ From Western Dragons | Culture. Cancer Villages in China.
Du Fu: Poetry Wrought from Hardship | Culture. Blind Chinese Lawyer Hoped to Be Nobel Nominee | Democracy & Human Rights. 新唐人電視台, New Tang Dynasty Television www.ntdtv.com. » Xinjiang Documentary on the Karamay Fire. Une ville chinoise transformée en palais des glaces - FTVi. The uncertain return of Beijing wildlife.
---