Wikis
Avatar Wiki | Avatar: The Last Airbender characters, episodes, elements, and more!
ED_Updates • Admins • Advertise on ED • Donate to Encyclopedia Dramatica We need to upgrade our hardware, please consider donating Main Page
Half-Life Wiki
"SeeD... (...A code name, for Balamb Garden's elite mercenary force... SeeD... Combat specialists...) ...Don't you already know?" —Squall Only Balamb Garden trains SeeD cadets, but members from the other Gardens can transfer to Balamb for the field exam. All SeeD are stationed at Balamb.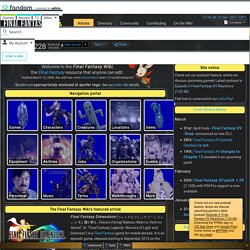 The Keyhole: A World of Information not accessible by Gummiship
Dunderpedia: The Office Wiki