Writing
How to Write a Ghazal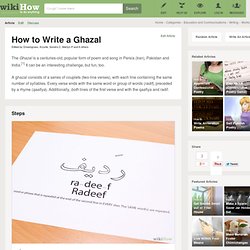 The Ghazal is a centuries-old, popular form of poem and song in Persia (Iran), Pakistan and India. [1] It can be an interesting challenge, but fun, too. A ghazal consists of a series of couplets (two-line verses), with each line containing the same number of syllables.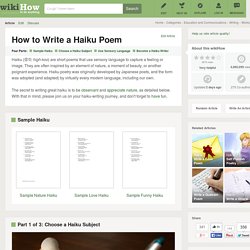 Edited by Ian Henry, Josh W., Ben Rubenstein, Zack and 214 others Haiku in English are poems usually written in three short lines. Sometimes they are written in a single line.
How to Write a Haiku Poem: 6 steps
Crit Ticks for the Critics by =nycterent
"He has the right to criticize who has the heart to help."
Many people have a passion for writing. One of the best ways to connect yourself to writers and meet artists is to become an editor of a literary magazine. There are many ways to do this.
Start Your Own Literary Magazine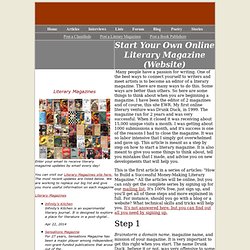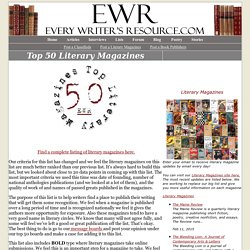 Find a complete listing of literary magazines here.
Mass Poetry - Massachusetts Poetry Festival - Poetry Outreach |
One thing that has always inspired me is going to bookstores and reading the back descriptions of all of the books.
Get Inspiration With Flash Fiction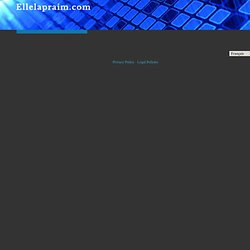 No pretensions: just poetry.
POETRY ! Group (6274 Members)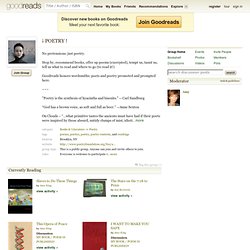 Visual poetry is poetry or art in which the visual arrangement of text, images and symbols is important in conveying the intended effect of the work.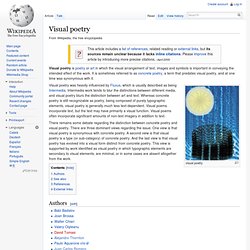 Visual poetry
George Herbert 's " Easter Wings", printed in 1633 on two facing pages (one stanza per page), sideways, so that the lines would call to mind birds flying up with outstretched wings. Concrete poetry or shape poetry is poetry in which the typographical arrangement of words is as important in conveying the intended effect as the conventional elements of the poem, such as meaning of words, rhythm, rhyme and so on. It is sometimes referred to as visual poetry , a term that has evolved to have distinct meaning of its own, but which shares the distinction of being poetry in which the visual elements are as important as the text.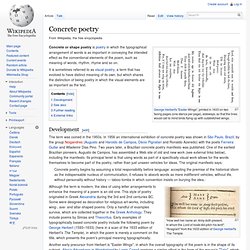 Concrete poetry