Social Justice
The Internet Indians - The Fight for Amazonia. Amazonia is much more than just the earth's lungs: it is home to 20 per cent of the world's fauna, 20 per cent of its fresh water reserves and countless animal species.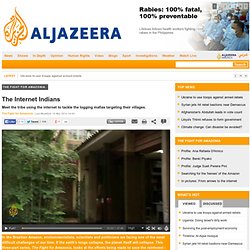 In the 1960s and 1970s, Brazil started the conquest of the massive ancient forest in order to increase the country's prosperity - a people without land moved to a land without people, built roads, dams and cities. Since then, two million hectares of tropical rainforest have been burned down and cleared in the Amazon every year. An area approximately the same size as France, 65 million hectares, has now disappeared. Today, the earth's largest forest is home to 20 million people: All of them have their own, usually conflicting, ideas about the future development of the Amazon region.
Dangerous ignorance: The hysteria of Kony 2012. Kampala, Uganda - From Kampala, the Kony 2012 hysteria was easy to miss.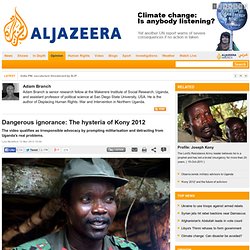 I'm not on Facebook or Twitter. I don't watch YouTube and the Ugandan papers didn't pick up the story for several days. But what I could not avoid were the hundreds of emails from friends, colleagues, and students in the US about the video by Invisible Children and the massive online response to it. I have not watched the video.
As someone who has worked in northern Uganda and researched the war there for more than a decade, much of it with a local human rights organisation based in Gulu, the Invisible Children organisation and their videos have often left me infuriated - I remember the sleepless nights after I watched their "Rough Cut" film for the first time with a group of students, after which I tried to explain to the audience what was wrong with the film while on stage with one of the filmmakers. NYT Discovers 'New' Palestinian Nonviolent Resistance. New York Times reporter Ethan Bronner has a piece today (4/7/10) headlined "Palestinians Try a Less Violent Path to Resistance," which attempts to show that there is a new move away from armed resistance to Israeli occupation.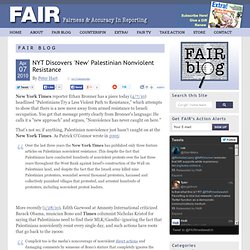 You get that message pretty clearly from Bronner's language: He calls it a "new approach" and argues, "Nonviolence has never caught on here. " That's not so; if anything, Palestinian nonviolence just hasn't caught on at the New York Times. As Patrick O'Connor wrote in 2005: Peter Hart: Pundits Waiting for a Palestinian Gandhi? Meet Khader Adnan. For years prominent corporate media pundits have told us that the world -- and the media -- would embrace a dramatic, non-violent Palestinian resistance movement.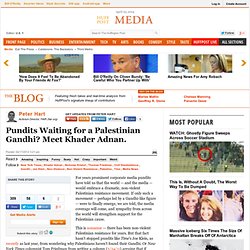 If only such a movement -- perhaps led by a Gandhi-like figure -- were to finally emerge, we are told, the media coverage will come, and sympathy from across the world will strengthen support for the Palestinian cause. This is nonsense -- there has been non-violent Palestinian resistance for years. But that fact hasn't stopped pundits like Time's Joe Klein, as recently as last year, from wondering why Palestinians haven't found their Gandhi. United Arab Emirates: Extent of honour crimes; state protection and services available for victims of domestic violence. Honour crimes The United States (US) Department of State's Country Reports on Human Rights Practices for 2008 indicates that there were no official reports of honour crimes in 2008, but that there were rumours within the Muslim expatriate population that honour crimes in the United Arab Emirates (UAE) occurred (US 25 Feb. 2009, Sec. 5).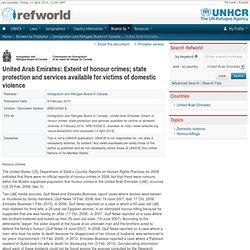 Two UAE media sources, Gulf News and Emirates Business, report cases where women were beaten or murdered by family members (Gulf News 19 Feb. 2008; ibid. 14 June 2007; ibid. 17 Oct. 2006; Emirates Business 1 Feb. 2010). In 2006, Gulf News reported on a case in which a 50-year-old UAE man stabbed his third wife, a 28-year-old Egyptian woman, in an attempted honour killing because he suspected that she was having an affair (17 Oct. 2006).
In 2007, Gulf News reported on a case where two brothers battered and locked up their 35-year-old sister (14 June 2007). UPDATE 1-Returned Libyan Jew says driven from Tripoli synagogue. THEY WILL BE HEARD. Children of Agent Orange - People & Power. Fifty years ago this month, in the early stages of the Vietnam War, the US military began spraying rural areas of the country with the herbicide, Agent Orange.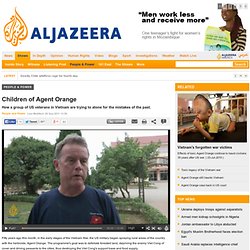 The programme's goal was to defoliate forested land, depriving the enemy Viet Cong of cover and driving peasants to the cities, thus destroying the Viet Cong's support base and food supply. Over the next 10 years more than 80 million litres were deployed across 7.4 million hectares of Vietnam, eastern Laos and parts of Cambodia. They were an effective defoliant, but there is strong evidence that the deadly dioxins contained in Agent Orange also had a catastrophic effect on the health of millions of Vietnamese – killing hundreds of thousands and causing dreadful diseases and birth defects in subsequent generations right up to this day.
Occupy Wall Street: The Game of Colonialism and Further Nationalism to be Decolonized From the "Left" FAQ. Mideast Youth | Thinking Ahead. Joseph Reagle on Wikipedia's Gender Gap. Cultural Appreciation or Cultural Appropriation? | Unsettling America. A text on culture, respect, allyship, and racism What is cultural appropriation?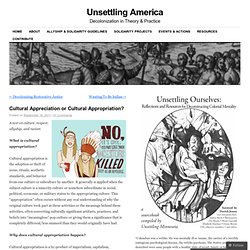 Cultural appropriation is the adoption or theft of icons, rituals, aesthetic standards, and behavior from one culture or subculture by another. It generally is applied when the subject culture is a minority culture or somehow subordinate in social, political, economic, or military status to the appropriating culture. The Informants. Which One Is The Real Entitlement? Words are not fists: some thoughts on how men work to defuse feminist anger at Hugo Schwyzer. This is, I think, an important post.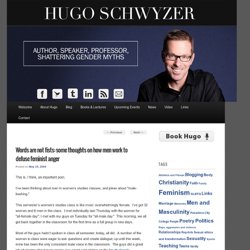 I've been thinking about men in women's studies classes, and jokes about "male-bashing. " This semester's women's studies class is like most: overwhelmingly female. I've got 32 women and 6 men in the class. I met individually last Thursday with the women for "all-female day"; I met with my guys on Tuesday for "all-male day. " Three Myths About World Hunger. Myth one: OVERPOPULATION Actually there is plenty of food in the world.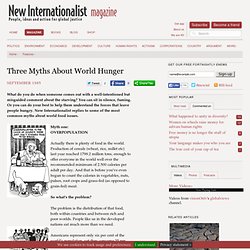 Production of cereals (wheat, rice, millet etc) last year reached 1799.2 million tons, enough to offer everyone in the world well over the recommended minimum of 2.500 calories per adult per day. And that is before you've even begun to count the calories in vegetables, nuts, pulses, root crops and grass-fed (as opposed to grain-fed) meat. Legal fight over Plumpy'nut, the hunger wonder-product. Should a revolutionary humanitarian food product be protected by commercial patent, when lifting restrictions might save millions of starving children?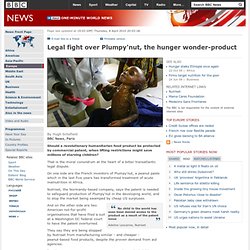 That is the moral conundrum at the heart of a bitter transatlantic legal dispute. On one side are the French inventors of Plumpy'nut, a peanut paste which in the last five years has transformed treatment of acute malnutrition in Africa. Nutriset, the Normandy-based company, says the patent is needed to safeguard production of Plumpy'nut in the developing world, and to stop the market being swamped by cheap US surpluses. Amnesty International | Working to Protect Human Rights.
---