Islam/Sufism
Response to a Misleading Article on Islam and Sufism Assalamu alaikum, The following is a response I wrote to an article, "SUFISM: The Deviated Path" by Yusuf Hijazi, which spreads many lies about Islam and Sufism.
Response to a Misleading Article on Islam and Sufism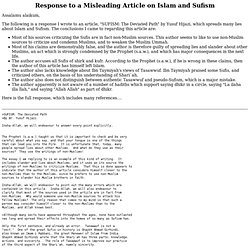 A Study of Al-giiazali's Kitab Adab Al-nikah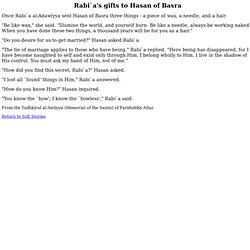 Rabi`a's Gifts to Hasan al-Basra
Rabi`a's gifts to Hasan of Basra Once Rabi`a al-Adawiyya sent Hasan of Basra three things - a piece of wax, a needle, and a hair. "Be like wax," she said. "Illumine the world, and yourself burn. Be like a needle, always be working naked.
In the Name of Allah the Rahman the Rahim It is astonishing that a colossal Islamic scholar, Muhyiddin Ibn 'Arabî (AH 560-638), who lived more than eight centuries ago, should have declared that woman and man are absolutely equal in terms of human potentiality. He interpreted the "degree" which was given to man over woman [1] as an ontological matter, abolishing singular male images of the universe in favour of a binary conjugal conception, where male and female are coupled together in a necessary cosmic unity on the level of both Creation and Gnosis.
Souad Hakim: Ibn 'Arabî's Twofold Perception of Woman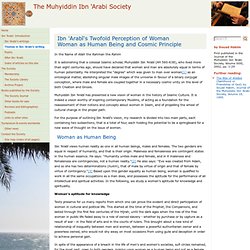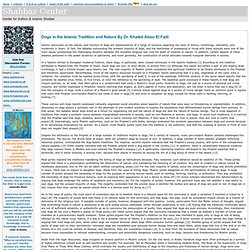 Dogs in the Islamic Tradition and Nature By Dr. Khaled Abou El Fadl Islamic discourses on the nature, and function of dogs are representative of a range of tensions regarding the roles of history, mythology, rationality, and modernity in Islam.
The Silsilah - Center for Sufism and Islamic Studies
An Introduction to the Principles of Hikmah - Hakim Archuletta (Natural Health Series: Session 1)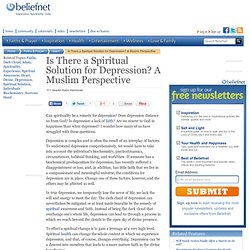 Can spirituality be a remedy for depression? Does depression distance us from God? Is depression a lack of faith ? Are we nearer to God in happiness than when depressed? I wonder how many of us have struggled with these questions. Depression is complex and is often the result of an interplay of factors.
Is There a Spiritual Solution for Depression? A Muslim Perspective
When some of us think of Friday, we sometimes associate this day as "The Day" to sit down on that heavenly lounge chair, sip a nice cup of coffee or tea and lift our feet and know that you could care less what your boss wants you to do. This is the day where all worries from the week have been kicked up to the following Monday or Tuesday or whatever day just as long as you don't have to think about it on Friday. This is the onset of the great weekend that you've been planning for since the beginning of the week. A day of fun, partying, vacationing, or just enjoying the time with family and friends. This day has become so popular that there's even a restaurant that is called TGI Fridays the famous acronym that means "Thank Goodness it's Friday".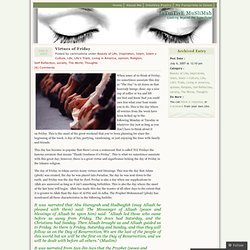 Virtues of Friday « InTuiTivE MuSliMah
Islam and Existentialism « Words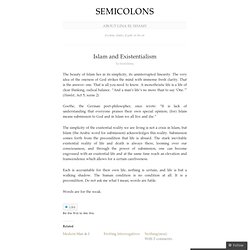 The beauty of Islam lies in its simplicity, its uninterrupted linearity. The very idea of the oneness of God strikes the mind with immense fresh clarity. That is the answer: one. That is all you need to know. A monotheistic life is a life of clear thinking, radical balance. "And a man's life's no more than to say 'One.'" ( Hamlet , Act 5, scene 2)
Dr. Umar Abd-Allah On Spiritual Guidance: Commentary on Ibn Ata'illah's Hikam - 03 Dec 2011
Dr. Umar Abd-Allah: Session of Divine Remembrance, & Commentary on Ibn Ata'illah's Aphorisms
Eleven Naqshbandi principles
The Eleven Naqshbandi principles or the "rules or secrets of the Naqshbandi" , known in their original Persian as the kalimat-i qudsiya ("sacred words" or "virtuous words"), [ 1 ] are a system of principles and guidelines used as spiritual exercises , [ 2 ] or to encourage certain preferred states of being, in Naqshbandi Sufi schools of mysticism . [ edit ] Background There were originally eight principles formulated by the Central Asian Sufi teacher Abdul Khaliq Gajadwani (died 1179), the last three of the eleven being added later by Baha-ud-Din Naqshband Bukhari (1318–1389), founder of the Naqshbandi Order. [ 3 ] Both were Khwajagan (Masters) of the Sufi tariqah (path, way or method). These principles are designed to be borne in mind and used as spiritual practices or exercises in the Naqshbandi system of spiritual development.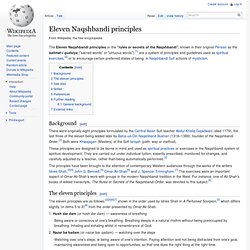 The Example of Bahauddin Naqshband When he was at meals he used to pay closest attention to the example of the Prophet. For the most part he used to prepare the meals with his own hands, and he himself used to lay the table. He used to begin a meal with invoking the Name of God and finish it with giving thanks. If he noticed during meals that anyone present was not conforming to the counsels of the Prophet, he would wake him up and gently draw his attention.
The Example of Bahauddin Naqshband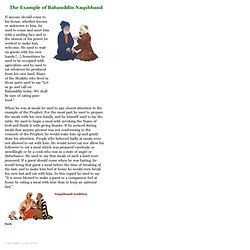 Dua e Rabbana-Shajarian - Arabic sub Persian
Most Beautiful Dua,Supplication(Arabic+Urdu Translation) Part-1_2.wmv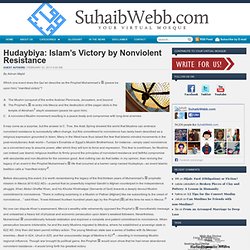 By Adnan Majid Which one event does the Qur'an describe as the Prophet Muhammad's ﷺ (peace be upon him) "manifest victory"? The Muslim conquest of the entire Arabian Peninsula, Jerusalem, and beyond The Prophet's ﷺ re-entry into Mecca and the destruction of the pagan idols in the temple of Abraham `alayhi assalaam (peace be upon him) A nonviolent Muslim movement resulting in a peace treaty and compromise with long-time enemies It may come as a surprise, but the answer is C. True, the Arab Spring showed the world that Muslims can embrace nonviolent resistance to successfully affect change, but this commitment to nonviolence has rarely been described as a religious expression grounded in Islam.
Hudaybiya: Islam's Victory by Nonviolent Resistance
Prejudices about Islam will be shaken by this show | Karen Armstrong | Comment is free
Hundreds of thousands of piligrims pray at Mecca's Grand Mosque. Photograph: Fayez Nureldine/AFP/Getty Images Ever since the Crusades, when Christians from western Europe were fighting holy wars against Muslims in the near east, western people have often perceived Islam as a violent and intolerant faith – even though when this prejudice took root Islam had a better record of tolerance than Christianity.
Executive Editor Erik S. Ohlander (Indiana University-Purdue University Fort Wayne, USA)
Journal of Sufi Studies
What is Tasawwuf ? - World of Tasawwuf
Many fans have asked where I have been for the past few months. I have been a regular blogger for the Huffington Post since 2009, often commenting on issues relating to Islam and the media, which as a Muslim in Hollywood is perhaps appropriate. But I have not written a post either here or on my own personal blog since late last year.
Kamran Pasha: Women Retake Islam: The Prophet -- And My Mother -- Would Be Proud
أيها المريد (1) مفهوم الإرادة - مقالات ومكتوبات - موقع الداعية الإسلامي الحبيب علي الجفري
Rumi, the movie | Ali Eteraz | Comment is free
At this year's Cannes film festival it was revealed that the Qatar Foundation had pledged $25m for the production for a biopic of Rumi , the Muslim mystic and poet, who is perhaps the leading figure in Sufism and one of Islam's most important cultural ambassadors to the western world.
Ahmad Sirhindi
Does Islam support the death penalty? - Death Penalty - ProCon.org
Clock Tower in Mecca draws criticism
(un) making Mecca - City of Brass
The Wahhabi Who Loved Beauty
Sufi Stories: spiritual stories from Islam and Sufism
A Sufi Story
Rūmī and the Hermeneutics of Eroticism
Serving the Guest: A Sufi Cookbook & Art Gallery
Table of Contents
The Living Tradition
William C. Chittick, Ph.D.: The Islamic Notion of Beauty
Happiness Without Death, by Assad Ali (Excerpt)
Eating less meat is more Islamic | Joseph Mayton | Comment is free
Was Hawa' (Eve) Created from the Rib of Adam? - Answers
What is the Difference Between the "Heart" (Qalb), "Kindling Heart" (fuaad), and the "Pure Intellect" (lubb)? - Answers
Corrections of Popular Versions
Migration in Germany
How Islam tells us to deal with grief and loss - by Basharat Abbas
Allahu Akbar
Pain, Loss, and the Path to God
MUSLIMNESS.COM
Chronological Order of Surahs
A Study of the Quran | Doctrine of Abrogation
The American Muslim (TAM)
The American Muslim (TAM)
Sirr al-Asrar TOC
Reflections of Ibn 'Arabi in Early Naqshbandî Tradition
Bird Parliament Index
Tales of Wisdom
Imam al-Haddad – al-Wird al-Latif
Sufism, Sufis, and Sufi Orders: Sufism's Many Paths
cambridge khutbas etc.
Thought for the Day, 5 January 2011
Bombing Without Moonlight:The Origins of Suicidal Terrorism
Islam, Irigaray, and the retrieval of Gender
Created from a single soul » Spirit21
Sufism and Sufi Brotherhoods in Syria and Palestine
Zaynab Academy | Gaining the the Nearness of Allah (swt)
Islamic Spirituality — Dedicated to the lectures and works of Shaykh Kamaluddin Ahmed.
Maulana Saadi on Tasawwuf
Maulana Jami on Tasawwuf
Imam Rabbani on Moderation
Zaynab Academy | Defining Muhabbah