Basics
How To Remove Meat From a Lobster | Shellfish. How To Eat Starfish | Shellfish. How to Use a Charcoal Grill. Outdoor Charcoal Grilling - How to Cook on a Charcoal Grill Video. Cooking outdoors over an open flame is a great way to infuse meats and vegetables with loads of delicious flavor.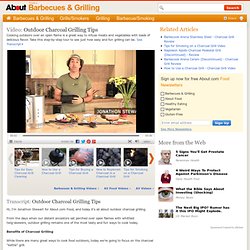 Take this step-by-step tour to see just how easy and fun grilling can be.See Transcript Hi, I'm Jonathon Stewart for About.com Food, and today it's all about outdoor charcoal grilling. From the days when our distant ancestors sat perched over open flames with whittled twig-skewers, outdoor grilling remains one of the most tasty and fun ways to cook today. How to Clean Copper Tea Kettles. How to Dry Persian Limes. Smokey Porter Molasses Chicken Skewers Beer is a natural meat tenderizer.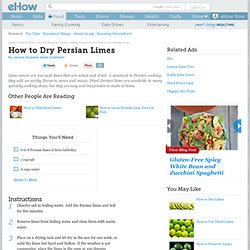 When it comes to grilling and cook-outs, nothing pulls double duty like a good brew. It'll give you malty flavor and tender chicken, all while giving you something nice to sip while you're in … Vietnamese Food, Recipes, and More: How to Dry Orange Peels. Canned Tuna Vs. Fresh Tuna. How to Make Shellfish Stock. Method 1 Break thick shells (lobster and crab) into smaller pieces by putting in a sealed, thick plastic bag and either rolling with a rolling pin or hitting with a meat hammer to crush.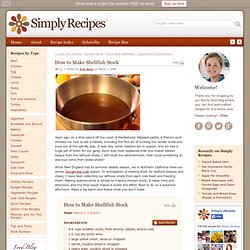 Cut up thinner shrimp shells with a chef's knife. Don't crush or cut too small. You can even skip this step if you want, if you are already dealing with broken up shell pieces (like cracked crab). How to Buy Shrimp. How to Peel and Devein Shrimp. Note: Shrimp need to be kept cold.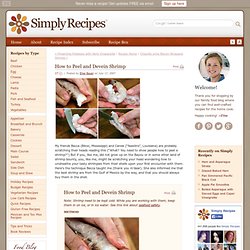 While you are working with them, keep them in on ice, or in ice water. See this link about seafood safety. Method 1 Pull off the head (if it is still attached) and legs. How to Soak and Cook Dried Chickpeas. Chickpeas are practically a staple in Middle Eastern cooking.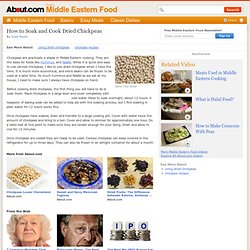 They are the basis for foods like hummus, and falafel. While it is quick and easy to use canned chickpeas, I like to use dried chickpeas when I have the time. It is much more economical, and extra beans can be frozen to be used at a later time. As much hummus and falafel as we eat at my house, I need to make sure I always have chickpeas on hand. Before cooking dried chickpeas, the first thing you will have to do is soak them. How to Cook Mussels. Seafood Storage - Shipping Seafood - Seafood Storing Tips. Fresh fish should be rinsed under cold water, then patted dry with an absorbent paper towel to prepare it for storage.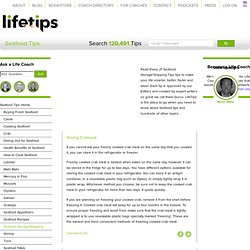 This is an essential step when storing fresh fish. You can store your fish by wrapping in plastic wrap (tightly), placing it into a resealable plastic bag, or storing it in an air-tight container. Place in refrigerator or freezer. Raw Oyster Safety and Marine-Related Wound Exposure to V. vulnificus. How should I store live oysters, clams, and mussels?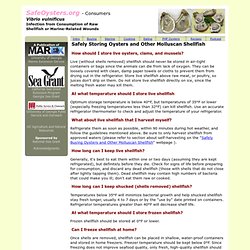 Live (without shells removed) shellfish should never be stored in air-tight containers or bags since the animals can die from lack of oxygen. They can be loosely covered with clean, damp paper towels or cloths to prevent them from drying out in the refrigerator. Store live shellfish above raw meat, or poultry, so juices don't drip on them. All Butter Crust for Sweet and Savory Pies (Pâte Brisée) Recipe. 1 The minute you even think you might want to make a pie crust, cut up a stick of butter into smallish (about 1/2-inch) cubes, and put it into the freezer.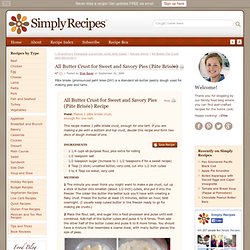 The colder the butter the better luck you'll have with creating a flaky crust. Freeze the butter at least 15 minutes, better an hour, best overnight. How to cook mussels - how to clean and cook mussels including steaming, grilling and baking. Probably the most popular mussel dish is "moules marinieres", a classic French recipe using wine, garlic, shallots, parsley and butter.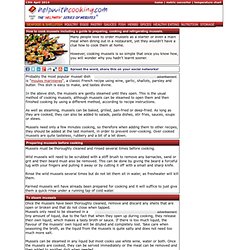 This dish is easy to make, and tastes divine. In the above dish, the mussels are gently steamed until they open. This is the usual method of cooking mussels, although mussels can be steamed to open them and then finished cooking by using a different method, according to recipe instructions. As well as steaming, mussels can be baked, grilled, pan-fried or deep-fried. How to cook and serve lobster including details on how to boil, steam or grill lobster and how to store cooked lobster meat. There are several ways of cooking lobster, however the simplest and most common method is to boil or steam it.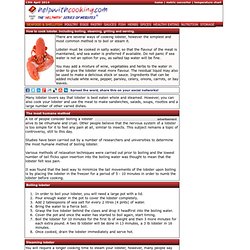 Lobster must be cooked in salty water, so that the flavour of the meat is maintained, and sea water is preferred if available. Do not panic if sea water is not an option for you, as salted tap water will be fine. You may add a mixture of wine, vegetables and herbs to the water in order to give the lobster meat more flavour. The residual liquid may also be used to make a delicious stock or sauce. Ingredients that can be added include white wine, pepper, parsley, celery, onions, carrots, or bay leaves. Humane dungeness crab kill. Common Ingredient Substitutions Article. Measurements. Measurements & Substitutions Measurement Equivalents 1 tablespoon (tbsp) = 3 teaspoons (tsp) 1/16 cup (c) = 1 tablespoon 1/8 cup = 2 tablespoons.
Substitutes for Whole Grain Mustard. Cinnamon Raisin Sweet Potato Salad Potato salad has long been considered a staple at picnics and barbecues. This version uses sweet potatoes for a light, sweet recipe that's perfect as either a side dish or healthy meal-in-a-bowl. It can be served warm or at room … Parmesan and Thyme Pastry Baked Eggs with Asparagus for an Easy Brunch.
How to Cook Eggplant to Tender, Silky Perfection. Eggplant holds an esteemed place in many Mediterranean cuisines—caponata from Italy, ratatouille from Provence, moussaka from Greece, baba ghanouj from all over the Middle East, and myriad hot and cold dishes from Turkey, where eggplant is the king of vegetables. But many American cooks hesitate when it comes to eggplant. What does salting the eggplant do? Your One-Stop Shop for Work Lunch Ideas. For two years, I've been fairly consistently packing my lunch for work. And like tons of other personal finance bloggers, it's saved me mad dough – somewhere in the neighborhood of $2500, I'm guessing. To put it in more concrete terms, that's 5% of the down payment on a house, two sweet vacations, rent for four months, ten 160GB iPods, or 80 semi-decent pairs of shoes. Nice. How to Hard Boil an Egg. How to Make Bread at Epicurious. F resh homemade bread, whether a soft white sandwich loaf, a crusty sourdough, or a rich brioche, is truly a culinary gift.
But many cooks—even experienced ones—find the unique requirements of bread baking intimidating. Complicated, scientific-sounding terms like "fermentation" and "proofing" can lead many to conclude that this is a subject best left to professionals. But if you think baking bread at home is beyond you, you may want to reconsider. How to Boil a Chicken | Boneless Chicken Recipe.
---