TO DO LIST
Squareleaf. Todo list, task manager, online, fast, easy to use: Todoist. Nexty. A to do list maker that is free and easy-to-use » Wipee List. Startino - free online to-do list. Home - Stylish To-Do List Management. Monkey On Your Back. A to-do list to organize your tasks. It's about time. Us::Home. Doomi. A to do list application. IzzyTodo - easy todo list builder. Strike - A fun and easy way to strike stuff off lists.
Online to do list, simplified. To do list, simple, easy, fast, sharable: Ta-da List. Hello, We launched Ta-da List back in January of 2005 so everyone could have a fast and free to-do list app in their web browser.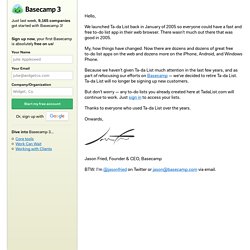 There wasn't much out there that was good in 2005. My, how things have changed. Todo.ly Simple Todo List.
---