Recipes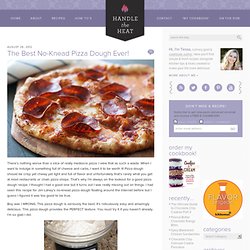 The Best No-Knead Pizza Dough Ever!
There's nothing worse than a slice of really mediocre pizza. I view that as such a waste. When I want to indulge in something full of cheese and carbs, I want it to be worth it! Pizza dough should be crisp yet chewy yet light and full of flavor and unfortunately that's rarely what you get at most restaurants or chain pizza shops.
Recipes for Health - Spicy Stir-Fried Tofu With Bok Choy or Baby Broccoli
I've been following with interest Mark Bittman's Opinion pieces about the state of America's food landscape .
Pasta Carbonara | Beyond [the Plate]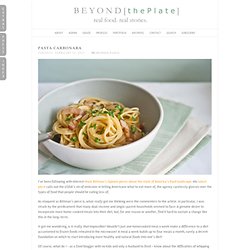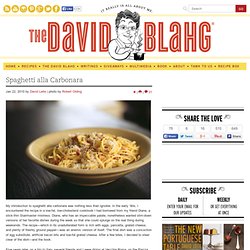 Spaghetti alla Carbonara Recipe
My introduction to spaghetti alla carbonara was nothing less than ignoble. In the early '90s, I encountered the recipe in a low-fat, low-cholesterol cookbook I had borrowed from my friend Diane, a stick-thin Stairmaster mistress. Diane, who has an impeccable palate, nonetheless wanted slim-down versions of her favorite dishes during the week so that she could splurge on the real thing during weekends.
Chicken Stock Using Carcass Recipe - Food.com - 171834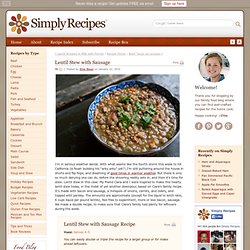 You can easily double or triple the recipe for a larger group or for make ahead leftovers. Ingredients 1/3 pound of bacon (about 5 thick slices), cut into 1-inch by 1/4-inch strips 1 medium-large yellow or white onion, chopped (about 1 1/4 cups) 2-3 large carrots, diced (2/3 cup) 2-3 large ribs celery, diced (2/3 cup) 1 teaspoon ground cumin 2 cloves garlic, minced (about 2 teaspoons) 1 pound brown or green dry lentils, rinsed and picked over to remove anything that shouldn't be there (like a small rock for example) 3 cups water 3 cups chicken stock* (can sub water for a total of 6 cups of liquid) 1/2 teaspoon dry thyme 1 bay leaf 1/2 pound Italian sausage (mild, sweet, or spicy, your choice) or smoked sausage, in links (about 2-3 links) 1 teaspoon sherry vinegar (can sub cider vinegar) 1/4 cup chopped fresh parsley, with a little extra for garnish
Lentil Stew with Sausage Recipe
Cook's Corner | L&N's shrimp and grits, Buck's oysters Rockefeller offer twists
Curried Lentil Soup: Recipe
How To Make Salt Cod Basque Style Recipe (Fish)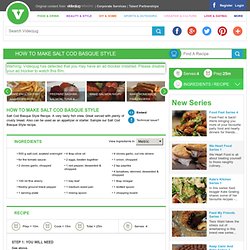 Salt Cod Basque Style Recipe.
Chicken Paprikash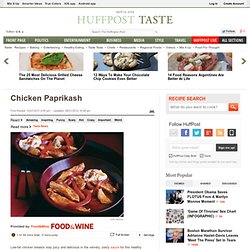 John Kernick
total prep 180 calories/serving
Hungarian Beef Goulash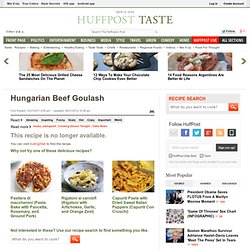 Tennessee Meatloaf: a Parton Family Favorite Recipe :
Preparation
Poached Eggs in Tomato Sauce with Chickpeas and Feta Recipe at Epicurious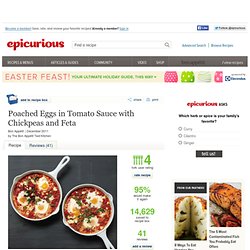 Ingredients 2 tablespoons olive oil 1 large onion, chopped 4 garlic cloves , minced 2 pounds ground chicken 1 teaspoon salt, plus more for seasoning 2 tablespoons ground cumin 1 tablespoon fennel seeds 1 tablespoon dried oregano 2 teaspoons chili powder 3 tablespoons flour 2 (15-ounce cans) cannellini or other white beans, rinsed and drained 1 bunch (about 1 pound) Swiss chard, stems removed, leaves chopped into 1-inch pieces 11/2 cups frozen corn, thawed 4 cups low-sodium chicken stock 1/4 teaspoon crushed red pepper flakes Freshly ground black pepper for seasoning 1/2 cup grated Parmesan cheese 1/4 cup chopped fresh flat-leaf parsley Directions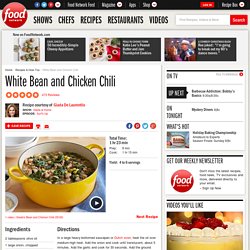 White Bean and Chicken Chili Recipe : Giada De Laurentiis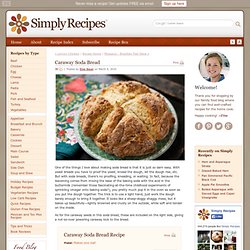 Caraway Soda Bread Recipe
One of the things I love about making soda bread is that it is just so darn easy.
Anadama Bread Recipe
Have you ever had Anadama bread? It's a traditional dark yeast bread from New England.
Ingredients
Fava Bean Soup Recipe : Anne Burrell
Chipotle Lime Bacon-Wrapped Grilled Shrimp Recipe
When I put the call out a few weeks ago for July 4th grilling suggestions, Simply Recipes reader Chuck mentioned bacon-wrapped shrimp. I'm sure this is a standard fare for many of you, but I can't remember ever eating bacon-wrapped shrimp, let alone making it.
Salmon Fish Stew, Brazilian Style Recipe
In Bahia in Northern Brazil, there is a savory fish stew called "Moqueca" that they make with local fish. Fernanda Guimaraes Rosa, who writes the Brazilian food blog Chucrute com Salsicha , brought a Vancouver friend's salmon version of Moqueca to party a while ago, and it was wonderful, my favorite dish of the day. The salmon is marinated first with lime juice, paprika, and cumin, and then simmered with onions, tomatoes, and bell peppers, in coconut milk.
Tomatillo Chicken Stew Recipe
White Bean and Ham Soup Recipe
White Chili Recipe
7 Ways to Make Lentil Soup
Sunny-Side-Up Eggs on Mustard-Creamed Spinach with Crispy Crumbs: Quick Recipes Recipe
Chicken Cutlets with Warm Green Olive and Shallot Vinaigrette: Quick Recipes Recipe
Pasta with Chickpeas and Charred Tomatoes: Quick Recipes Recipe
Honey-Roasted Onion Tart: Recipe
Fried-Egg Caesar with Sun-Dried Tomatoes and Prosciutto Breadsticks: Recipe
Rainbow Chopped Salad: Recipe
Roasted Beets and Citrus with Feta: Recipe
Winter Salad with Lemon-Yogurt Dressing: Recipe
Cocoa Brownies with Browned Butter and Walnuts: Recipe
German-Style Warm Potato Salad Recipe
Rigatoni Puttanesca with Veggie Meatballs Recipe
Indian Tea Sandwiches Recipe
Portobello Pizza with Fresh Mozzarella Recipe
Quebec Recipes - Food.com
Danish Recipes
Ecuadorean Quinoa And Vegetable Soup Recipe - Food.com - 101925
Recipe: No-Knead Bread