Recipes
The Best No-Knead Pizza Dough Ever! There's nothing worse than a slice of really mediocre pizza.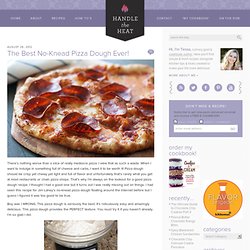 I view that as such a waste. When I want to indulge in something full of cheese and carbs, I want it to be worth it! Pizza dough should be crisp yet chewy yet light and full of flavor and unfortunately that's rarely what you get at most restaurants or chain pizza shops. Recipes for Health - Spicy Stir-Fried Tofu With Bok Choy or Baby Broccoli.
Pasta Carbonara | Beyond [the Plate] I've been following with interest Mark Bittman's Opinion pieces about the state of America's food landscape.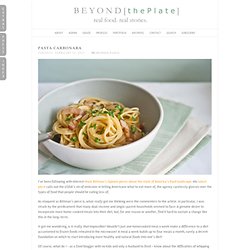 His latest piece calls out the USDA's sin of omission: in telling Americans what to eat more of, the agency carelessly glosses over the types of food that people should be eating less of. As eloquent as Bittman's piece is, what really got me thinking were the commenters to the article. In particular, I was struck by the predicament that many dual-income and single-parent households seemed to face: A genuine desire to incorporate more home-cooked meals into their diet, but, for one reason or another, find it hard to sustain a change like this in the long-term. Spaghetti alla Carbonara Recipe.
My introduction to spaghetti alla carbonara was nothing less than ignoble.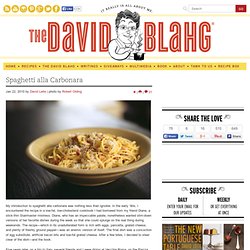 In the early '90s, I encountered the recipe in a low-fat, low-cholesterol cookbook I had borrowed from my friend Diane, a stick-thin Stairmaster mistress. Diane, who has an impeccable palate, nonetheless wanted slim-down versions of her favorite dishes during the week so that she could splurge on the real thing during weekends. Chicken Stock Using Carcass Recipe - Food.com - 171834. Lentil Stew with Sausage Recipe. You can easily double or triple the recipe for a larger group or for make ahead leftovers.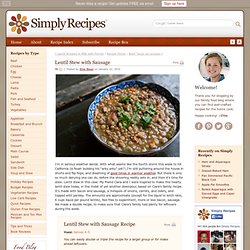 Ingredients 1/3 pound of bacon (about 5 thick slices), cut into 1-inch by 1/4-inch strips1 medium-large yellow or white onion, chopped (about 1 1/4 cups)2-3 large carrots, diced (2/3 cup)2-3 large ribs celery, diced (2/3 cup)1 teaspoon ground cumin2 cloves garlic, minced (about 2 teaspoons)1 pound brown or green dry lentils, rinsed and picked over to remove anything that shouldn't be there (like a small rock for example)3 cups water3 cups chicken stock* (can sub water for a total of 6 cups of liquid)1/2 teaspoon dry thyme1 bay leaf1/2 pound Italian sausage (mild, sweet, or spicy, your choice) or smoked sausage, in links (about 2-3 links)1 teaspoon sherry vinegar (can sub cider vinegar)1/4 cup chopped fresh parsley, with a little extra for garnish. Cook's Corner | L&N's shrimp and grits, Buck's oysters Rockefeller offer twists. Curried Lentil Soup: Recipe. Heat 1 tablespoon olive oil in heavy large pot over medium heat.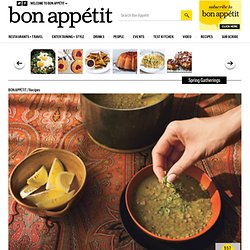 Add onion and carrot; sprinkle with salt and pepper. Cook until onion is translucent, stirring occasionally, about 4 minutes. How To Make Salt Cod Basque Style Recipe (Fish) Salt Cod Basque Style Recipe.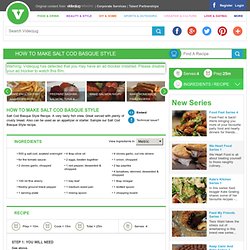 A very tasty fish stew. Great served with plenty of crusty bread. Also can be used as an appetizer or starter. Sample our Salt Cod Basque Style recipe. Chicken Paprikash. John Kernick total prep Low-fat chicken breasts stay juicy and delicious in the velvety, zesty sauce for this healthy Hungarian chicken dish. 1.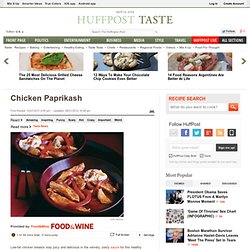 In a large enameled cast-iron casserole or Dutch oven, heat the oil until shimmering. Hungarian Beef Goulash. iGoogle. Tennessee Meatloaf: a Parton Family Favorite Recipe : Poached Eggs in Tomato Sauce with Chickpeas and Feta Recipe at Epicurious. Photo by Lisa Hubbard yield Makes 4–6 servings active time 30 minutes total time 35 minutes.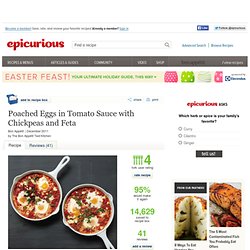 White Bean and Chicken Chili Recipe : Giada De Laurentiis. Caraway Soda Bread Recipe. Ingredients 3 1/2 cups of all-purpose flour (1 pound)1 Tbsp sugar1 teaspoon salt1 teaspoon baking soda2 teaspoons caraway seeds4 Tbsp butter (1/2 stick) room temp1 1/2 cups buttermilk* *If necessary, you can substitute buttermilk with a half cup of plain yogurt mixed in with a cup of plain milk and a tablespoon of white vinegar.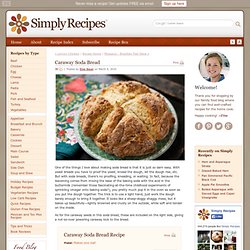 Method 1 Preheat oven to 450°F. Anadama Bread Recipe. Have you ever had Anadama bread?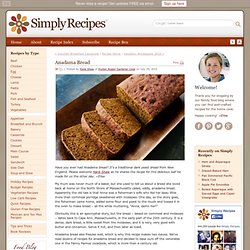 It's a traditional dark yeast bread from New England. Please welcome Hank Shaw as he shares the recipe for this delicious loaf he made for us the other day. ~Elise My mum was never much of a baker, but she used to tell us about a bread she loved back at home on the North Shore of Massachusetts called, oddly, anadama bread. Apparently the old tale is that Anna was a fisherman's wife who fed her beau little more than cornmeal porridge sweetened with molasses. Fava Bean Soup Recipe : Anne Burrell. Directions Bring a large pot of well-salted water to a boil over medium heat and set up a bowl of well-salted ice water.
Add the shelled fava beans to the boiling water. Chipotle Lime Bacon-Wrapped Grilled Shrimp Recipe. Method 1 Mix together in a small bowl the lime zest, lime juice, olive oil, and chipotle powder. Put the shrimp in the lime chipotle mixture; make sure each piece is well coated. 2 Spread the bacon pieces out over several layers of paper towels on a microwave-safe plate. Cover with another layer of paper towel. Microwave on high until the bacon fat begins to melt but the bacon is still pliable, about 1 1/2 minutes. Baked Stuffed Jalapeños Recipe. Are you a risk taker? I think one has to be a bit adventurous to eat jalapeños. You never know if biting into one is going to yield that wonderful flavor and kick that is the basis for so much of Southwestern food, or if that one little bite will pack such a fiery punch that you'll be running around the room mouth agape and tears in your eyes, begging for something to cool it all down.
If you find that the pepper you've bit into is just too hot for your tongue, cool it off with sour cream, milk, or cream cheese. Salmon Fish Stew, Brazilian Style Recipe. Method 1 Mix together the marinade ingredients. Let the salmon marinate in this paste for at least 2 hours. Tomatillo Chicken Stew Recipe. You can make this recipe with fresh tomatillos, or you can use canned chile verde tomatillo salsa as a substitute for the tomatillo sauce. Method 1 Make the tomatillo sauce. Remove the papery husks from the tomatillos and rinse well. Cut the tomatillos in half and place them cut-side down on an aluminum foil-lined roasting pan. White Bean and Ham Soup Recipe. White Chili Recipe. 7 Ways to Make Lentil Soup. Sunny-Side-Up Eggs on Mustard-Creamed Spinach with Crispy Crumbs: Quick Recipes Recipe.
Chicken Cutlets with Warm Green Olive and Shallot Vinaigrette: Quick Recipes Recipe. Pasta with Chickpeas and Charred Tomatoes: Quick Recipes Recipe. Honey-Roasted Onion Tart: Recipe. Fried-Egg Caesar with Sun-Dried Tomatoes and Prosciutto Breadsticks: Recipe. Rainbow Chopped Salad: Recipe. Roasted Beets and Citrus with Feta: Recipe. Winter Salad with Lemon-Yogurt Dressing: Recipe. Cocoa Brownies with Browned Butter and Walnuts: Recipe. German-Style Warm Potato Salad Recipe. Rigatoni Puttanesca with Veggie Meatballs Recipe. Indian Tea Sandwiches Recipe. Portobello Pizza with Fresh Mozzarella Recipe. Quebec Recipes. Danish Recipes. Ecuadorean Quinoa And Vegetable Soup Recipe - Food.com - 101925. Recipe: No-Knead Bread.
---