BPM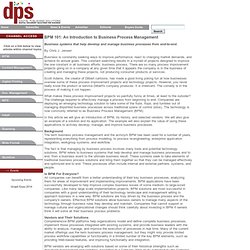 BPM 101: An Introduction to Business Process Management Business systems that help develop and manage business processes from end-to-end. By Chris J. Jensen
BPM 101 An Introduction to Business Process Management - Jul 2003
What Is a Business Process Management System?
http://www.privatehand.com/pdf/transform.pdf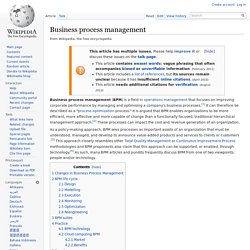 BPM or Business Process Management is often referred to[by whom?] as 'Management by Business Processes'. The term "business" can be confusing as it is often linked with a hierarchical view (by function) of a company. It is therefore preferable to define BPM as "corporate management through processes". By adding BPM the second meaning of 'Business Performance Management' used by August-Wilhelm Scheer[3] in his article "Advanced BPM Assessment",[4] BPM can therefore be defined as "company performance management through processes".
Why BPMS? By acquiring BPMS, your company may gain unprecedented control over the management of your business processes. Business process management (BPM) can cut product design time in half, reduce order time by 80 percent, and drive call center productivity gains of 60 percent.4
BUSINESS PROCESS MANAGEMENT SYSTEM (BPMS)