BPM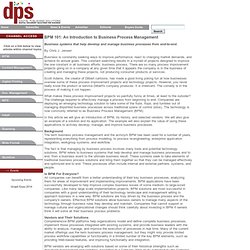 BPM 101: An Introduction to Business Process Management Business systems that help develop and manage business processes from end-to-end. By Chris J. Jensen
BPM 101 An Introduction to Business Process Management - Jul 2003
What Is a Business Process Management System?
A business process management system is a computer software program designed to help the organization identify and measure the responsiveness of the organization to the needs of the client. The term business process management describes a management theory that focuses on continuous loops of improvement, evaluation, analysis, and improvement. The primary drivers are business effectiveness and overall efficiency. Many firms that attempt to implement a business process management system are very large, decentralized structures.
http://www.privatehand.com/pdf/transform.pdf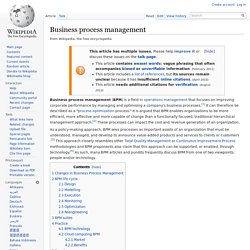 Business process management ( BPM ) has been referred to as a " holistic management " approach [ 1 ] to aligning an organization's business processes with the wants and needs of clients. It promotes business effectiveness and efficiency while striving for innovation , flexibility, and integration with technology. BPM attempts to improve processes continuously. It can therefore be described as a " process optimization process." It is argued that BPM enables organizations to be more efficient, more effective and more capable of change than a functionally focused, traditional hierarchical management approach. [ 2 ] These processes are critical to any organization, [ citation needed ] as they can generate revenue and often represent a significant proportion of costs.
Why BPMS? By acquiring BPMS, your company may gain unprecedented control over the management of your business processes . Business process management (BPM) can cut product design time in half, reduce order time by 80 percent, and drive call center productivity gains of 60 percent. 4
BUSINESS PROCESS MANAGEMENT SYSTEM (BPMS)