BPM Tools
List of top open source BPM / workflow solution » Software for Enterprise. Every organization has their very own distinct business processes which differentiates them from their competitors.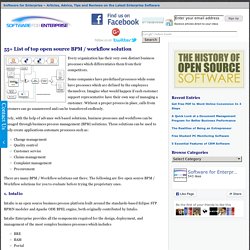 Some companies have predefined processes while some have processes which are defined by the employees themselves. Imagine what would happen if each customer support representative have their own way of managing a customer. Business Process Management System (BPMS) In 2002, Intalio revolutionized Business Process Management (BPM) when we introduced Intalio|bpms, the first open source Business Process Management Suite.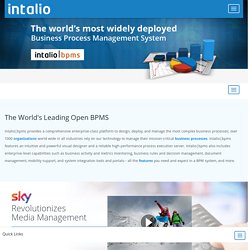 Over a decade later, Intalio has established itself as a leader in BPM with the most widely deployed BPMS and a large and engaged user community. Today, over 1000 organizations world-wide in all industries rely on our technology to manage their mission-critical business processes. Intalio|bpms provides a comprehensive enterprise-class platform to design, deploy, and manage the most complex business processes. It features an intuitive and powerful visual designer and a reliable high-performance process execution server. Open Source Workflow & Business Process Management (BPM) Software. Infinity, a Groundbreaking Technology Strategy. Leverage SunGard's deep domain expertise and economies of scale to free up your resources from just keeping everything running to simplifying your IT architecture, increasing efficiency and improving agility.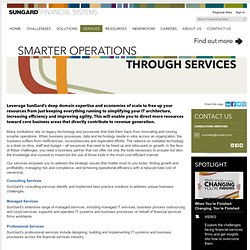 This will enable you to direct more resources toward core business areas that directly contribute to revenue generation. Many institutions rely on legacy technology and processes that hold them back from innovating and running smarter operations. When business processes, data and technology reside in silos across an organization, the business suffers from inefficiencies, inconsistencies and duplicated efforts.
---