Clothes
Eco chic at London Fashion Week - Environment. Can ethics and glamour co-exist?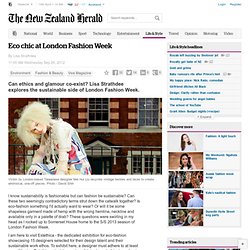 Lisa Strathdee explores the sustainable side of London Fashion Week. I know sustainability is fashionable but can fashion be sustainable? Taza & husband. She has lots of freckles. he wears lots of bow ties. welcome to our little blog. after meeting in new york city on the corner of 65th & broadway while attending school (him, columbia. her, juilliard) we became best friends, then fell in love and then were married in the summer of 2007. we began this little blog a few months later as a way to share bits and pieces of our little newly wed life in nyc with family and friends. in 2009, we packed up and moved to washington dc where we added an english bulldog named kingsley to the family. dc will always feel extra special to us because it was also where our two children were born, eleanor and samson. after 3 1/2 years on capitol hill in dc, we decided to give new york city another go and look forward to rediscovering and exploring our favorite place in all the world with our two little ones in tow. thanks for following along!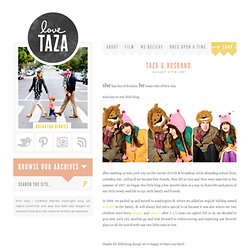 We're happy to have you here! Political T-shirts - Organic T-shirts - American Made Shirts and Tees. Funny Shirts Awesome T-Shirts Cool T-Shirts | BustedTees. Snorg Tees - New Funny T-Shirts Every Week (Vintage T-Shirt, Cool Graphic Tee Shirts) Vintage Clothing, Cute Dresses, Indie & Retro Women's Clothing | ModCloth. Gold Necklaces & Silver Necklaces │ GoldenMine.
---