USIP funding
Robert Koehler: Captives to the Logic of Violence. A decade later.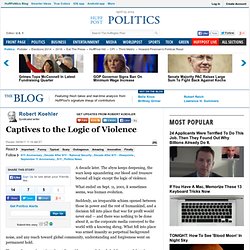 The abyss keeps deepening, the wars keep squandering our blood and treasure beyond all logic except the logic of violence. What ended on Sept. 11, 2001, it sometimes seems, was human evolution. Suddenly, an irreparable schism opened between those in power and the rest of humankind, and a decision fell into place that war for profit would never end -- and there was nothing to be done about it, as the corporate media conveyed to the world with a knowing shrug.
What fell into place was armed insanity as perpetual background noise, and any reach toward global community, understanding and forgiveness went on permanent hold. "Peace, of course, is not just absent from video games. Honor Their Memory - Be a Hero for Peace.
Deauthorize USIP?
The Future of the US Institute of Peace. The Congressmen's argument that USIP's work should be funded privately includes several interrelated strands: that USIP is a private organization, that private funding is more appropriate for the type of "think tank" work carried out by USIP, and that private / corporate interests have already demonstrated a willingness to fund USIP.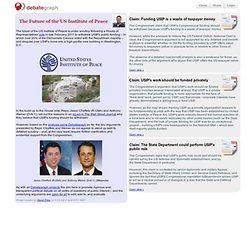 However, as the map shows, framing USIP as a private organization appears to be fundamentally at odds with the way that USIP has been established by United States Institute of Peace Act, USIP's work extends beyond the normal activities of a think tank and is not easily replicated by other public bodies (such as the State Department), and the bulk of private funding for USIP was for an exceptional project – building USIP's new headquarters on the National Mall – which was itself majority public-funded.
USIP future - Debategraph. Peace-Building That Pays Off (New York Times)...Anthony C.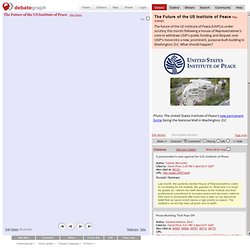 Zinni Williamsburg, Va. --IN voting last month to eliminate financing for the United States Institute of Peace, members of the House of Representatives did not do their research. Conservative Budget Cuts. Weiner's resignation is good for USIP. Every cloud has a silver lining, and there's one organization in Washington that stands to benefit from the humiliating resignation of Rep. Anthony Weiner (D-NY) -- the U.S. Institute of Peace (USIP). USIP, a conflict resolution organization created by Congress in 1984 and funded by the U.S. government ever since, is embroiled in a fight for its very existence. Caught up in the firestorm of GOP budget cutting that specifically targets foreign aid and diplomacy funding, USIP is battling hard to preserve its funding and the charter that allows it to continue as a policy research body whose work is integrated with the U.S. government and military.
---