Health IT
De-Identification
Health Informatics Forum - A Social Network for Health Informatics Professionals and Students. The Massachusetts HIE Procurement. I've written several blog posts about the Massachusetts HIE strategic and operating plan to implement a statewide backbone for connecting every stakeholder in the Commonwealth.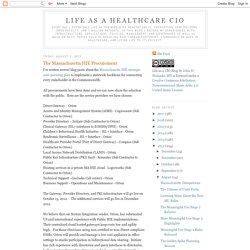 All procurements have been done and we can now share the selection with the public. Here are the service providers we have chosen: Quantified Self Guide. Digifit The Digifit ecosystem is a full suite of Apple apps that records heart rate, pace, speed, cadence, and power of your running, cycling and other athletic endeavors.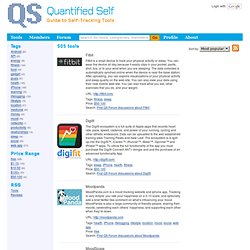 Data can be uploaded to the well established training sites Training Peaks and New Leaf. The ecosystem is is split up into the Digifit™, iCardio™, iRunner™, iBiker™, iSpinner™ and iPower™ apps. To utilize the full functionality of the app you must purchase the Digifit Connect ANT+ dongle and and the purchase of an advanced functionality App. Medical app regulations, device security share the spotlight at mHealth World Congress. Journal of Biomedical Informatics - Healthcare in the pocket: Mapping the space of mobile-phone health interventions. Open Archive Abstract Mobile phones are becoming an increasingly important platform for the delivery of health interventions.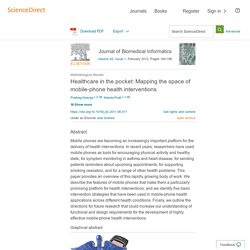 The Colonoscopy Experience. Today, as Kathy finished her last radiation therapy appointment, I had my first screening colonoscopy - a right of passage for new 50 year olds.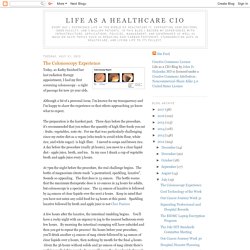 Although a bit of a personal issue, I'm known for my transparency and I'm happy to share the experience so that others approaching 50 know what to expect. The preparation is the hardest part. Three days before the procedure, it's recommended that you reduce the quantity of high fiber foods you eat - fruits, vegetables, nuts etc. ONC's Mobile App Contest Aims To Reduce Heart Health Risks. National Coordinator for Health IT Farzad Mostashari has announced a new contest that seeks to spur the development of mobile applications that could help patients reduce their heart health risks, Modern Healthcare reports (Conn, Modern Healthcare, 7/29).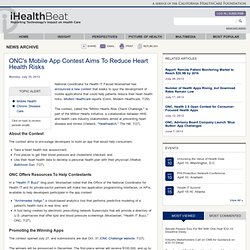 The contest, called the "Million Hearts Risk Check Challenge," is part of the Million Hearts Initiative, a collaboration between HHS and health care industry stakeholders aimed at preventing heart disease and stroke (Viebeck, "Healthwatch," The Hill, 7/27). About the Contest. Access to Personal Health Records boost patient loyalty. Patients who engage regularly with a personal health record are significantly more likely to remain members of a health plan, a three-year study of Kaiser Permanente patient retention suggests.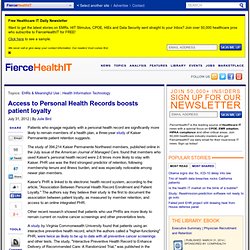 The study of 394,214 Kaiser Permanente Northwest members, published online in the July issue of the American Journal of Managed Care, found that members who used Kaiser's personal health record were 2.6 times more likely to stay with Kaiser. PHR use was the third strongest predictor of retention, following membership tenure and illness burden, and was especially noticeable among newer plan members. Kaiser's PHR is linked to its electronic health record system, according to the article, "Association Between Personal Health Record Enrollment and Patient Loyalty. " Infographic-Mobile-Technology. A Database of All Medical Knowledge: Why Not? - David A. Shaywitz. Physicians won't become obsolete any time soon, but the comprehensive integration of everything we know about well-being could revolutionize medical care.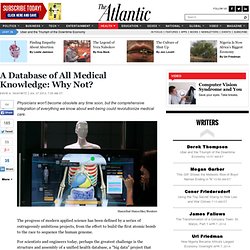 Hannibal Hanschke/Reuters The progress of modern applied science has been defined by a series of outrageously ambitious projects, from the effort to build the first atomic bomb to the race to sequence the human genome. For scientists and engineers today, perhaps the greatest challenge is the structure and assembly of a unified health database, a "big data" project that would collect in one searchable repository all of the parameters that measure or could conceivably reflect human well-being. This database would be "coherent," meaning that the association between individuals and their data is preserved and maintained. A recent Institute of Medicine (IOM) report described the goal as a "Knowledge Network of Disease," a "unifying framework within which basic biology, clinical research, and patient care could co-evolve.
" Time For Biopharma To Jump On The "Big Data" Train? By David Shaywitz, MD In a piece just posted at TheAtlantic.com, I discuss what I see as the next great quest in applied science: the assembly of a unified health database, a "big data" project that would collect in one searchable repository all the parameters that measure or could conceivably reflect human well-being.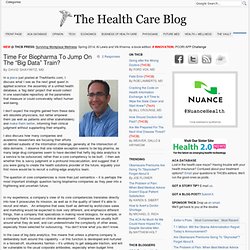 I don't expect the insights gained from these data will obsolete physicians, but rather empower them (as well as patients and other stakeholders) and make them better, informing their clinical judgment without supplanting their empathy. I also discuss how many companies and academic researchers are focusing their efforts on defined subsets of the information challenge, generally at the intersection of data domains. I observe that one notable exception seems to be big pharma, as many large drug companies seem to have decided that hefty big data analytics is a service to be outsourced, rather than a core competency to be built. Personal Health Record Handbook Designed To Energize Providers - Healthcare - The Patient.
To light a fire under clinicians, a new guide from the Agency for Healthcare Research and Quality extols the virtues of interactive PHRs and outlines steps for successful implementation.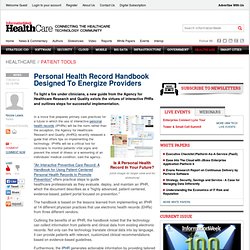 Is A Personal Health Record In Your Future? (click image for larger view and for slideshow) In a move that prepares primary care practices for a future in which the use of interactive personal health records (IPHRs) will be the norm rather than the exception, the Agency for Healthcare Research and Quality (AHRQ) recently released a guide that offers tips on implementing the technology. mHealth Congress: Social media, games provide 'digital fireplace' for health community. GPs to 'prescribe' apps for patients. People could soon be directed to free or cheap apps by their GPs to allow them to monitor and manage their health more effectively.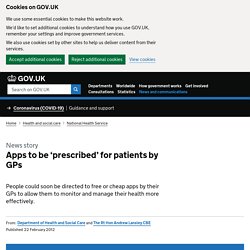 At an event held today, showcasing the best ideas for new and existing health smartphone apps, the Health Secretary Andrew Lansley said: "So many people use apps every day to keep up with their friends, with the news, find out when the next bus will turn up or which train to catch. Health IT Attracts Venture Capital. Patient Engagement as a Two-Way Street Part 3 – Recommendations. About me -- David K. Tao Education:- Washington University in St. Changing Policies Changes Practices: Patient Access and Input to Their Health Record. One of the promises of health IT is to provide patients easier access to their health information. This is a focus of ONC's consumer e-health efforts and CMS' meaningful use regulations.
But this isn't a new policy for HHS. In fact, we have ensured that patients have had a right to access their health information since 2002. In 2000, patient access was one of the very first issues I worked on at HHS, as part of the drafting of the HIPAA Privacy Rules. Mapping the AMIA Clinical Informatics Core Content into the OHSU Biomedical Informatics Curriculum. Prescribable Mobile Apps Huge Threat for Pharma. Why health and medical apps should be certified. A draft of standards for a health and medical app certification program was released recently by Happtique. As a matter of disclosure I am proud to have been the Chair of the panel that drafted these standards. The standards are in draft form and are open to public comment until August 17, 2012. While some might say that these standards add even more barriers to the commercial adoption of these technologies, there are substantial reasons for the need of such certification. 1.
Consumers, patients, and healthcare providers want reliable, safe apps. How the iPhone Might Disrupt The Medical Device Industry. By Dr. Wes Doctors wanting to determine a patient's atrial fibrillation burden have a myriad of technologies at their disposal: 24-hour Holter monitors, 30-day event monitors that are triggered by an abnormal heart rhythm or by the patient themselves, a 7-14 day patch monitor that records every heart beat and is later processed offlineto quanitate the arrhythmia, or perhaps an surgically-implanted event recorder that automatically stores extremes of heart rate or the surface ECG when symptoms are felt by the patient.
The cost of these devices ranges from the hundreds to thousands of dollars to use. From Nursify to Visit Minder: Seven iPhone Apps We'd Like to See. By David Sack, MD I read a few months ago that the number of available iPhone apps had exceeded a million, with new apps now appearing that are intended to help sort through the mountain of other apps. We have reached the age of meta-apps. Parenthetically, I have always loved that "meta"concept. In college, when people asked why I majored in philosophy despite the fact that I was pre-med, I explained that my intention was to become a metaphysician. North Carolina HIE adds Direct messaging capabilities. Federal CTO Todd Park taps the private sector to drive innovation. Collaborating on Privacy in the Identity Ecosystem: Process and Opportunity | NSTIC NOTES. Seeking Application Developers for the Million Hearts Risk Check Challenge. IHE PCC and IT Infrastructure Call for Proposals. Facebook May Grant Researchers Access to Study Data.
Cool Technology of the Week. Former ONC chief Blumenthal to lead Commonwealth Fund. Venture Capital Funding for Health IT Reaches $293M for Q2 2012. Health Content Advisors - Health Content in Perspective Blog. Our Cancer Journey Week 31. The Privacy of Your Digital Self | On Health Care Technology. Big Changes Are Ahead For The Healthcare Industry, Courtesy Of Big Data.
The Real Promise of Mobile Health Apps. #HIT100 2012 list revealed. Google Reader - The EHR Guy's Blog. HIE markets evolve, shifting priorities to actionable data. Health Information Exchange: It Should Just Work. ONC Challenges Americans to Find Out What's In Your Health Record?! Personalized Medicine – Processing Millions of Health Data Points. Health Data Exchange Market Is Changing. Video: National Workshop to Advance the Use of Electronic Data in Patient-Centered Outcomes Research. Guide exults virtues of patient access to GP records - News - Practice Business. Patient Engagement as a Two-Way Street Part 2 – "Getting to Know You" AMIA Board white paper: definition of biomedical informatics and specification of core competencies for graduate education in the discipline -- Kulikowski et al. ONC launches video challenge to spur PHR use. Patient Engagement Needs to be a Two-Way Street.
NCATS Offers $110M for Clinical and Translational Science Centers | GenomeWeb Daily News. Untitled. ONC video challenge: 'What's in your health record?' White House Rural Council's Health IT Initiative Helps Community Colleges Tailor Programs to Workforce Needs. SCOTUS: Individual mandate is a tax, constitutional. An Error Occurred Setting Your User Cookie. National Cancer Informatics Program — NCIP. NCIP Launch Meeting Attendees — NCIP. Patient generated data. The 8th Pillar of the Patient Centered Medical Home | On Health Care Technology. Blog. Summer is for Standards. Summer is for Standards. What User Authentication to use? What User Authentication to use? What User Authentication to use? 6 reasons today's heath IT systems don't integrate well. Convergence: CEDD, CIMI, IHE, FHIR, hData, HL7, mHealh and ONC. Tweaked FDA bill removes hurdle to medical app guidance.
HIT Standards. PCAST HIT Report Links. DS4P_Agenda_20120620_V2. Data+Segmentation+Implementation+Guidance_consensus_posted. Meaningful Consent. Geisinger, Merck To Use IT in Initiative To Boost Treatment Adherence. AARP and Microsoft HealthVault Connect Personal Health Records. Health IT a quantum leap from other industries. Www.ihe.net/Technical_Framework/upload/IHE_ITI_TF_Rev8-0_Vol1_FT_2011-08-19.pdf. Www.ihe.net/Technical_Framework/upload/IHE_PAT_TF_Rev2-0_Vol1_TI_2010-07-23.pdf. Www.ihe.net/Technical_Framework/upload/IHE_ITI_TF_Rev8-0_Vol2b_FT_2011-08-19.pdf.
---