Health IT
Health Informatics Forum - A Social Network for Health Informatics Professionals and Students
The Massachusetts HIE Procurement
I've written several blog posts about the Massachusetts HIE strategic and operating plan to implement a statewide backbone for connecting every stakeholder in the Commonwealth.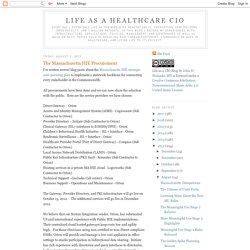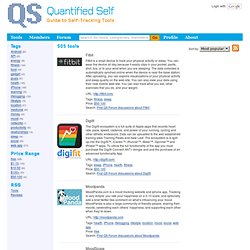 Digifit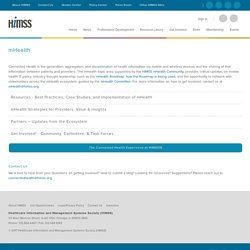 Medical app regulations, device security share the spotlight at mHealth World Congress
Two issues near and dear to the hearts of mHealth enthusiasts – mobile app regulation and privacy and security – took center stage as the 4th Annual mHealth World Congress opened Wednesday afternoon in Boston.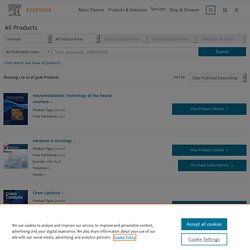 Journal of Biomedical Informatics - Healthcare in the pocket: Mapping the space of mobile-phone health interventions
Received 7 January 2011; accepted 26 August 2011. Highlights ► Mobile phones are increasingly used to help individuals to manage their health. ► We identify five intervention strategies used in mobile health applications. ► Mobile interventions support tracking and accessibility of health information. ► They facilitate clinician involvement and use social influence and entertainment. ► Sensing and social networks will enable next generation of effective interventions.
Today, as Kathy finished her last radiation therapy appointment, I had my first screening colonoscopy - a right of passage for new 50 year olds.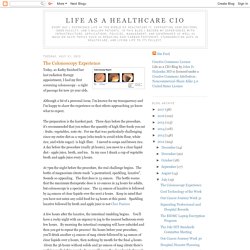 The Colonoscopy Experience
National Coordinator for Health IT Farzad Mostashari has announced a new contest that seeks to spur the development of mobile applications that could help patients reduce their heart health risks, Modern Healthcare reports (Conn, Modern Healthcare, 7/29). The contest, called the "Million Hearts Risk Check Challenge," is part of the Million Hearts Initiative, a collaboration between HHS and health care industry stakeholders aimed at preventing heart disease and stroke (Viebeck, "Healthwatch," The Hill, 7/27). About the Contest
ONC's Mobile App Contest Aims To Reduce Heart Health Risks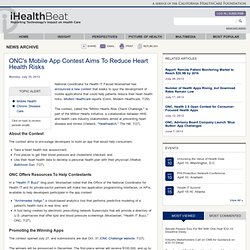 Access to Personal Health Records boost patient loyalty
Patients who engage regularly with a personal health record are significantly more likely to remain members of a health plan, a three-year study of Kaiser Permanente patient retention suggests.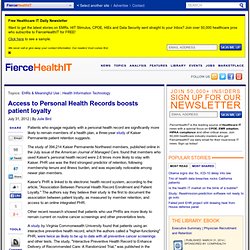 Infographic-Mobile-Technology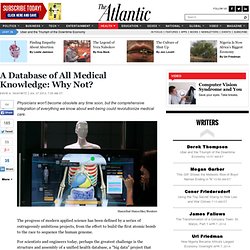 A Database of All Medical Knowledge: Why Not? - David A. Shaywitz
Physicians won't become obsolete any time soon, but the comprehensive integration of everything we know about well-being could revolutionize medical care. Hannibal Hanschke/Reuters
By David Shaywitz, MD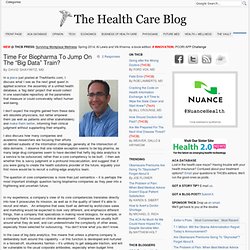 Time For Biopharma To Jump On The "Big Data" Train?
Is A Personal Health Record In Your Future?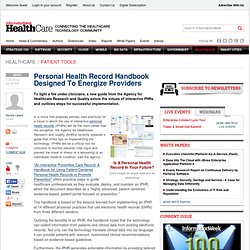 Personal Health Record Handbook Designed To Energize Providers - Healthcare - The Patient
BOSTON—To tap into the potential of social media for advancing health, providers and developers need to go where the people are and must change their thinking to a person-centered model of engagement.
mHealth Congress: Social media, games provide 'digital fireplace' for health community
People could soon be directed to free or cheap apps by their GPs to allow them to monitor and manage their health more effectively. At an event held today, showcasing the best ideas for new and existing health smartphone apps, the Health Secretary Andrew Lansley said: "So many people use apps every day to keep up with their friends, with the news, find out when the next bus will turn up or which train to catch.
GPs to 'prescribe' apps for patients
Health IT Attracts Venture Capital
Patient Engagement as a Two-Way Street Part 3 – Recommendations
About me -- David K. Tao Education:- Washington University in St.
One of the promises of health IT is to provide patients easier access to their health information.
Changing Policies Changes Practices: Patient Access and Input to Their Health Record
Mapping the AMIA Clinical Informatics Core Content into the OHSU Biomedical Informatics Curriculum
Prescribable Mobile Apps Huge Threat for Pharma
A draft of standards for a health and medical app certification program was released recently by Happtique. As a matter of disclosure I am proud to have been the Chair of the panel that drafted these standards.
Why health and medical apps should be certified
How the iPhone Might Disrupt The Medical Device Industry
From Nursify to Visit Minder: Seven iPhone Apps We'd Like to See
North Carolina HIE adds Direct messaging capabilities
Federal CTO Todd Park taps the private sector to drive innovation
Collaborating on Privacy in the Identity Ecosystem: Process and Opportunity | NSTIC NOTES
Seeking Application Developers for the Million Hearts Risk Check Challenge
IHE PCC and IT Infrastructure Call for Proposals
Facebook May Grant Researchers Access to Study Data
Cool Technology of the Week
Former ONC chief Blumenthal to lead Commonwealth Fund
Venture Capital Funding for Health IT Reaches $293M for Q2 2012
Health Content Advisors - Health Content in Perspective Blog
Our Cancer Journey Week 31
The Privacy of Your Digital Self | On Health Care Technology
Big Changes Are Ahead For The Healthcare Industry, Courtesy Of Big Data
The Real Promise of Mobile Health Apps
#HIT100 2012 list revealed
Google Reader - The EHR Guy's Blog
HIE markets evolve, shifting priorities to actionable data
Health Information Exchange: It Should Just Work
ONC Challenges Americans to Find Out What's In Your Health Record?!
Personalized Medicine – Processing Millions of Health Data Points
Health Data Exchange Market Is Changing
Video: National Workshop to Advance the Use of Electronic Data in Patient-Centered Outcomes Research | Patient-Centered Outcomes Research Institute
Guide exults virtues of patient access to GP records - News - Practice Business
Patient Engagement as a Two-Way Street Part 2 – "Getting to Know You"
AMIA Board white paper: definition of biomedical informatics and specification of core competencies for graduate education in the discipline -- Kulikowski et al.
ONC launches video challenge to spur PHR use
Patient Engagement Needs to be a Two-Way Street
NCATS Offers $110M for Clinical and Translational Science Centers | GenomeWeb Daily News
unnamed pearl
ONC video challenge: 'What's in your health record?'
White House Rural Council's Health IT Initiative Helps Community Colleges Tailor Programs to Workforce Needs
SCOTUS: Individual mandate is a tax, constitutional
An Error Occurred Setting Your User Cookie
National Cancer Informatics Program — NCIP
NCIP Launch Meeting Attendees — NCIP
patient generated data
The 8th Pillar of the Patient Centered Medical Home | On Health Care Technology
Blog
Summer is for Standards
Summer is for Standards
What User Authentication to use?
What User Authentication to use?
What User Authentication to use?
6 reasons today's heath IT systems don't integrate well
Convergence: CEDD, CIMI, IHE, FHIR, hData, HL7, mHealh and ONC
Tweaked FDA bill removes hurdle to medical app guidance
Patient-Generated Health Data
PCAST HIT Report Links
DS4P_Agenda_20120620_V2
Data+Segmentation+Implementation+Guidance_consensus_posted
Meaningful Consent
Geisinger, Merck To Use IT in Initiative To Boost Treatment Adherence
AARP and Microsoft HealthVault Connect Personal Health Records
Health IT a quantum leap from other industries
www.ihe.net/Technical_Framework/upload/IHE_ITI_TF_Rev8-0_Vol1_FT_2011-08-19.pdf
www.ihe.net/Technical_Framework/upload/IHE_PAT_TF_Rev2-0_Vol1_TI_2010-07-23.pdf
www.ihe.net/Technical_Framework/upload/IHE_ITI_TF_Rev8-0_Vol2b_FT_2011-08-19.pdf