RESEARCH
Epi Info™ - Version 7 Download
Collaborations We work closely with a number of other projects in order to provide the best possible set of resources and training events possible. These include Day Courses in Social Research, the South East Doctoral Training Centre, the Online QDA and REQUALLO websites and the NCRM. Day Courses in Social Research We work in close partnership with the Day Courses programme also located within the Sociology Department at the University of Surrey who administer most of our training and capacity-building events. South East Doctoral Training Centre (SEDTC)
What is the CAQDAS Networking Project?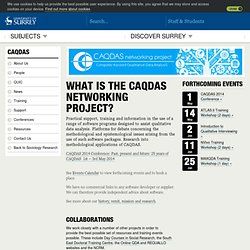 NatCen | Home
Involve | Making participation count
NVivo 9 and XSight - free trial qualitative software downloads
NVivo Events Calendar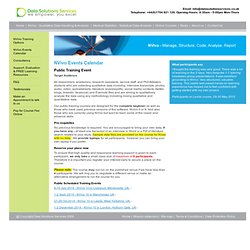 Target Audience All researchers, academics, research assistants, service staff, and PhD/Masters students who are collecting qualitative data involving: interview transcripts, photos, audio, video, spreadsheets, literature reviews(pdfs), social media contents (twitter, blogs, linkedIn, facebook) and Evernote files and are aiming to qualitatively analyse the data using any methodology including mixing qualitative and quantitative data. Our public training courses are designed for the complete beginner as well as those who have used previous versions of the software: NVivo 9 or 8. And also those who are currently using NVivo but want to learn some of the newer and advance skills. Pre-requisites No previous knowledge is required.