RESEARCH
Epi Info™ - Version 7 Download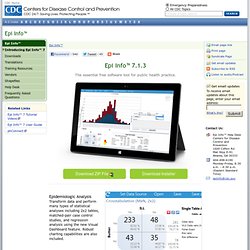 What are the system requirements for Epi Info™ 7? Microsoft Windows XP or above. Microsoft .NET Framework 3.5 or above. Recommended - 1 GHz processor Recommended - 256 MB RAM Should I upgrade from Epi Info™ 3.5.4?
Practical support, training and information in the use of a range of software programs designed to assist qualitative data analysis. Platforms for debate concerning the methodological and epistemological issues arising from the use of such software packages. Research into methodological applications of CAQDAS. See Events Calendar to view forthcoming events and to book a place. We have no commercial links to any software developer or supplier. We can therefore provide independent advice about software.
What is the CAQDAS Networking Project?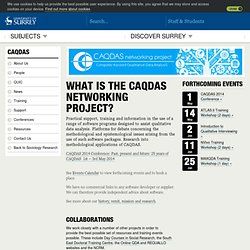 NatCen | Home
Involve | Making participation count
NVivo 9 and XSight - free trial qualitative software downloads
NVivo Events Calendar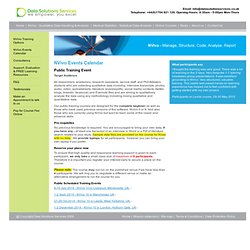 Target Audience All researchers, academics, service staff, and students who are collecting qualitative data involving: interview transcripts, photos, audio, video, spreadsheets, databases, literature reviews(pdfs), bibliographic references; social media contents (twitter, blogs, linkedIn, facebook) and Evernote files and are aiming to qualitatively, analyse the data using any methodology including mixing qualitative and quantitative data. Our public training courses are designed for the complete beginner as well as those who have used previous versions of the software: NVivo 9, NVivo 8, NVivo 7, N6, and NVivo 2. And also those who have the basis but which to learn some of the newer and advance skills. Pre-requisites No previous knowledge is required.
Source: Barts and The London Charity Grant Name: Small project grants Funding: Small project grants are for initiatives that: Will provide a better service for patients. Can help you do your job more effectively. Support the Charity's vision and mission - ie to promote excellence in healthcare, and to raise, invest and grant funds for innovation and improvement in patient care, medical research and education. Are new initiatives and not 'top ups' for existing projects. Amount: Up to £20 000 Closing Date: See website
Infectious Disease Research Network (IDRN) | Funding Bulletin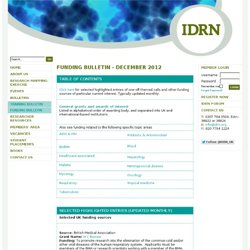 Medical Research Council - Methodology research fellowship
MRC fellowships enable outstanding individuals to undertake challenging projects in excellent research and training environments. An MRC award is there to enable you to do something truly out of the ordinary in training and developing you as a potential research leader. The MRC's Methodology Research Fellowship is an intermediate level fellowship aimed at developing the next generation of research leaders who will advance the development and application of innovative methodologies in the context of challenging biomedical and health research problems. The scheme provides a significant career development opportunity for postdoctoral researchers for a period of concentrated methods research activity and development. The award