Tools 3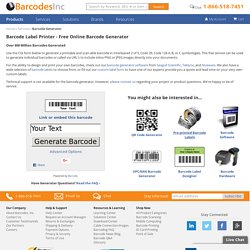 Over 130 Million Barcodes Generated Use the CGI form below to generate a printable and scannable barcode in Interleaved 2 of 5, Code 39, Code 128 A, B, or C symbologies. This free service can be used to generate individual barcodes or called via URL's to include inline PNG or JPEG images directly into your documents. Technical support is not available for the barcode generator. However, please contact us regarding your project or product questions. We're happy to be of service.
Dropresize « SemiGeeK
Client for Google Translate - Free translator
Google Translate is one of the most popular free translation services, however, using an online-translator for text translation is inconvenient: you have to launch the browser, open the website, copy and paste the text, select the language... Too time-consuming! Now you can translate web-pages, electronic mail and other documents without opening online-translation sites and buying expensive bulky programs - you simply need to select the text with your mouse! To learn how Google Translate Client works, please watch our video tutorial.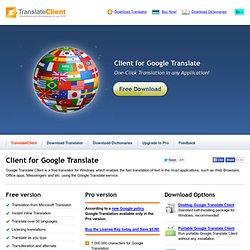 Browse Eraser Files on SourceForge
CNET TechTracker will now automatically install software without requiring further action by you. (Note: This feature automatically accepts associated EULAs and third party applications on your behalf.) You have selected the following software to Smart Install: CNET TechTracker will attempt to install this software without interrupting you again.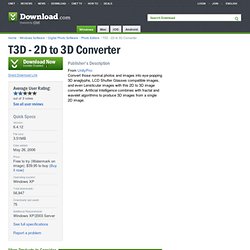 T3D - 2D to 3D Converter - Free software downloads and software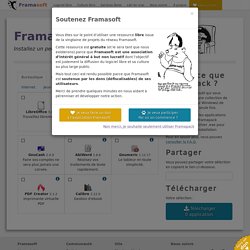 Framapack est en panne depuis la migration du serveur fin juin 2013.Nous ne savons pas quand nous pourrons résoudre le problème. Désolé... :-(
Resurrect Pages
DejaClick by AlertSite
By capturing site performance data at two key points in the page load process - when a user's eye can first sense meaningful rendering activity on the page and again when the user sees the page visibly stabilize 'above the fold' - DejaClick bridges the gap between technical web performance data and what it means to the user experience. Your single and multi-step DejaClick recordings are video processed by AlertSite to empirically measure user experience so you can focus optimization efforts where they will have an immediately impact on your visitors' perceptions of speed and performance.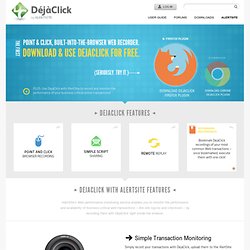 hid.im
CloudFlare Watch CloudFlare is a venture-funded startup that routes around Internet abuse by acting as a reverse proxy. They also encourage illegality by allowing hackers, DDoSers, cyberbullies, and copyright pirates to hide behind their servers.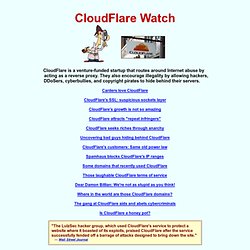 Synchtube : Watch Videos With Friends in Real Time
Casper - live aircraft tracking
Voddler.com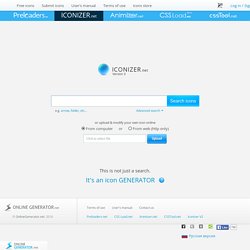 What is an icon generator I am existing user We have sent the new password to the e-mail address provided Forgot password? We have sent you a CONFIRMATION CODE. Please, enter it in the box below