Useful Online Tools
Learn English, Spanish and German for free. Main Page. The most easy-to-use online survey software around. | Surveydaddy.com. Project Gutenberg - free ebooks. Send Large Files FREE - Send unlimited files, up to 2GB each. Free Group Website, Membership Database, Listserv Mailing List, Online Group Management Software. SoundCloud - Your Sound, At The Heart.
Google+ Like Facebook. Password Manager, Form Filler, Password Management | RoboForm Password Manager. All Your Logins in One Place Keep all your logins completely in sync.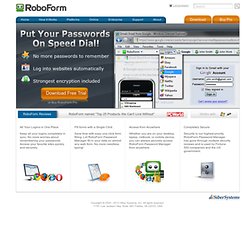 No more worries about remembering your passwords. Access your favorite sites quickly and securely. Pearltrees. Cloud Computing Directory. Cloud Computing Directory Cloud computing is where software applications, processing power, data and even artificial intelligence are accessed over the Internet from any kind of computing device.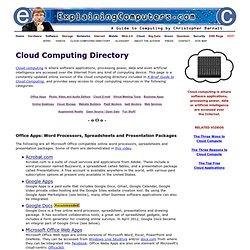 This page is a constantly-updated online version of the cloud computing directory included in A Brief Guide to Cloud Computing, and provides easy-access to cloud computing resources in the following categories: - o O o - The following are all Microsoft Office compatible online word processors, spreadsheets and presentation packages. Some of them are demonstrated in this video.
---