Jewish sites
Got Yiddish? Interested in learning Yiddish sayings and vocabulary?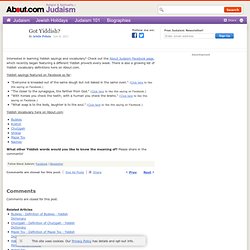 Check out the About Judaism Facebook page, which recently began featuring a different Yiddish proverb every week. There is also a growing list of Yiddish vocabulary definitions here on About.com. Yiddish sayings featured on Facebook so far: "Everyone is kneaded out of the same dough but not baked in the same oven. " (Click here to like this saying on Facebook.) 3 Reasons There Are So Many Jews In Comedy. Six years ago, boyish Cracked editor Jack O'Brien suggested I write about why there are so many Jews in comedy.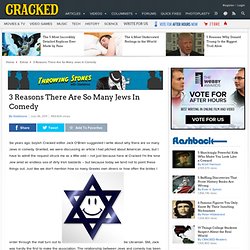 Granted, we were discussing an article I had pitched about American Jews, but I have to admit the request struck me as a little odd -- not just because here at Cracked I'm the lone Jew amid an endless sea of dirty Irish bastards -- but because today we tend not to point these things out. Just like we don't mention how so many Greeks own diners or how often the brides I order through the mail turn out to be Ukrainian.
Still, Jack was hardly the first to make the association. The relationship between Jews and comedy has been noted frequently by scholars, serious talk-show hosts, and pudgy AE€ guys. How Saudi Arabia Discriminates Against Jews - History of Saudi Arabian-US Discrimination Against Jews. In 2004, U.S.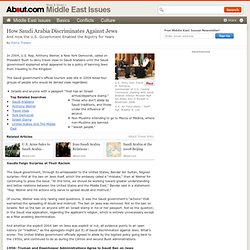 Rep, Anthony Weiner, a New York Democrat, called on President Bush to deny travel visas to Saudi Arabians until the Saudi government explained what appeared to be a policy of banning Jews from traveling to the Kingdom. The Saudi government's official tourism web site in 2004 listed four groups of people who would be denied visas regardless: Israelis and anyone with a passport "that has an Israeli arrival/departure stamp." Those who don't abide by Saudi traditions, and those under the influence of alcohol. China-Jewish Resources Compiled by Joy Katzen-Guthrie • Jewish-Chinese History, Heritage, Travel. Jewish China and Jewish Asia Resources on the Web Compiled by Joy Katzen-Guthrie Because I update this list continually, you can be of great assistance to me.
If you discover a non-functioning link or know of a Jewish-Asia resource or related site of your own, please share it with me and I will update the site immediately. ~Joy Katzen-Guthrie, joyfulnoise@earthlink.net Scroll through this page to view all links Or click within list of subheadings below to directly access links/resources related to the following subjects : Latest Update: June 1, 2011.
This list now includes nearly 1,300 links . Jewish Harbin. Jews of Harbin and Kaifeng -- PowerPoint® Presentations These presentations appeared on the Internet in December 2008, having been created by Noemi Bruner of Israel.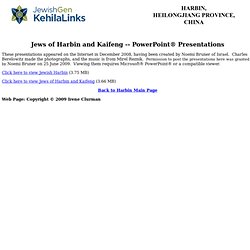 Charles Berelowitz made the photographs, and the music is from Mirel Reznik. Permission to post the presentations here was granted by Noemi Bruner on 25 June 2009. Mozilla Firefox.
Jewish Museums
Jewish Music and Humor. World Jewish Congress. World Jewish Congress. The following article by the Dutch novelist Leon de Winter appeared in the 'Wall Street Journal Europe' on 14 June 2010.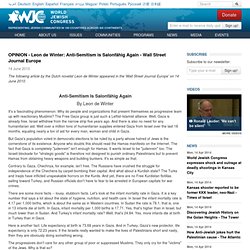 Anti-Semitism Is Salonfähig Again By Leon de Winter It's a fascinating phenomenon: Why do people and organizations that present themselves as progressive team up with reactionary Muslims? The Free Gaza group is just such a Leftist-Islamist alliance. The Jewish Community Center of Western Monmouth County - Annual Events. The WebYeshiva Blog. Jewish Federation of Monmouth County. Florence Singer Webrings... V'ahavta.
Kabbala #1: What Is Kabbala? Most people have heard something or other about Kabbalah.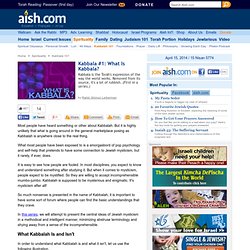 But it is highly unlikely that what is going around in the general marketplace posing as Kabbalah is anywhere close to the real thing. What most people have been exposed to is a smorgasbord of pop psychology and self-help that pretends to have some connection to Jewish mysticism, but it rarely, if ever, does. It is easy to see how people are fooled. In most disciplines, you expect to know and understand something after studying it. Thoughts on the Shema and V'ahavta | As the Spirit Moves Me. Jews say the Shema and V'ahavta twice a day.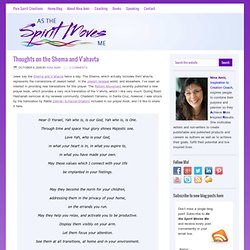 The Shema, which actually includes theV'ahavta, represents the cornerstone of Jewish belief. In the Jewish renewal world, and elsewhere, I've seen an interest in providing new translations for this prayer. The Reform Movement recently published a new prayer book, which provides a very nice translation of the V'ahvta, which I like very much. During Rosh Hashanah services at my renewal community, Chadeish Yameinu, in Santa Cruz, however, I was struck by the translation by Rabbi Zalman Schacter-Shalomi included in our prayer book, and I'd like to share it here. Hear O Yisrael, Yah who is, is our God, Yah who is, is One.Through time and space Your glory shines Majestic one.Love Yah, who is your God,in what your heart is in, in what you aspire to,in what you have made your own.May these values which I connect with your lifebe implanted in your feelings.
Latest Jewish news | Jewish blogs / vlogs | Israel news. Drop Your Bags! Mr.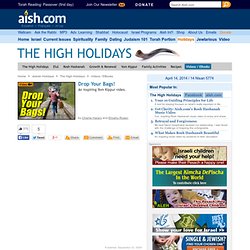 Charlie Harary, Esq. is a prolific speaker who has traveled all over the country and abroad speaking for organizations, schools, universities and institutions on a variety of topics and to audiences of various sizes and affiliations. He has created dozens of videos that have received worldwide attention reaching hundreds of thousands of people in over 15 countries. Mr. Harary is the CEO of H3 Capital LLC, a private equity company based in New York. Instructions For Living. The battle for life is a battle for sanity.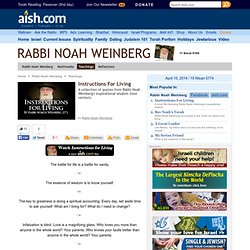 The essence of wisdom is to know yourself. The key to greatness is doing a spiritual accounting. Every day, set aside time to ask yourself: What am I living for? What do I need to change? Infatuation is blind. The Enuma Elish: The Babylonian Creation Myth. Dennis Bratcher The Enuma Elish is a Babylonian or Mesopotamian myth of creation recounting the struggle between cosmic order and chaos. It is basically a myth of the cycle of seasons. It is named after its opening words and was recited on the fourth day of the ancient Babylonian New Year's festival.
Your Spiritual potential - Chabad Lubavitch of Western Monmouth County. Printed from ChabadWMC.com Ask the Rabbi Contact Home About Donate.
Sabbath Manifesto: My Jewish Learning. Sabbath Manifesto Reboot & MyJewishLearning want to slow down your life. The Sabbath Manifesto is a creative project designed to slow down lives in an increasingly hectic world. We Also Recommend. DAVAR: Scripture Study Tool. Hebrew-Czech lexicon Work of the Jiri Vytlačil, not finished yet. For new updates, check please his homepage.
(CZ) Biblický slovník Adolfa Novotného Vydalo nakladatelství Kalich, 1956, 1992. Tato elektronická verze Biblického slovníku byla vytvořena skenováním knižní předlohy, a poté pomocí OCR převedena do stávající podoby. Judaism & Jewish Life. The seder is filled with symbolic foods, words, and songs, and it is designed to keep children interested. Here are ways to make it an exciting re-enactment of the liberation, rather than a dry history lesson. Read more Passover is a commemoration of the Exodus from Egypt--especially the night when God "passed over" the houses of the Israelites during the tenth plague--and of the following day, when the Israelites had to leave Egypt hurriedly. Zero to 10: First Decades / New Centuries. Jewish Humor In America. Yiddish Words.
The Crooked Finger of Anti-Semitism - Commentary. CJH Catalog - Basic Search. JIMENA - Jews Indigenous to the Middle East and North Africa. Jewish and Alone? (September 2010) Jewlicious THE Jewish Blog - It's a Jewish Blog! Jewish Ideas Daily. Commentary Magazine. Jewish and Israeli blog bloggers and commentary. The Jewish Press Blog.
---