Jewelry Only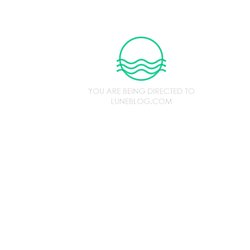 This post was originally published on May 16th, 2011 Last month Lune brought you how to create a doily dreamer using a vintage doily For May I continued on with the fiber craft theme to pick up on the growing revival of macrame in fashion. Here's Lune's how to create a Netted Stone Necklace.
Lune's Netted Stone Necklace
I'm so excited to share Mallory's Death Hallows Necklace DIY! (source) Hi everyone, I'm Mallory! I am a fashion design student and the head Red Velvet intern. I blog over at Mallory Makes Things . I'm totally obsessed with all things Harry Potter and I'm very honored to share a Deathly Hallows necklace diy with you!
Guest Post - Mallory's Deathly Hallows Necklace - PaperSparrow
i love the summer friendship bracelet trend that i keep seeing in blog land, so i thought it would be fun to share with you another way to weave a friendship bracelet. one of the parents at work showed me this technique of using a circular cardboard loom and i love how quick it goes, you can easily finish a bracelet in one sitting. - cardboard - something small and circular (like a teacup or ramekin) - scissors, ruler, pen - embroidery thread in pretty colors , thin yarn, or ribbon trace a circle onto your cardboard, and use a ruler to draw 8 lines cut a small ways into each line, between 1/2 an inch to an inch and make a hole in the middle of the circle where all the lines intersect.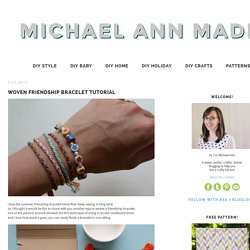 True Blue Me & You: I'll Try Not to Waste Our Time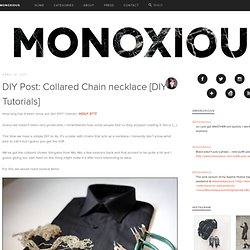 15 Apr How long has it been since our last DIY? *checks* HOLY S**T. Guess we haven't been very productive, I remembered how some people told us they enjoyed reading it. Sorry. (._.) This time we have a simple DIY to do, it's a collar with chains that acts as a necklace.
Singapore Fashion Blog: DIY Tutorial Miu miu Collared chain necklace | Monoxious
The Small Object Steno Pad » The Best of… Washer Necklace Tutorial
Blah, Blah, Blah. Connect the dots. This blog is now an archive only.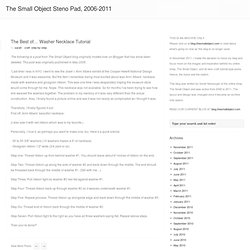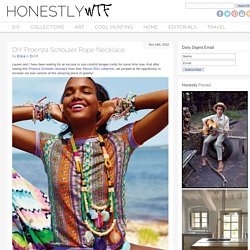 Lauren and I have been waiting for an excuse to use colorful bungee cords for some time now. And after seeing this Proenza Schouler necklace from their Resort 2011 collection , we jumped at the opportunity to recreate our own version of this amazing piece of jewelry! Start by cutting a 10″ and a 15″ piece of bungee (or climbing rope).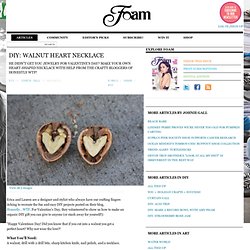 Erica and Lauren are a designer and stylist who always have our crafting fingers itching to recreate the fun and easy DIY projects posted on their blog, Honestly...WTF . For Valentine's Day, they volunteered to show us how to make an organic DIY gift you can give to anyone (or stash away for yourself!): "Happy Valentines Day! Did you know that if you cut into a walnut you get a perfect heart? Why not wear the love?!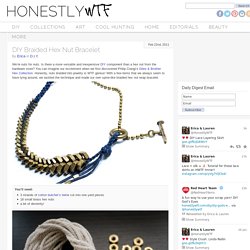 We're nuts for nuts. Is there a more versatile and inexpensive DIY component than a hex nut from the hardware store? You can imagine our excitement when we first discovered Philip Crangi's Giles & Brother Hex Collection . Honestly, nuts braided into jewelry is WTF genius!
The moment we saw Phillip Lim 's Box Braid Collar Necklace , we were immediately overcome with a wave of nostalgia. Our memories of a neon, plastic box braid lanyard was suddenly transformed into a sophisticated leather jewelry component. Honestly, brilliant! Inspired by our fondness of Lim's necklace and our love of utilizing hardware, we made our own interpretation of a box braid necklace. And in case you forgot how to make your favorite childhood summertime craft, take a trip down memory lane with us!