News
Facebook and Nielsen Launch BrandLift in the U.K. | Nielsen Wire – Mozilla Firefox. Facebook and The Nielsen Company today announced that Nielsen BrandLift™, which uses the Facebook platform to measure the effectiveness of online brand advertising, is now available in the U.K.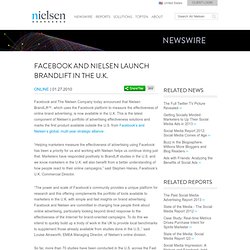 This is the latest component of Nielsen's portfolio of advertising effectiveness solutions and marks the first product available outside the U.S. from Facebook's and Nielsen's global, multi-year strategic alliance. "Helping marketers measure the effectiveness of advertising using Facebook has been a priority for us and working with Nielsen helps us continue doing just that. Marketers have responded positively to BrandLift studies in the U.S. and we know marketers in the U.K. will also benefit from a better understanding of how people react to their online campaigns," said Stephen Haines, Facebook's U.K.
Verslas - Verslo naujienos - Verslo žinios. Advertising Age - Ad & Marketing Industry News. Mokslo ir technologijų pasaulis :: www.technologijos.lt. TechCrunch. The Next Web | TNW is an International Source for Internet News, Going Social Now. Fortune Tech: Technology blogs, news and analysis from Fortune M.
---