US News & Activities
Nobel Prize
Women's World Cup. Elite Fund-Raisers Help Presidential Candidates Rake in Millions. Today, President Barack Obama's re-election campaign released the names of 244 bundlers, which the campaign dubbed "volunteer fund-raisers," who collected at least $50,000 each on behalf of the president's re-election.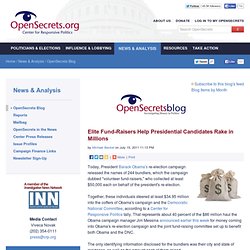 Together, these individuals steered at least $34.95 million into the coffers of Obama's campaign and the Democratic National Committee, according to a Center for Responsive Politics tally. That represents about 40 percent of the $86 million haul the Obama campaign manager Jim Messina announced earlier this week for money coming into Obama's re-election campaign and the joint fund-raising committee set up to benefit both Obama and the DNC. The only identifying information disclosed for the bundlers was their city and state of residence, as well as the amount each of them raised.
A Tale Of Two Countries: The Growing Divide Between Silicon Valley And Unemployed America. Editor's note: Guest contributor Jon Bischke is a founder of RG Labs and an advisor to Altius Education, Fatminds and Udemy.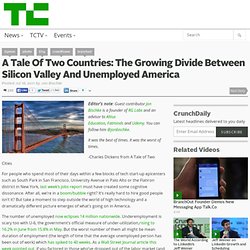 You can follow him @jonbischke. It was the best of times. It was the worst of times. -Charles Dickens from A Tale of Two Cities.
Koch industries orchestrating anti-union 'Tea Party' protests in Wisconsin. A counter-protest by those supposed populist teahadists is on its way to Wisconsin this weekend.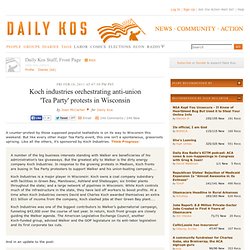 But like every other major Tea Party event, this one isn't a spontaneous, grassroots uprising. Like all the others, it's sponsored by Koch Industries. Pres. Obama. Breaking News. Law & Internat. Legal Issues involving US.
Viet Nam's Legacy
Wikileaks & related news. Space. Politics & Congress. Foreign Policy. The Proto-Internet of 1704: The small ways in which Colonial newspapers anticipated the Web. - By Jack Shafer. Before Wikipedia, before blogs, before comment areas or message boards, before the Internet—hell, before the mass adoption of indoor plumbing—readers were generating valuable content.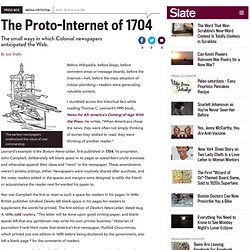 I stumbled across this historical fact while reading Thomas C. Leonard's 1995 book, News for All: America's Coming-of-Age With the Press.
Supreme Court (SCOTUS)
Open Gov. Social Activism. Security Issues. Surveillance. Economy. Sports News. Racism. Christmas.
---
tatn Jan 8 2011

The 1/8/11 shooting in Arizona has led me to include breaking news. It's a sad reflection of a society where people are using violence to express political differences & anger.
---